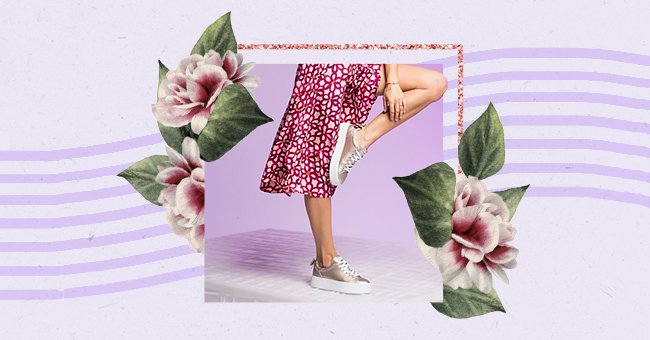 Our Pick: The Best Sneakers To Wear With Summer Dresses
Irrespective of our sense of style, each of us has at least one pair of sneakers in our shoe cabinet, or at least we should! And who doesn't need a comfortable pair of shoes to wear for a day of shopping or an outing?
And today more than ever we must say that the use of these shoes is certainly not limited to sporty occasions for which they were designed. On the contrary, today, these shoes can accompany us in every moment of our life, helping us create original, comfortable, and fashionable outfits suitable for the most disparate situations.
Who said that with the arrival of summer, we have to give up sneakers? Comfortable and versatile, shoes with a sporty soul combine effortlessly with short and long dresses, making them less dramatic.
Vans
The Vans checkerboard shoes are certainly one of the best solutions to better face the summer. This pair of sneakers is, in fact, extraordinarily light and perfectly breathable.
Adidas
It is not true that all sneakers do not fit in the summer. In fact, some models allow you to get the maximum breathability and keep the foot dry even in summer. Adidas, which in addition to having a very competitive price, allows maximum comfort and breathability.
Superga
The shoes have become a great classic. These are very light canvas shoes suitable for any purpose. They are casual shoes that adapt very well to any summer style. Extremely comfortable to wear on foot.
Lumberjack
Lumberjack is a very famous brand with durable shoes since 1979 and meets your quality expectations. However, just like the choice of shoes, comfort is also one of the things you need to give importance to. Therefore, convenience, as well as quality, is one of the factors to consider when choosing shoes.
NeroGiardini
The Marche brand NeroGiardini is the right solution for you if you love casual-chic style shoes that are also practical. Pair the sneakers with a dress of any length you desire.
Converse
High to the ankle or low, Converse sneakers have been a timeless classic for several generations. The most iconic model? The All-Star. Converse sneakers are a real fashion chameleon, as they are comfortable during the day as in the evening and winter as in summer.
Saucony
Colorful, light, and very trendy, Saucony sneakers drive everyone crazy. The upper in nylon and suede, combined with the rubber foam sole, ensure that these sports shoes remain comfortable even during the hottest days.
Crime London
Among the youngest brands in the sneakers scene, Crime London has a prominent place. Also, if you reflect yourself in an indie and original style, these are the shoes for you.
Premiata
Much more than just sneakers: the Premiata models are characterized by a unique style, in which contemporary design welcomes retro and eccentric elements. Also, the mesh design lets your feet breathe while making you look stylish.
Stradivarius
Besides, nothing prevents us from opting for a pair of colored chunky sneakers to mix with a sheath dress and complete the outfit with an oversized blazer with a fluid line.