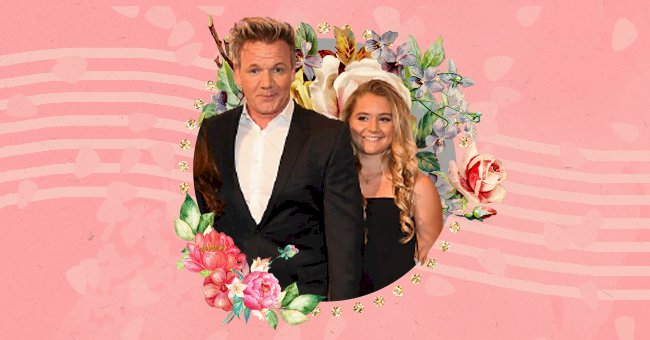 Our Pick: The Funniest Moments Tilly Ramsay Trolled Her Father Gordon Ramsay
Tilly Ramsay is perhaps the only one in the world who can prank Gordon Ramsay and get away with it. The famous chef is known for his no-nonsense, foul-mouthed approach in the kitchen. However, to his daughter, Tilly, some rules don't apply.
The 19-year-old loves to show her and her father's special bond over social media and TV. We cannot imagine making Gordon Ramsay into one of his famous idiot sandwiches, but Tilly sure can.
Recently, the star managed to pull a fast one over Ramsay over on TikTok and left us in stitches. Therefore, we are looking back at the epic moments Tilly trolled her father.
The Time Tilly Turned Gordon Ramsay Into An Idiot Sandwich
Frankly, this is for the OG Gordon Ramsay fans. We all remember the moment he christened one of his chefs an idiot sandwich. It was terrifying and darkly humorous. Tilly, however, did not forget about this infamous event.
In the trailer of the reality show "Matilda and the Ramsay Bunch," we see a very calm Ramsay. A regular dad enjoying spending time with his family. In one scene, we see Tilly quickly make her father an Idiot Sandwich by slapping his face with two pieces of bread on either side. We would have never dreamed it.
The Time She Preferred Her Mom's Cooking
Next, Tilly left us tickled when she and her father participated in the viral Saturday Night Challenge on TikTok. The challenge required picking a side between two choices, set to Run DMC's song Tricky.
One of the choices had the sweet father and daughter choose between Mom's Cooking or dad's. Tilly ran over to her mother's cooking. She even revealed that she preferred plain food, unlike Ramsay, who chose spicy food. She may be the only person to challenge the celebrity chef's cooking publicly.
The Time Tilly Called Her Dad Out With A T-Shirt
So, Gordon Ramsay was banned from Tilly's school. Before you think it was one of his famous tirades that led to the ban, you wouldn't be close to guessing. The star took a selfie with the headmaster, despite missing several meetings with teachers, and was subsequently banned.
Tilly is not one to get down and made a positive spin by posting a shirt that asked people to excuse her embarrassing dad. The then 14-year-old joked she would wear the shirt to an upcoming parents' meeting.
The Time She Smashed An Egg Over His Head
Lastly, this prank was recent enough to be seared into our minds. The star posted a clip on TikTok that lured her father into a supposed magic trick. Tilly held an egg over a bottle of water and pushed it down. To Ramsay, the egg had disappeared.
Thus, when the 54-year-old got close to the water bottle, Tilly squished water into his face. The fun did not stop there; the star took the hidden egg and cracked the contents over her father's head, and ran off laughing. That certainly put a smile on our faces. However, Ramsay did later admit that a certain someone washed the dishes that evening.