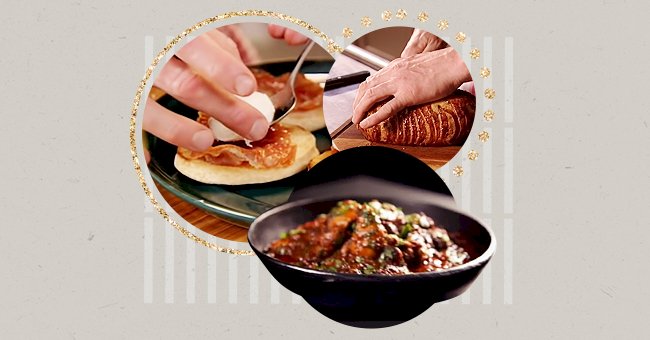 Our Pick: The Top 10 Gordon Ramsay Recipes To Try
Ramsay is a phenomenal chef and restaurateur who has changed the way we view cooking and everyday recipes. You will find palatable new options to add to your menu, from scrumptious salads and cheesy pasta to juicy steaks and delicious desserts.
Appreciating good food is one thing, but the ability to prepare restaurant-style dishes from the comfort of your home is something else. Thanks to platforms like YouTube and social media sites like Instagram, it's easy to access recipes from your favorite cooking experts, including Ramsay.
Gordon Ramsay has served as a jury member on hit shows like The Masterchef. He also runs a global restaurant group called Gordon Ramsay Restaurants. Here are ten recipes by the multi-Michelin star worth giving a try.
1.Beef Wellington
Ramsay's take on the classic steak dish is finger-lickin' delicious and involves a good beef fillet seasoned and roasted in a hot pan. The fillet is then combined with mushroom and parma ham, wrapped in a puff pastry, and baked to perfection.
2.Pear Tarte Tatin
This yummy French dessert can be enjoyed with a hot cup of tea or latte but requires precision and finesse. The secret lies in selecting the right pears, ripe and firm, and then coating them nicely in caramelized sugar sauce.
3.Eggs Benedict
Eggs Benedict is another breakfast-worthy recipe that involves preparing a thick creamy hollandaise. Parma ham is fried in a pan and placed on toasted muffins, after which eggs cooked in boiling water are placed on top and glazed with hollandaise sauce.
4.Scrambled Eggs
You might have tried scrambled eggs a couple of times, but Ramsay's recipe will help you take things up a notch. The internationally-acclaimed chef brings in his twist with mushrooms and vine tomatoes and also advises not to overcook the eggs.
5.Spicy Sausage Rice
Who doesn't love spicy and saucy rice? And this recipe introduces juicy sausages to add more flavor. Ramsay's handy tips like focusing on the cooking time for rice, adding stock, and allowing veggies to retain their texture make this dish worth trying.
6.Green Bean Salad
Many of us are not quite fond of salads, but Ramsay's way of preparing them retains their nutritious value and taste. The secret behind a delicious bean salad lies in blanching the beans to help them stay crispy and green.
7.Chili Chicken
Chicken can be cooked in various ways, but this marinated chili chicken recipe will promise you exotic flavors. This 20-minute recipe is easy to make and includes simple ingredients that are likely to be found in your pantry.
8.Chocolate Tarts
Chocolate is a must-have ingredient to spruce up your desserts, and this tart recipe is a sweet departure from the same old cakes and pastries. This creamy, buttery, and choco-licious confection can be enjoyed with a scoop of ice-cream.
9.Spicy Mexican Soup
Soups can be great starter options, but Ramsay likes to think of them as a complete meal. Try this spicy and robust Mexican soup that is enriched with the goodness of fresh seasoning and served with tortillas and salsa.
10.Spaghetti With Chili, Sardines & Oregano
Have you ever pictured adding breadcrumbs to your spaghetti recipes? When combined with fresh garlic, oregano, and canned sardines, the toasted breadcrumbs result in a unique, delightful, and nutritious spaghetti.