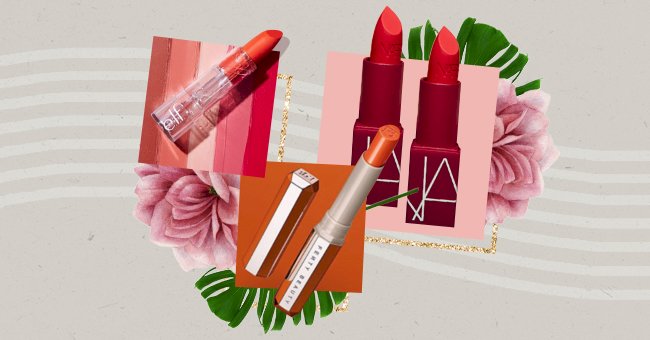 Our Pick: The Top 10 Most Flattering Orange Toned Lipsticks
There is never a wrong time to try out new shades of lipsticks! If you want to surf the trend of the moment, know that it is orange, totally in fashion. From fluorescent orange to coral and pumpkin, you can find it on all lips for a touch of daring and elegance.
When you opt for orange lipstick, the rest of your glam must be soft. The emphasis being entirely on the mouth, there is no question of putting your most beautiful coral lipstick on chapped or dry lips.
Orange lipstick looks much more flattering on a cool, tan complexion. Be careful not to mix the colors too much, so when it comes to blush, stay in peach tones or dare to use the bronze highlighter.
1. M.A.C. Powder Kiss Lipstick/Moon Masterpiece In Playing Koi
This is a weightless soft-matte lipstick that blurs the lines and smoothens lips. It also provides a blur of soft-focus color and hazy effect on the lips while featuring a comfortable formula with a cushiony, lightweight texture.
It is formulated with moisture-coated powder pigments that hydrate and condition the lips. To top it off, it tends to create a zero-shine pout. For extra shine, add some lipgloss.
2. Charlotte Tilbury K.I.S.S.I.N.G. Lipstick In Coral Kiss
Coral Kiss will leave your lips feeling irresistibly soft. It is a hydrating warm lipstick with the perfect blends of pink and orange, excellent for the summer. The lipstick will leave a lasting impression, and the tree extracts will help protect your lips from U.V. damage and fight oxidative stress.
It further contains light-diffusing pigments that leave your lips brilliant, luminous, and full-bodied as they capture light across your lips. The blend of waxes infused also helps the formula to glide over your lips for a seamless finish.
3. E.L.F. Seriously Satin Lipstick In Persimmon
Silky smooth with an intense color payoff. This is about the easiest way to describe this lipstick. With one swipe, it saturates the lips with rich color for a pout that makes a statement. Most importantly, it is free from parabens, phthalates, nonylphenol ethoxylates, triclocarban, triclosan, and hydroquinone.
The macadamia seed oil nourishes and protects the lips; jojoba oil serves to lock in moisture that helps to soften lips, while the meadowfoam seed oil soothes dry lips and keeps them moist longer. The nutrient-rich formula applies and wears like silk.
4. Nyx Professional Makeup Liquid Suede Cream Lipstick In Orange County
If you love to doll up your lips in matte colors, then this vibrant shade is perfect for you. It is a super-pigmented lipstick that is creamy but long-wearing. Even though it is matte, it is also velvety soft and has been infused with avocado oil and Vitamin E.
The lipstick creates a polished look when you wear it. It is waterproof and has a long-lasting effect. The super-pigmented liquid lipstick glides on opaque but sets into the perfect striking matte finish that won't let you down.
5. Nars Lipstick In Heatwave
Nars Lipstick in Heat Wave has a blend of passion fruit seed and moringa oils that enhances the color vibrancy and conditions lips for a hydrated feel. It is not a subtle color but a blazing orange-red matte shade.
The lipstick wears beautifully on the lips, and its oils nourish and hydrate the lips. Also, it lasts long without having a drying effect, cracking, or pilling on top of the lips.
6. Fenty Beauty Mattemoiselle Plush Matte Lipstick in Saw-C
Are you feeling like getting turnt up? Then this high-octane pigment will meet your needs. This is a universal shade that complements all moods, all skin tones, every day. Use this to have fun while expressing your mood.
Besides the sleek casing, the ultimate light-as-air textured lipstick glides on creamy and indeed stays put with no bleeding or feathering after application. It also has a velvety, soft matte that is inspired by a rose petal finish.
7. Flesh Beauty Strong Flesh In Soul
This lipstick is a declaration of style in pure, actual shades of color brilliance. It is very pigmented and bold with an intense payoff, satin texture, and a buttery feel in just one stroke. As you wear this, your lips also stay moisturized the whole time without feeling oily.
It has proven to be like a lipstick that moisturizes like a gloss but wears like a satin lipstick. The metallic and magnetic closure instantly gives an expensive feel to the overall packaging. This also ensures that it stays shut as you go about your day.
8. Urban Decay Cosmetics Vice Lipstick Comfort Matte In Tilt
Whatever your Vice, the Tilt is here for it. This lipstick applies smoothly, hugs the lips, and feels super-comfortable. Besides its super-creamy texture, it also offers a pigmented payoff and superior color dispersion.
The lipstick is packed full of nourishing ingredients. The butter blend comforts, hydrates, and enhances while leaving the lips soft and conditioned. Aloe vera, avocado, jojoba, and babassu oils nourish and soften lips, while illipe butter provides long-lasting moisture. The presence of vitamins C and E delivers a dose of antioxidants.
9. PAT McGRATH LABS MatteTrance Lipstick Obsessed
This is a limited edition moderately warm-toned, dark orange with a cream finish. It has an intense color coverage with a creamy, smooth consistency and slips without sliding around. Besides, it aims to evoke the femme fatale siren after every application.
It contains a blend of polymers that provides flexibility and adherence. The lipstick also combines powder film with saturated pigment for lightweight opaque coverage and stays well on the lips for at least five and a half hours.
10. Fenty Beauty Slip Shine Sheer Shiny Lipstick In Tang Thang
Rihanna's reddish-orange hue is an ultra-comfortable sheer lipstick with the perfect amount of nourishing color and shine. It is an everyday staple that is perfect for day or play and lowkey sexy without even trying.
The lipstick has been clinically proven to lock in moisture in just one swipe. Besides, it is also lightweight as well as being nourishing. The infusion of pomegranate butter instantly conditions your pout with lip-smoothing comfort in just one swipe.