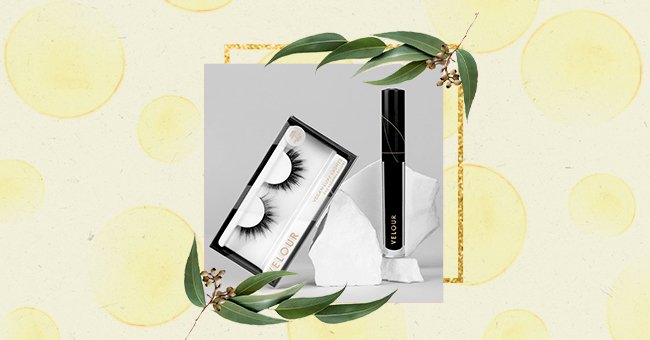 Our Pick: Top 10 False Lashes To Buy
Herald the mask regime where everything but our eyes and forehead are in the spotlight, making us yearn for the much-coveted thicker and voluminous lashes. So if you're tired of the smudging and clumping of your mascara, maybe it's time to invest in a good pair of false lashes.
Who doesn't love the long and curly lash look that stays intact all day and all night long? Even a long-wear and waterproof mascara can sometimes trouble your eyes with the black streaks all over your under-eye area and around your nose, ruining your entire makeup look.
While wearing falsies every day is not a viable solution, you can reserve them for those special occasions when you want to keep beauty failures at bay. Here is our pick of the ten best false lashes that will bring out the best in your eyes and give you the seamless dramatic effect you desire.
1.Velour The Effortless Collection
Velour's falsies are natural-looking lashes that require no trimming or measuring and can be worn effortlessly even by new lash users. The Effortless Collection now features different styles that allow people to wear their lashes up to twenty times per pair.
2.Glamnetic Lush Lash
Glamnetic's magnetic falsies give you all-day luscious lashes that look extra but feel super lightweight. These round lashes are a notch bold with their dramatic length and volume and can be used 40 times.
3.Kiss Falscara Eyelash Starter Kit
This Eyelash Starter Kit includes falsies, tweezers, and a two-ended bond and seal. You can also choose between three variants - lengthening, volumizing, and lifting, whether you want to opt for a more natural look or stick to a bold and dramatic lash effect.
4.LoveSeen Axel
LoveSeen's Axel falsie collection is meant for people with deeply-set eyes who want a more volumized and plump lash effect. They are slightly fuller towards the eye center and create the needed dramatic impact that we all desire in our fake lashes.
5.Lashify Control Kit
Lashify Control Kit comes with all the essential items needed to keep your falsies in place all day long. It includes a Fuse Control Wand, a set of Gossamer lashes, a dual-sided Whisper Light bond for applying the lashes, and a Glass sealer.
6.Dark Swan Of Denmark Lashes
Dark Swan of Denmark Lashes features a revolutionized design tailored to fit perfectly under your lash line. You can choose between two lash bands, short and long mix, and create the natural eyelash-extension look you love.
7.Vassoul Duel Magnetic Eyelashes
Magnetic lashes like the ones by Vassoul Duel are meant for people who are somewhat skeptical about using glue to secure falsies in place. These natural and beautiful lashes are made from premium synthetic fibers that bring out the best in your eyes.
8.Ardell Demi Wispies Fake Eyelashes
Ardell Demi falsies are lightweight and mimic natural lash hairs for a fuller and luscious effect. They come with a clear, flexible band that makes them easy to apply and remove without any hassle, and they can be worn up to six times.
9.Eliace 50 Pairs 5 Styles Lashes
Eliace false lashes are durable options that come with an excellent and width to add that missing dramatic touch to your overall eye appearance. They are made of thin fiber material and feel ultra-soft and comfortable to wear while making you look charming and attractive.
10.Huda Beauty Classic False Lashes
Huda Kattan needs no introduction as her name precedes her reputation in the beauty and makeup world. These falsies have become a celebrity-favorite, and the Samantha set is the most popular option featuring medium-sized lashes with a natural style.