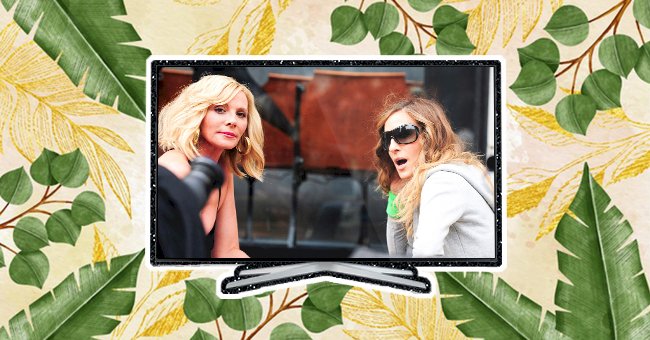 Our Pick: Top 10 Iconic Moments From 'Sex & The City'
The news of a new chapter of 'Sex and the City' has often bounced around on the internet in recent years. This time, it is Instagram official, and we can't wait to see the cast and crew once again!
Sarah Jessica Parker, AKA Carrie Bradshaw, took to her Instagram to share an HBO-approved teaser in January. Kim Cattrall, who played Samantha, won't be re-joining the series, and we are all going to miss her and her fashion choices.
Yes, it has been a long time coming with ten new episodes on the way, 17 years after the last episode. That also makes it 11 years after the second movie that warmed the hearts of the most nostalgic. While we wait for more details, we can't help but revel in the iconic moments the show has brought our way.
1. Carrie Bradshaw Introducing Her Manolo Blahniks
One thing Sex and the City did for us was open up a world of fashion that some of us didn't know existed at the time. Carrie had an undying love for fashion, not just any kind but high-fashion.
She inspired thousands of fans globally with her unique looks and put several designers on the world map. Like she says, "my new shoes can't be punished because I can't handle my money."
2. Miranda's Nanny Replacing Her Toys With A Statue
This was a hilarious scene! Miranda's housekeeper Magda found Miranda's vibrator in her secret top drawer and decided to switch things up. She then replaces the content of the drawer with a statue of the Virgin Mary.
After confronting Magda, who was not used to or comfortable with such content, Magda gives in. As a sign of peace and to apologize, she places some condoms on Miranda's nightstand.
3. All Expense Paid Trips With The Girls
Everyone loves a trip to the Middle East. But the thoughts of having to travel and foot those bills take you back to the drawing board to plan more strategically.
However, getting invited on an all-expense-paid trip is divine! The scene teaches us about the importance of shared goals amongst friends. With each one pulling the other up and being there both in good and bad times.
4. The Never-Ending Fashionable Moments
As the ladies walked down the lobby, they reminded us why we were hooked to both the series and the movie. The fashion as seen in Sex and the City was fashion-forward for the time and classic.
The timeless outfits flaunted by these women can be worn 11 years after without one feeling out of place. And as always, friends supporting friends will never get old.
5. The Hard Truth
Now and again, we sometimes find ourselves in situations we can avoid. We know the decisions we have to make but don't because we either can't face the truth or don't want to take risks.
Having people like Miranda's husband who tell us things just the way they are, makes all the difference in the world. At first, we might not appreciate them, but we will see things their way with time.
6. Carrie Bradshaw's Parisian Style
If you followed the series, you'd realize that this was a sad moment as Carrie had decided she would move to Paris with Big. It was sad because he hadn't asked her to. He had even kept his plans from her for the longest time.
However, we all love a great Carrie Bradshaw fashion moment. Ready to give up her New York life, she embraced the Parisian style in a French country style dress complete with a beret and some French fries.
7. Samantha Teaching Us The Importance Of Vitamins
It is no secret that as women age, their bodies need more to keep them in top shape. Every woman needs to pay attention to the needs of her own body once she hits her thirties. She has to be more proactive.
This scene goes further to prove that we all need our vitamins. Maybe not as many as Samantha needs, but speaking to our doctors will put us in the right direction.
8. Friendship And Fashion
These were the core of the series. Women are supporting each other despite their struggles and still slay while doing so. This was what made a lot of women binge-watch the show.
From the series to the movies, we love how Carrie Bradshaw was depicted as the stylish one. However, her friends intermittently gave us style-worthy fashion moments.
9. A Closet Runway
Did you know that you needed a walk-in closet you can convert to your runway? Well, with Carrie in your life, you now know that you do.
Having a walk-in closet is a luxury many women can't afford to have but watching Carrie strut in hers is more than we can ask. Especially in these times when we really can't afford to attend fashion shows. We all have to make do with the closet runways.
10. Big Proposing To Carrie
Who doesn't love a good romantic story? In the movie version of Sex and the City, Big suggested that he wouldn't mind being married to Carrie. We know this is not a typical get down on one knee kind of proposal, but it was perfect for Carrie.
Carrie didn't want a diamond to celebrate her being proposed to. She wanted a big closet he fulfilled, and just like the Prince, he slipped on a pair of blue Manolo Blahnik pumps to her waiting feet.