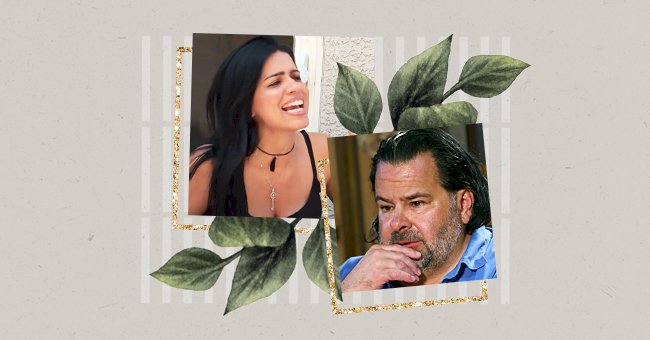 Our Pick: Top 10 Most Dramatic Moments On '90 Day Fiance'
This show is messy, and we're here for it. TLC is the channel that keeps on giving. The shows are controversial, to say the least, but with the success of "90 Day Fiance," the channel hit a goldmine because viewers (read us) cannot get enough.
The complexities of dating itself should be more than enough for one couple. However, add in a healthy dose of cultural differences, long-distance dating, squabbling family members, and a marriage that must occur in a time limit of 90 days and its drama galore.
We've cringed, gasped, and clutched our pearls as couples fall apart or fight their way to the altar surrounded by disapproving parents. Frankly, you know some wild thing is bound to happen, and when it does, it's epic. Walk down memory lane and scroll for ten of the most dramatic moments on "90 Day Fiance."
When Danielle Tried to Get Mohamed Deported
Okay, we're going to say it - this couple was doomed from the start. However, what we did not see coming was the utter trainwreck that would occur. It all started when Mohamed found out about Danielle's shady financial history. Mohamed then left Danielle not long after, and let's say she did not take it well.
Danielle confronted Mohamed after seeing him in a picture with a female friend. Moreover, Danielle wanted to file for an annulment, which would result in Mohamed being deported - a result Daniell wanted. However, Danielle's lawyer convinced her otherwise, and the couple only got divorced.
When Mark bought Nikki a Car.
Mark Shoemaker was 58 years old when he decided to marry Nikki, 19. The two met on a dating site, and they were soon engaged. Mark had previously been married and was divorced.
When Nikki came to the US to move in with him, Mark decides to surprise her with a car that was the same make, model as the first car he bought for his ex-wife. Talk about awkward. Nikki, on the other hand, was not impressed.
When Yazan Found Alcohol In Brittany's Bag
Talk about drama! "90 Day Fiance The Other Way" followed the relationship between Brittany and Yazan. However, this couple lived such culturally opposite lives from one another and those differences came to a head when Brittany arrived in Jordan.
When Brittany greeted the shooting crew with a hug, he mistakenly exposed a bottle of alcohol she had hidden in her jacket. Public displays of affection and alcohol consumption are taboo in Yazan's culture and he did not take it quietly.
When Azan Talked about Nicole's Weight
Azan and Nicole fed the messy. The two met initially online and had a relationship; however, they had never met in person. In season 4, Nicole took a five-week trip to Morroco to meet Azan.
Azan admitted that he was a little shocked at Nicole's weight, but Nicole reassured him that she would cut the pounds. However, Azan later caught Nicole hoarding sweets, and your guess is as good as ours at how that went.
When Elizabeth's Family Didn't approve of Andrei.
Elizabeth and Andrei met in Dublin, where Andrei worked as a bouncer for a club. In season 5, Andre flew over to the USA to join Elizabeth. However, not everyone was pleased with this idea. Elizabeth's family expressed their displeasure at the quickie marriage and called out what they felt was Andrei's controlling ways.
When Jenny found out Sumit's Big Secret
This episode was wild. Jenny met Sumit online. Later she packed up everything and went to India to join Sumit. However, Jenny got an unlikely visitor in the form of Sumit's in-laws! It turned out that Sumit had been married to another woman the whole time.
When Pedro Got Into A Fight With Chantel's Family
Man, these guys went through it, and we tuned in every time. Pedro did not seem like a favorite for Chantel's family. Moreover, conflicts came to blows during a dinner. What started as a lovely dinner ended up in a heated brawl between Chantel's brother, sister, and Pedro.
When Larissa and Colt's Cousin Got Into a Fight
Another match that was doomed from the start. Fans watched as Larissa delivered her now-iconic argument. What started as a visit from Colt's cousin John became a shouting match between Larissa and John. When John point-blank asked Larissa why she was rushing the wedding, Larissa reminded them of just who they were talking to.
When Ed Told Rosemarie To Get An STD Test
The foundation of Ed and Rosemarie's relationship was rocky from the start. Not only was it their age difference but Ed also had strange requests for Rosemarie to fulfill. Ed even received backlash after he offered Rosemarie a mouth wash.
Moreover, the two had fundamental differences in their ideas on children. However, it was Ed's shocking request to have Rosemarie take an STD test that caused a major rift. Safe to say this couple did not last.
When Tarik Agreed to Help Hazel Find an American Girlfriend to Join Their Relationship
When Hazel revealed to Tarik she was bisexual, she proposed adding a third person into their relationship - a girlfriend. Tarik complied and agreed to help Hazle look for an American girlfriend. However, Tarik was unsure how their relationship would change after this new turn of events.