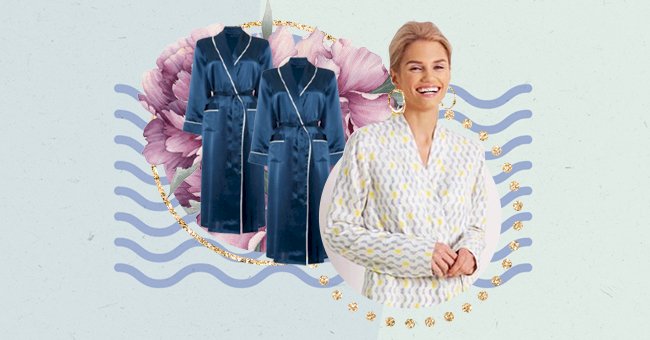 Our Pick: Top 10 Silk & Satin Robes Worth The Investment
After investing in a beautiful pajama set, it would be a disgrace to cover it up with an ordinary sweater. If you're doing this, it is time to stop this habit. Whether it's a chilly night or not, your nightwear deserves the attention it needs.
Get something that feels luxurious. We recommend silk or satin fabrics. After all, if you've had a busy day or just come out of the shower, feeling good is the only priority. When shopping, it is possible to feel spoilt for choice.
From a ton of robes in varying lengths and prints, all you would have to do is select the one that best fits your personality. Bump up your self-care routine and invest in yourself with the best silk and satin robes to include in your wardrobe.
Floerns Women's Ruffle Hem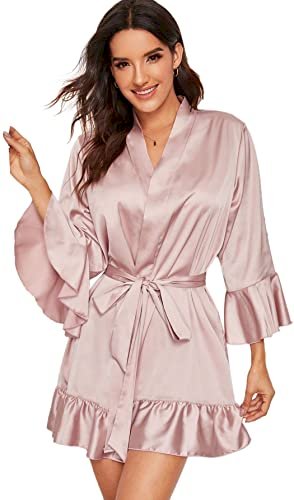 amazon.com
Chanel your rich aunty spirit with this beautiful pink satin robe. If pink is not for you, don't worry. The robe is available in a variety of colors, leaving you spoilt for choice. We also love the bell sleeves, which add a feminine touch.
Ledamon Women's 100% Silk Kimono Long Robe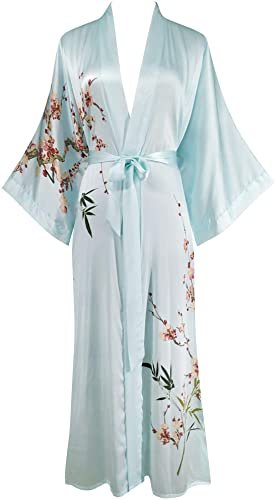 amazon.com
Your nights will never be the same again. This robe will have you wishing people would knock endlessly on your door to find you stunning in this beautiful piece. The long robe is made from 100% silk, soft to touch, making it worth every penny.
Goddess of Magic Kimono
If you're looking for something a little subtle but also extra, this robe is for you. The robe has delicate lace trimmings and a flowing design creating a feminine silhouette. Also, it comes in a gorgeous black color that makes it easy to pair with your other loungewear sets.
Gingerlily Silk Robe
Did someone just check into a hotel? This robe combines luxury and comfort all in one. The robe has a traditional design. However, it is in silk and white accents, adding an elegant touch. Additionally, the robe is made from 100% mulberry silk, leaving your skin feeling good.
Gold Slipsilk™ Robe
If you're like some of us who are obsessed with gold, we don't judge you. Get this stunning robe from Slipsilk to add to your gold collection. We love it because it comes with an adjustable waist tie making it easy to secure it in place for maximum comfort.
Kim+ono Plus Size Women's Satin Kimono Robe

amazon.com
Add more florals to your wardrobe with this floral print kimono. It is made from lightweight satin material, therefore making this robe will come in handy during hot summer nights. Also, the beautiful floral and bird prints will leave you looking like a piece of art.
Fishers Finery Women's 100% Pure Mulberry Silk Robe

amazon.com
Since this robe has been awarded a seal of confidence by Good housekeeping magazine, why not try it? It is the perfect mid-length robe for evening nights. Furthermore, if you're a lover of pastels, give this line a try as they come in various fun colors.
Mulberry Silk Robe - Kochi Blue
Introduce a quirky piece into your wardrobe with this robe. The robe has an irregular pattern with fun pops of yellow making it an exciting addition to your bedtime routine. Additionally, if the pockets on the side for extra comfort don't sell it to you, we don't know what will.
Tiger Print Anais Robe
If you're a lover of animals, why not get this robe. It is available in this exciting tiger print with a kimono sleeve, making it a great breathable piece for summer nights. It would also be a great addition to your solid color pajama sets.