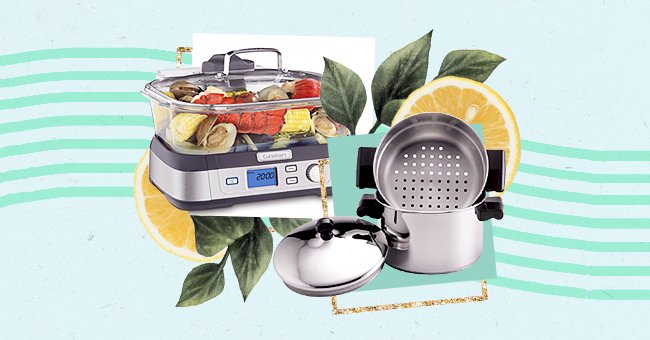 Our Pick: Top 10 Steamer Pots Worth Buying
Steamer pots come in all shapes, sizes, and materials, with stainless steel being a hugely popular choice, followed by anodized aluminum. Here are the top ten steamer pots worth buying, from the stovetop and electric steamer options to steamer inserts capable of fitting in a pot.
Steaming is the process of preparing food in an enclosed setting, surrounded by moisture, hot vapors, and pressure. It's a healthy alternative method of cooking as it involves no oil or butter so that you can keep your calorie count in check.
You can prepare various food items through steaming, including vegetables, soups, meat, fish, and poultry. With reduced cooking time and a high nutrition value, a premium quality food steamer is a must-have kitchen item.
1.All Clad's Stainless Steel Steamer
All Clad's Stainless Steamer is a 5-quart covered pot, an excellent option for cooking veggies, fish, and meat. It features a highly polished stainless steel surface, offering stick resistance and easy maintenance.
2.Cuisinart Digital Glass Steamer
Cuisinart Digital Glass Steamer comes with a five-liter glass cooking pot, a stainless steel steaming tray, and a glass lid. Its smart LCD control system can be adjusted to make cooking easy and user-friendly.
3.Hamilton Beach Digital Food Steamer
Hamilton Beach Digital Food Steamer is a versatile 2-tier steaming utensil that will allow you to prepare a wholesome meal. It comes with an automatic heat setting to warm cooked food and a digital touchpad to adjust cooking time and other functions.
4.Oster Double Tiered Food Steamer
Oster Double Tiered Food Steamer is an excellent option for preparing vegetables, meat, fish, and poultry. Its seamless double-tiered design allows for cooking two food options at the same time. The transparent steaming bowl makes it easy to see your cooking progress.
5.Farberware Classic Series Sauce Pot with Steamer
Farberware Classic Series Steamer is an award-winning cooking tool by Business Insider. It includes a stack 'n' steam 3-quart saucepot with lid and steamer basket insert that can be used as a lobster or soup pot, and even veggies and corn cob.
6.NutriChef Food Dehydrator Machine And Professional Electric Steamer
NutriChef is a multi-purpose steamer appliance that can be used as a food dehydrator and steamer. You can prepare veggies, meat, rice, and fruits in this versatile steamer pot. It comes with four stackable trays to hold different food layers for drying and steaming.
7.IMUSA USA Aluminum Steamer with Glass Lid
The IMUSA Steamer is made of aluminum and comes with a tempered glass lid and steam vent system. It contains a removable steamer insert and easy-to-hold handles and knob for a solid grip.
8.Granite Ware Steamer & Stock Pot
Granite Ware Steamer is made from steel and comes with a 7.5 Quart Capacity. Its durable steel construction provides for excellent and even heat distribution. It is also dishwasher safe, so you don't have to fret when the much-hated washing time comes.
9.OXO Stainless Steel Good Grips Steamer
OXO Stainless Steel Good Grips Steamer comes with a removable handle, providing a convenient and seamless cooking experience. It can be used with a pressure cooker because of its study stainless steel make.
10.Mister Kitchenware 10 Inch Handmade Bamboo Steamer
Mister Kitchenware Bamboo Steamer is a brilliant option for steaming veggies, meat, fish, and even dumplings and dim sum dishes. The complete set comes with two stacking steamer baskets, a lid, and ten disposable basket liners for sticky foods.