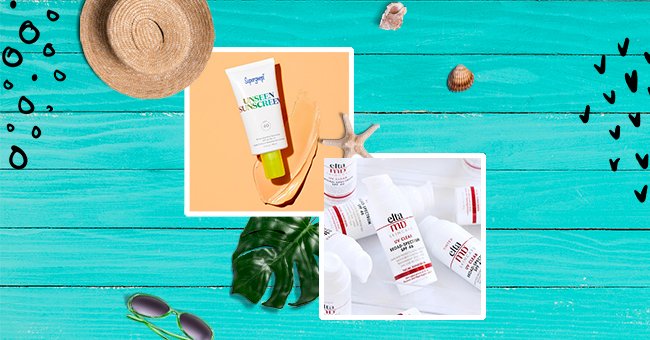 Our Picks: The Top 10 Sunscreens For 2021
Long gone are the days where a simple swipe of sunscreen left a greasy, white-streak mess on your face. These days, sunscreens include a range of skin-friendly ingredients that not only improve the look of your skin but leave no trace of it on your face.
When choosing a sunscreen, you want to ensure its minimum SPF rating is 30. According to derms, the rating is indicative of its efficiency. In other words, the higher the protective layer, the fewer chances of collagen degradation, fine lines, wrinkles, and skin cancer.
Before you start shopping, note that sunscreens are either chemical and physical (mineral). Minerals last longer but are sometimes responsible for that white cast, while chemical needs more reapplication but invisible. Here are 2021's top ten sunscreens.
EltaMD UV Pure Broad-Spectrum SPF 46
Price:$36
Often mentioned, this broad-spectrum sunscreen contains an enviable cocktail of lactic acid, hyaluronic acid, and Vitamin E, which all got towards boosting your skin barrier. Moreover ist fragrance-free and oil-free making it a perfect choice for those with acne skin.
Aveeno Positively Mineral Sensitive Skin Daily Sunscreen Stick
Price:$12
Putting your skin through the wringer? We are talking about lengthy periods in the sun while at the beach or playing sports? This lightweight mineral formula is water and sweat-resistant for up to 80 minutes. Also, at SPF 50, you may want to stock up for the summer.
Supergoop! Unseen Sunscreen SPF 40
Price:$34
This sunscreen is a cruelty-free, vegan-friendly product that boasts many benefits, including protection from blue light emitted from phones and computers. Moreover, it contains a complex from meadowfoam seed that aids in hydration and frankincense to soothe skin.
Vichy LiftActiv Peptide-C Sunscreen SPF 30
Price:$39
This chemical sunscreen lotion was voted the best sunscreen by Good Housekeeping testers. The acclaim is a testament to its zero white cast and powerful protective film that gave no sunburn. It has fragrance, though, so those sensitive to scents may want to skip this.
Sun Bum Original Sunscreen Spray SPF 50
Price:$15.78
Prefer to spritz rather than apply? This sunscreen is for you. Frankly, a spray makes it easier to reapply with the derm recommended two-hour reapplication process. At SPF 50, this spritz leaves no white residue, and it applies smoothly.
La Roche- Posay Anthelios Melt-in Milk Body & Face Sunscreen Lotion
Price:$24.99
You might find this sunscreen topping many lists. Why? Because this super popular product from La Roche Posay does what it says. It melts onto the skin. Moreso, it is lauded for its zero white cast even from users of darker complexion and its SPF 30 rating.
Dr. Jart Every Sun Day Mineral Sunscreen SPF 50+
Price:$39
As earlier stated, mineral sunscreens have been known to leave a white cast on the skin. However, Dr. Jart's offering does not. It disappears into the skin and leaves a beautiful dewy finish. It is also SPF 50 and super hydrating.
CeraVe Hydrating Sunscreen Sheer Tint
Price:$16
This sunscreen comes with ceramides that go towards protecting the skin's barrier and lock in moisture. That's a plus in our book. Furthermore, it comes in a beige tint that goes on sheer and claims to leave your skin with a natural glow.
Isdin Eryfotona Actinica SPF 50+
Price:$55
This broad-spectrum offering is SPF 50 rating and comes highly recommended from derms. It boasts a non-greasy lightweight formula. Moreover, it contains the enzyme photolyase, which aids sun-damaged skin, and Vitamin E that boosts the skin's natural defense.
Coola Mineral Body Sunscreen
Price:$32
Last but not least is this mineral body sunscreen from Coola. It is packed in an eco-friendly tube and is an excellent hydrating and nourishing product that also gives excellent sun protection. A plus? It leaves no white cast.