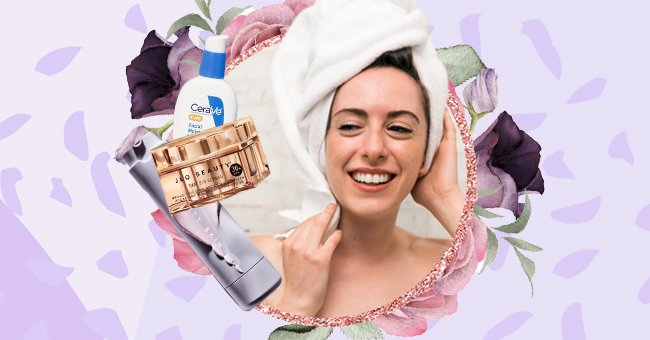 Our Pick: Top 10 Sunscreens To Wear Under Makeup
To protect ourselves from the sun's rays, we all need sunscreen to avoid sunburn. Sunscreen not only helps protect us from UV rays but also hydrates our skin. When we can, we should avoid prolonged exposure to sunlight, especially during the hottest hours, and protect the skin with adequate sunscreens with thirty to fifty SPF.
More importantly, apply sunscreen even when you are not on the beach, especially when the sky appears cloudy. The ozone layer that protects us from ultraviolet rays is more dangerous. Remember to reapply your sunscreen every two hours for maximum protection.
It is also essential to know that you should buy sunscreen for the body and a specific one for the face, as the creams for the body have a formula that, when applied on the face, could block the pores and therefore promote the increase of pimples. Furthermore, you can use your facial sunscreen as a make-up base before your usual make-up.
1. La Roche-Posay Anthelios Mineral Sunscreen Moisturizer
This Mineral SPF moisturizer with Hyaluronic Acid provides twelve-hour hydration and helps reduce signs of premature skin aging caused by the sun. It is suitable for normal, oily, dry, combination skin types.
The presence of hyaluronic acid help hydrate and plump skin, glycerin is known for its moisturizing and hydrating properties, and panthenol, a form of Vitamin B5, is known for its moisturizing and skin-conditioning properties
2. Kiehl's Super Fluid UV Defense
Suitable for all skin types, this lightweight facial sunscreen with SPF 50+ and pollution protection helps defend against UV rays, pollution, and free radicals. Its formula also helps protect skin from the early signs of aging.
To use, apply the facial sunscreen with SPF 50+ in the morning at the end of your daily skincare routine, avoiding the eye area. This may be used alone or under your foundation.
3. Shiseido Clear Sunscreen Stick
Having SPF protection under your makeup is good but having one over your makeup on the go is better. That is the kind of protection this stick with SPF 50+ offers you. It is also free of oxybenzone and octinoxate, as well as being suitable for all skin types.
The HeatForce technology is activated on hot days after the formula has been applied to the skin. In contrast, the WetForce technology is activated on exposure to water or perspiration for thirty minutes.
4. CeraVe Hydrating Sunscreen Face Lotion
This lotion with SPF 30 helps form a barrier on the surface of your skin to reflect the sun's rays and protect sensitive and all other types of skin from UV damage. It has three essential ceramides that help restore the skin's natural barrier and lock in moisture.
Apply CeraVe Sunscreen Face Lotion SPF 30 liberally fifteen minutes before sun exposure, and be sure to reapply at least every two hours and immediately after towel drying. Dispense a small amount to one palm and rub your hands together. Apply to one area of the body and thoroughly massage into the skin—the formula spreads quickly without leaving a greasy residue or feel.
5. Shiseido Ultimate Sun Protector Lotion
Ultimate sun protector lotion is an Invisible Broad Spectrum SPF 50+ face and body sunscreen with a protective veil that becomes even more effective in heat and water. It is an ocean-friendly sunscreen that keeps pace with active and outdoor activities.
This water-resistant lotion blends comfortably into the skin without leaving residue or feeling greasy. Best to reapply every two hours if you are exposed to the sun for longer periods. The best part is that you can use it both under and over your makeup.
6. La Roche-Posay Anthelios Clear Skin
This is one of the best sunscreens for acne-prone skins as it helps absorb excess oil, reduce shine, and does not cause breakouts. This oil-free sunscreen provides advanced protection while absorbing pore-clogging oil, even in heat and humidity.
The sunscreen has been formulated with the brand's Cell-Ox Shield® technology: broad-spectrum UVA/UVB protection with antioxidants. It is also waterproof and excellent for sensitive skin.
7. Supergoop! Unseen
This is an invisible, weightless, scentless sunscreen with SPF 40 that leaves a velvety finish. This innovative, antioxidant-rich multitasker has a unique oil-free formula that glides onto the skin while providing protection.
Use it as a makeup-gripping primer under the foundation when you want a little more coverage or on its own if you want a more natural look. It's a game-changing way to wear sunscreen every day.
8. Supergoop! Glowscreen
The Supergood! Glowscreen is an SPF 40 makeup-gripping primer that leaves a dewy, glowy finish with sun protection and significant hydration. Glowscreen perfects skin, creating a dewy base layer for your look.
The sheer liquid texture gives your skin a healthy dose of pearlescence to add instant, glowing protection with no visible glitz or glitter. It also has an added boost of hydration with a blend of hyaluronic acid and Vitamin B5 that leaves skin naturally supple and dewy from the inside out.
9. Supergoop! Mattescreen
This is a hundred percent mineral sunscreen with SPF 40 that helps leave skin looking mattified and poreless. This is also a primer with a mineral formula with a sheer tint, leaves a matte finish, and is perfect for sensitive skin.
This should be applied as the last step of your beauty routine just before you apply your makeup. Since it works as a primer, there is no need to prime your face anymore.
10. La Roche-Posay Anthelios Melt-in-Milk Sunscreen
This multi-award-winning sunscreen with advanced protection is a fast-absorbing, velvety texture that leaves skin hydrated and smooth. It is the brand's most popular, best sunscreen for the face and body.
SPF 60 has a powerful antioxidant complex to help protect skin from free radicals caused by UV rays. It is waterproof and lasts for over eighty minutes after application.