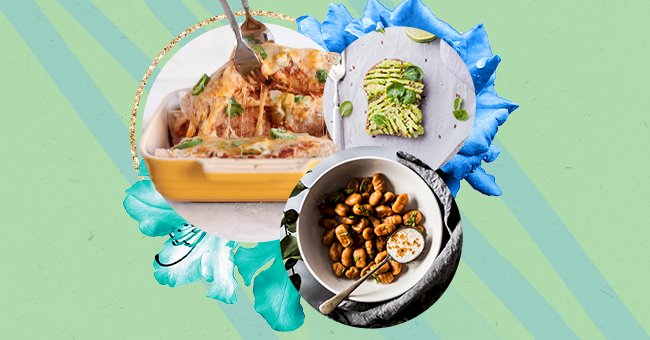 Our Pick: Top 10 TikTok Recipes Worth Trying
In 2016, TikTok was called Musical.ly and was used to publish short music videos when it was born. But like all social networks, as users increased, TikTok expanded to encompass all aspects of the human experience - including, of course, cooking.
The food challenges are not among the most common, but the video recipes abound. However, they are mostly amateur, shot not by professionals, but by passionate, home kitchens rather than in restaurants and newsrooms.
Among the most popular are those that show how to turn a frozen pizza into a gourmet dish, what to take for lunch to school or work, or prepare garlic and oil pasta in minutes and more.
1. Salsa Verde Enchiladas
You're only five ingredients away from making these delicious salsa verde enchiladas! They're cheesy, creamy, and just plain delicious. These Salsa Verde Enchiladas are so delicious and full of fantastic flavor and protein.
Top them off with all your favorite toppings, and dinner is served. You can make it more healthy by using plain Greek yogurt instead of sour cream for the best results.
2. Sunflower Potatoes With Tomato Salad
The design and look of this meal alone are enough to get your mouth watering. You can peel your potatoes overnight if you want a quick breakfast fix in the morning.
If you are team fitfam, you'd definitely love the tomatoes salad. Add your favorite cheese to your potatoes and allow yourself to enjoy the delicious goodness of breakfast.
3. Smashed Avocado On A Baguette
Oh, avocado toast. It's the TikTok obsession the internet loves to make fun of, but it actually has a host of health benefits. It has benefits such as lowering cholesterol and allowing the body to absorb cancer-fighting carotenoids from other fruits and vegetables.
If you are a devoted follower or love to hate it, you can't ignore the brunch menu trend. Let us know what you think about this recipe and if you have tried it.
4. Sweet Potato Gnocchi
Gnocchi, what a passion! Soft and tasty, they are a simple and ancient first course, a trendy home recipe. In addition to traditional potato gnocchi to color your table and enrich new flavors, you can try the purple gnocchi potato with green gnocchi passing through the typical pumpkin gnocchi.
Among the infinite variations, there are also sweet potato gnocchi, also known as American potatoes, which with their unmistakable taste, give a sweet note to the preparation and go well with strong-flavored ingredients such as radicchio and speck.
5. Peanut Butter And Jam Baked Oats
This is an easy-to-make recipe. The peanut butter and jelly oatmeal bake is naturally sweetened with a bit of pure maple syrup and your favorite jam.
This protein-packed peanut butter and jelly baked oatmeal can easily be prepped ahead of time! It is also gluten and dairy-free.
6. Corn Ribs
This is one of the latest TikTok trends that has gone viral. The hardest part of preparing this is cutting the corn. But once you have been able to cut it into halves and quarters, the rest is easy.
They can be done on the BBQ, the air fryer, or even in a pan. When the ribs are done, and the kernels are cooked and tender, they become slightly curved.
7. Hot Honey Avocado Toast
Together with brioches, pancakes, and bagels, this tasty savory appetizer cannot be missing from your table! The toast is what makes it truly special, as it contrasts the softness of the avocado cream.
Once you have recreated this combination, you just have to give your imagination a chance to customize your toast.
8. Pancake Cereal
Just when you thought that pancake could not get any better with the multitude of syrups and combinations, the pancake cereal appears in the scenery.
Pancake cereal is known to be crispy on the outside, soft in the center. They are so versatile you can literally serve them with anything you want! If there ever was a way to enjoy pancakes, this is it!
9. Chocolate Chip Pancake
On Sundays, being able to wake up late, go down with the scent of coffee that invades the house, and sweet pancakes with chocolate chips waiting for you, I would say the perfect breakfast!
The pancakes with chocolate chips are among the most popular versions of this delicious dessert of American tradition. Add a hot cup of your favorite drink, and your day can begin!
10. Oreo Fudge
This is the easiest three-ingredient oreo fudge ever. All you need are Oreo cookies, one can of condensed milk, and two cups of white chocolate chips.
One bite, and you will discover how genuinely blissful these Oreo fudge taste. If you have friends around, be sure that this won't last for long.