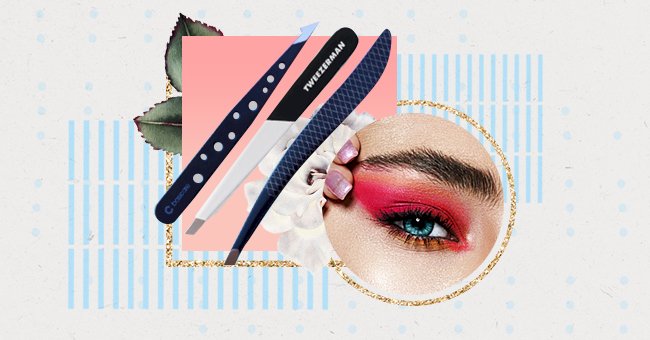 Our Pick: Top 10 Tweezers Worth The Investment
Often, when buying eyebrow tweezers, their importance is underestimated. However, it is an indispensable tool for all women and men who love to take care of themselves and their beauty.
Buying a quality one allows you to obtain precise results such as that from your makeup artist, saving time and money. A good tweezer will not break the hair when pulled and will not pinch the skin.
Having perfectly groomed eyebrows makes all the difference, especially in a woman. It changes your look, makes your brow look tidy, clean, and more beautiful. For this, having the right eyebrow tweezers is essential.
1. Tweezerman Midnight Strike Slant Tweezers
Famous for its quality and precision, this was also a Best of Beauty award-winner since 2001. The tweezer is recognized for its premium and professional quality for expert brow shaping. The brand's top-selling style is a tried and true classic.
2. Tweezerman Pointed Slant Tweezer
Its tip design combines the easy handling benefits of the Slant with the ultimate precision of the Point. This all-in-one stainless steel Pointed Slant Tweezer is uniquely designed with perfectly aligned, hand-filed tips that combine the expert handling of our Slant with the remarkable precision of our Point.
3. Tweezerman Point Tweezers
The Tweezerman Point Tweezers claim to have perfectly aligned, ultra-fine pointed tips that can grab even the smallest and most delicate hairs with ease. They are comfortable and feel secure to hold. They're very useful at cleanly removing hairs without breakage.
4. Basicare Curved Precision Slant Tweezers
This is an expertly engineered Curved Precision Slant Tweezer specially designed to provide quality brow care at home. Its slant tip flawlessly removes unwanted hair to shape your brows to perfection, and its full size delivers a perfect balance and impeccable alignment.
5. Basicare Precision Pro Slant Tweezer
This is an all-in-one Ultra Precision Slant-Point Tweezer uniquely designed with perfectly aligned ultra-thin tips to perform with superior accuracy. Expertly crafted from premium stainless steel, its hand-sharpened tips, and precise alignment will grab even the tiniest hair every time.
6. Rubis Classic Slant Tweezers
Available in many other attractive colors, the slant tweezers are impressive in their simplicity and embody the traditional, perfect and precise craftsmanship of Rubis. They were designed to make daily eyebrow care easier and are suitable for experimenting with new eyebrow shapes.
7. Revlon Ceramic Tip Slanted Tweezers
This is an innovative, hand-finished ceramic tip that won't bend, rust, or corrode. It is designed with a slant tip for easy tweezing so that you can pluck even the finest, shortest hairs and also have a tweezer that lasts a long time.
8. Bobbi Brown Tweezer
Before tweezing brows, always start with a clean base. Pluck stray hairs, but be careful not to take off any hair beyond the inner corner of your eye. Brush brows upwards using the brow brush and tweeze hairs underneath the brow to create the shape you want. If necessary, remove stray hairs above the brows.
9. Basicare Platinum Point Tweezer
The ideal time to tweeze is after a bath or shower as the pores have been opened. This will help get your hair ready for removal, and it will also reduce pain. The Platinum Precision Point Tweezer will aid your process and give you maximum control.
10. Tweezer Guru 4-piece Tweezers Set
Say goodbye to the frustration of your old eyebrow tweezers and marvel at the perfectly aligned tips of your new Tweezer Guru tweezers. It has perfectly calibrated tension for more control and a stress-free tweezing ritual.