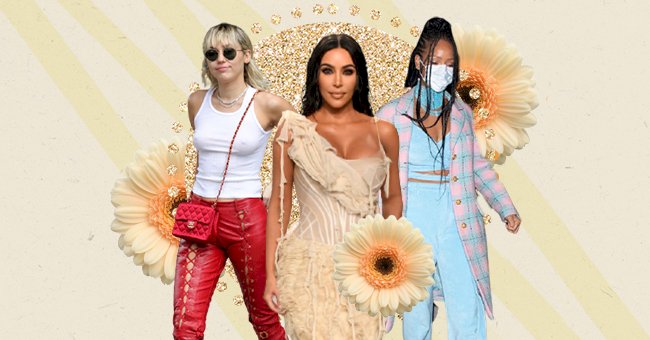 Our Pick: Top 10 Vintage Fashion Looks From Celebs
In recent times, we have all been preaching about recycling. This has caught on in the fashion world, and even celebrities now opt for vintage fashion to show off their chic, elegant, and glamorous style.
Vintage is now a consolidated must. For some decades, it has crept into the wardrobes of the most stylish girls. We all now boast some historical fashion finds, stolen from our grandmother's kit, found in some flea market, or bought in a vintage shop.
In fact, celebrities seem to have rediscovered clothes and accessories considered outdated and now more contemporary than ever. And the result is always very fashionable.
1. Zendaya In Versace
Zendaya has always been known to make her mark in whatever she does, and her style is no different. For the 2020 Green Carpet Fashion Awards, she went back in time to choose a dress from the Versace Fall 1996 collection.
Anna Klevhag first wore the dress on the 1996 runway. During that period, Kate Moss and Carla Bruni wore a purple version of the dress, while Naomi Campbell wore a yellow version in the same show in which Anna K walked.
2. Miley Cyrus In John Galliano For Christian Dior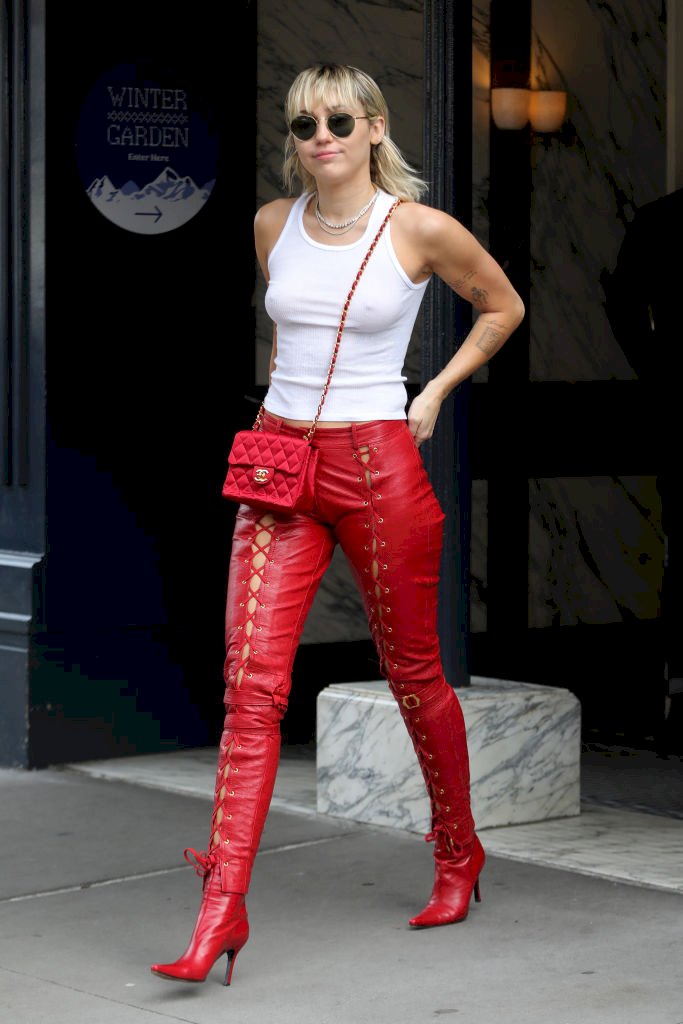 GettyImages
While attending New York Fashion Week last year, Miley Cyrus chose the lace-up red leather trousers from the 2003 Christian Dior Fall collection designed by John Galliano.
John Galliano was one of the first British designers to take over a French fashion house, and he served as Dior's creative director from 1996 to 2011. Following a scandal in 2011, after 15 years of running Dior, the house dismissed him for "odious behavior."
3. Rihanna In Christian Dior And Chanel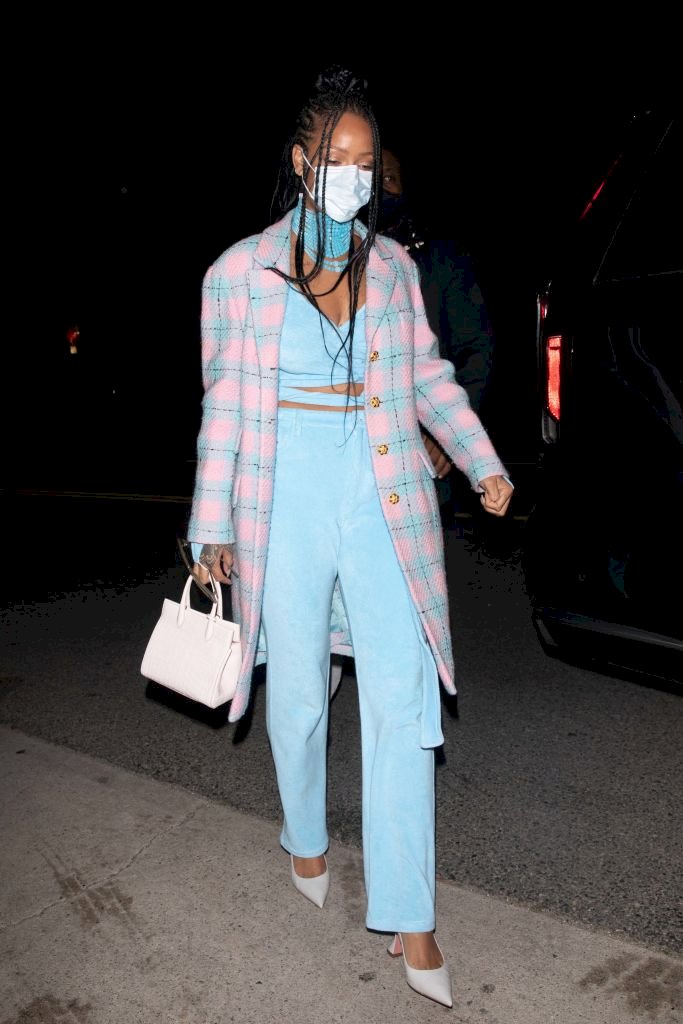 GettyImages
All hail Rihanna, the queen of chic style. As she stepped out in a stylish monochromatic look, she opted for Dior's vintage 1990s beaded choker.
Her choker complemented her pastel checked coat from Chanel's 1996 Fall collection. Now, this is how you go to dinner in top style.
4. Princess Beatrice In Queen Elizabeth II's Dress
For her micro-wedding, Princess Beatrice wore her grandmother, Queen Elizabeth II's old dress. The princess had the Norman Hartnell-designed gown altered by Royal dresser Angela Kelly and designer Stewart Parvin for her special day.
Queen Elizabeth first wore the dress for her first outing to a state dinner in Rome in 1961. Then, she wore it with embellished shoulder straps, while Princess Beatrice had the design updated with puffed organza sleeves.
5. Kim Kardashian West In Alexander McQueen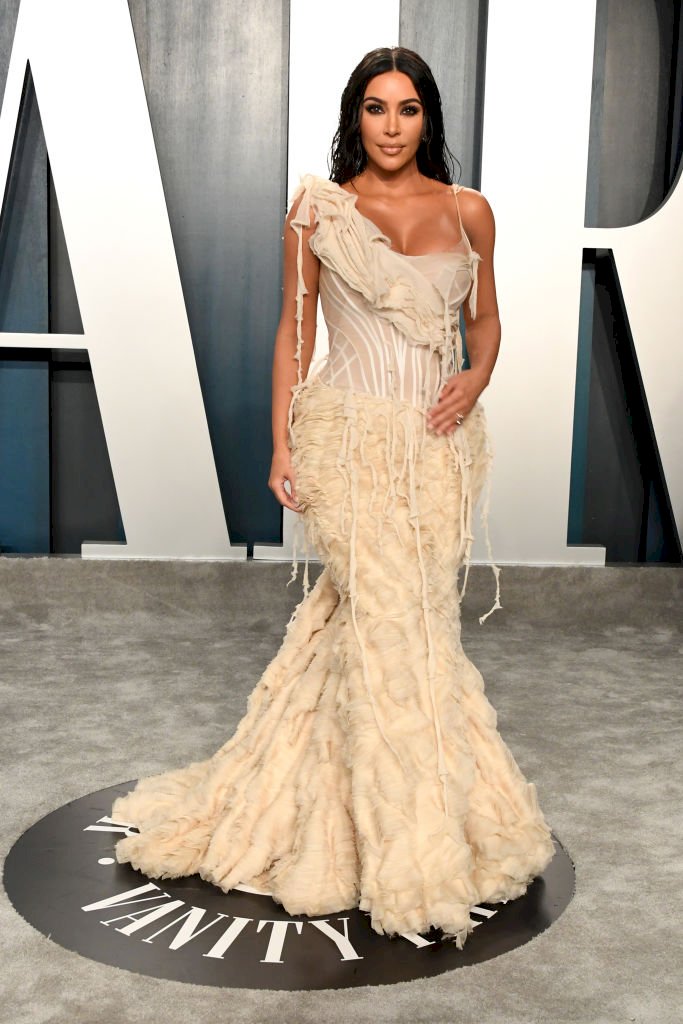 GettyImages
Kim Kardashian West attends the 2020 Vanity Fair Oscar Party hosted by Radhika Jones at Wallis Annenberg Center for the Performing Arts in an Alexander McQueen Oyster dress from the spring/summer 2003 collection.
The dress is one of only two ever produced. The second one is sitting in the Metropolitan Museum of Art. The museum labels the dress as "a poetic rendering of a disaster at sea."
6. Lily Aldrige In Tom Ford For Gucci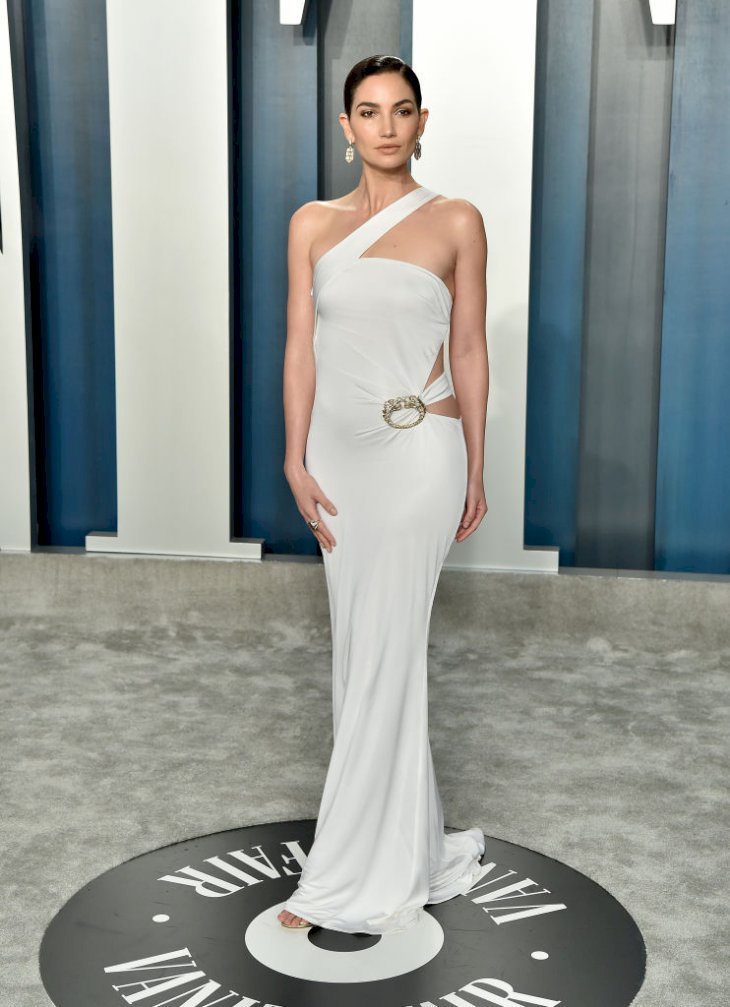 GettyImages
Lily Aldridge attended the 2020 Vanity Fair Oscar Party hosted by Radhika Jones at Wallis Annenberg Center for the Performing Arts in a white dress by Tom Ford for Gucci.
The one-shoulder gown featuring a cut-out on the waist finished off with jewelry is from the autumn/winter 2004 collection.
7. Kylie Jenner In Dior
During her recent ski vacation, Kylie wore two archival Dior pieces from the spring 2004 collection designed by John Galliano. Kylie looked pretty in pink even though it was cold.
She paired the puffer jacket designed with the brand's signature monogram with matching below-the-knee sneakers boots. What's not to love about this chic vintage styling?
8. Margot Robbie In Chanel
Margot Robbie's stylist Kate Young told the British Vogue that after choosing this vintage Chanel dress, she had to add Robbie's name in a handwritten book, which records all previous owners and wearers, kept in the vault of the brand.
The strapless chiffon black fitted bustier gown is from Chanel's Spring 1994 Haute Couture collection. The dress featured a circular lapis with gold and pearls with a pearl tassel.
9. Adwoa Aboah In Tom Ford For Gucci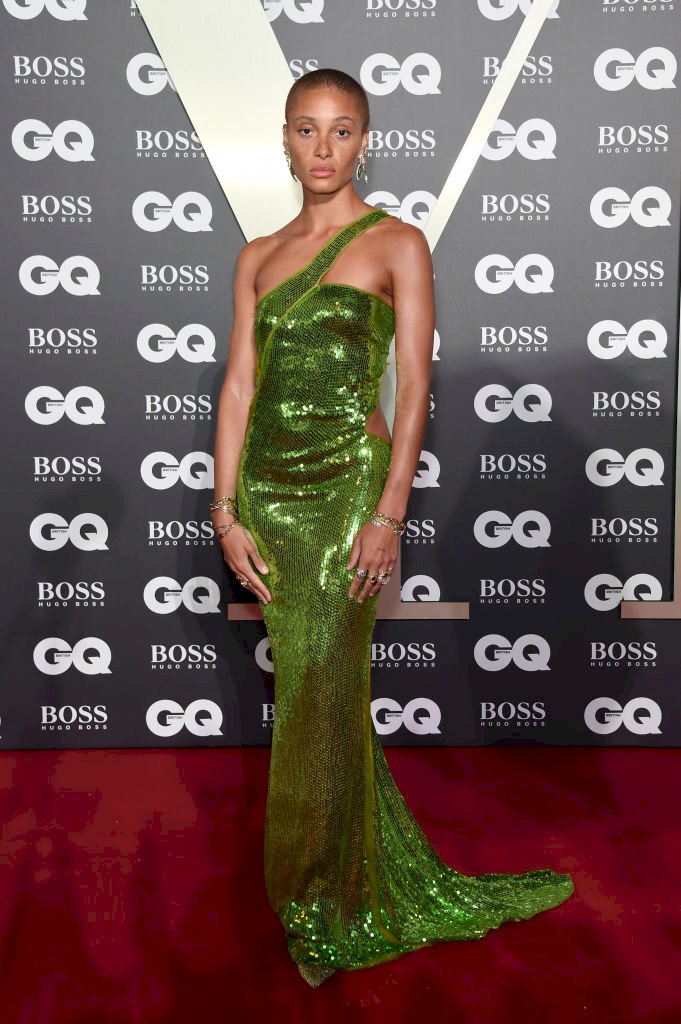 GettyImages
The supermodel Adwoa Aboah attended the GQ Men Of The Year Awards, 2019, wearing a Tom Ford for Gucci, green sequinned, asymmetric dress from 2004, where she presented Stormzy with the Haig Club Solo Artist awards.
Sourced from William Vintage, a London-based store known for its stock of rare and collectible vintage, Adwoa and her stylist Alexandra Conran modernized the gown by paring things down on the accessories front and taking out the stole from the original design.
10. Meghan Markle In Courrèges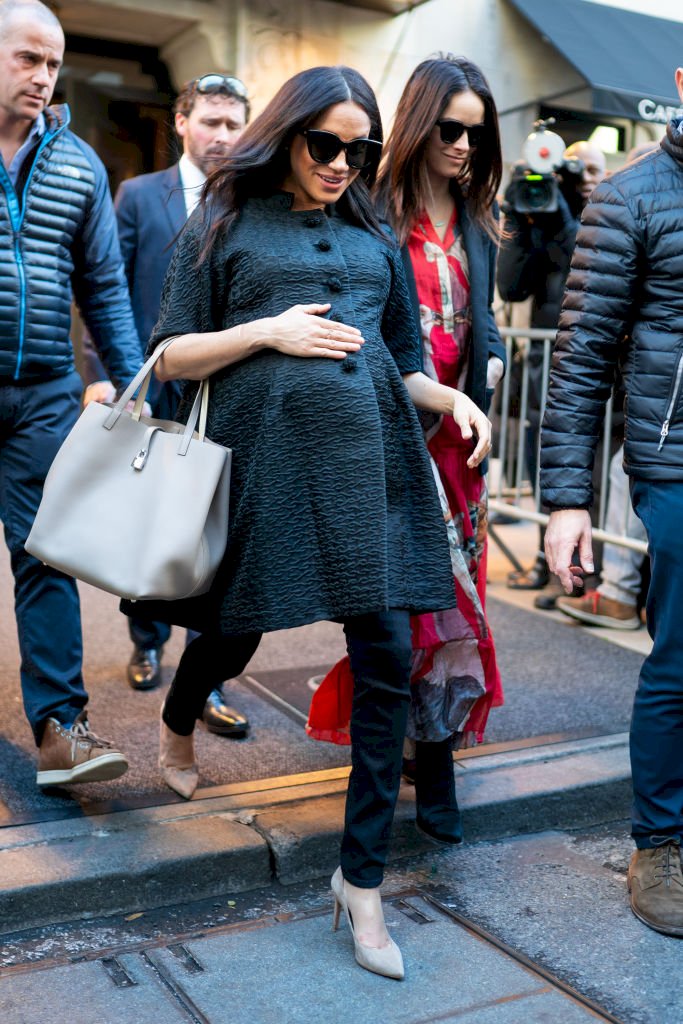 GettyImages
Meghan Markle, while in New York for her first baby, Archie, attended her baby shower organized by friends wearing a vintage piece.
​The piece was by French fashion designer, Courrèges circa 1965. This was a trapeze swing coat in black matelassé with a standing collar and large black buttons down the front.