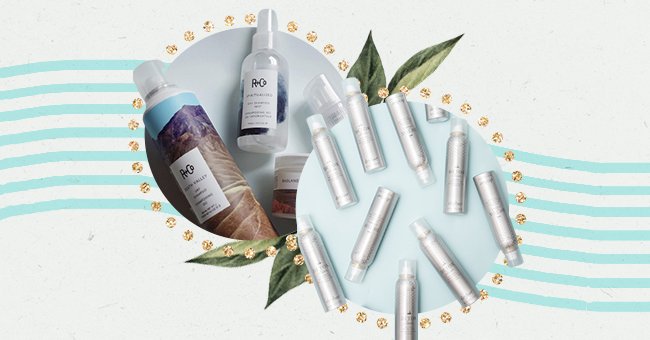 Our Pick: Top 5 Dry Shampoos For Dark Hair
For the days when all you want to do is lazy around and sleep on your hair washing schedule, dry shampoo can come in handy. However, not all dry shampoos are created equal, and some can leave behind white residues, rendering them useless for dark-haired folks.
People refrained from using dry hair products for a very long time because of their seemingly lousy reputation. There were all sorts of concerns, from powdered substances all over the scalp and hair to dull, greasy-feeling strands and what-not.
But the innovative modern-day formulas promise better results without any residual powder or white flakes, which means nearly everyone can use them. From the best-concealing treatments to invisible formulas second only to the liquid shampoos, we've rounded up the best dry shampoos dark-haired people can add to their hair care arsenal.
R+Co Spiritualized Dry Shampoo Mist
R+Co's Spiritualized Dry Shampoo Mist is a lightweight formula that cleanses the hair and scalp to remove buildup without any white residue. It is a nourishing formula that also soothes an itchy scalp.
This dry shampoo contains glycerin, which helps retain the moisture content. Also present is castor oil that conditions the scalp, detangles the hair strands, and gives them a soft, glossy, and shiny appearance.
Batiste Hint Of Color Divine Dark Dry Shampoo
Batiste Hint of Color Divine Dark Dry Shampoo is a hair formula designed particularly for brunettes. This tinted brown dry hair treatment nourishes the scalp and hair by absorbing excess oil, stabilizing the moisture, and giving an overall fuller hair look.
Verb Dry Shampoo For Dark Hair
Verb Dry Shampoo for Dark Hair is an invisible formula that breathes life into unwashed hair by giving it a volume and moisture boost. It is a brilliant hair transforming treatment for people who want the most out of their blown-out hair.
It is enriched with glycerin, locking in moisture, making the hair strands soft, smooth and manageable. This colorless shampoo also cleanses the hair to remove dirt and oil and contains notes of grapefruit and oatmeal to add a touch of light, fresh fragrance to your hair.
Moroccanoil Dry Shampoo For Dark Tones
Moroccanoil Dry Shampoo for Darker Tones is a cleansing formula containing rice starch to absorb excess oil and remove buildup, leaving the hair feeling fresh and clean. This dry hair spray contains the signature Moroccanoil fragrance and is a color-safe treatment that also shields the hair from UV rays.
Drybar Detox Clear Invisible Dry Shampoo
The Drybar Detox Clear Invisible Dry Shampoo is a colorless, lightweight formula that cleanses the hair to remove excess oil and dirt. This invisible spray contains potato starch, which absorbs oil, odor, and sweat without leaving behind a white powder.
It also contains amla oil, which nourishes the scalp and hair, giving it a soft, sheer finish. Kiwi extracts work to thoroughly cleanse the scalp and roots, leaving your hair feeling fresh and clean like you just washed it.