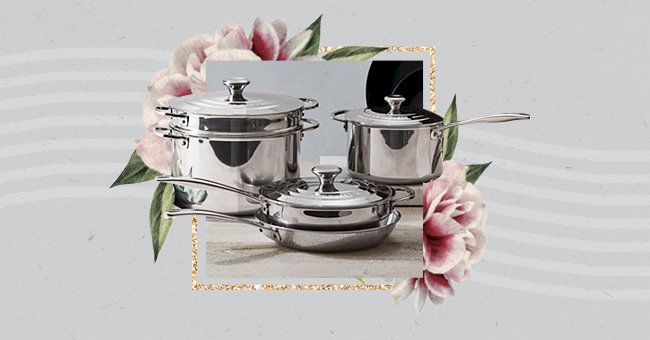 Our Pick: Top 8 Cookware Sets To Invest In
The kitchen may be an essential room in a house since everybody uses it. Having a fully equipped kitchen is critical for making cooking, baking, and cleaning effective.
Home is where the heart is, and the kitchen is where most of the other vital organs are in that home. The kitchen is a space that brings people together and helps nourish them in the process, so we must invest in it.
More people have seen the value in investing in their kitchen tools and trinkets over the past year of being home. If you are one of them, take a look at the ten cookware sets you won't regret buying for your kitchen.
Anolon Professional 3 Piece Lidded Saucepan Set
These saucepans have heat-resistant handles, are nonstick inside and outside, and are oven and dishwasher safe. Their lids also allow for easy draining, and the saucepans come with an unbeatable lifetime guarantee.
GreenPan Cookware Set
The GreenPan cookware set includes saucepans, a frying pan, a colander, a spaghetti server, and spoons. If the value for money doesn't convince you, then their advanced 100% toxin-free nonstick technology will.
Le Creuset 3-Ply Stainless Steel Saucepan Set With Lids
These Le Creuset saucepans have moisture-retaining lids and an aluminum core that helps heat food quickly. The pots are dishwasher safe, and the helper handles promote easy lifting but can get hot when cooking.
Eaziglide Neverstick2 Saucepan Set With Lids
Eaziglide's signature neverstick coating and eazipour straining lids give these saucepans optimal efficiency. The curved handles ensure that holding them is comfortable, and they're suitable for oven and dishwasher use.
ProCook Professional Ceramic Cookware Set
This nonstick cookware set includes three saucepans, a frying pan, a stockpot, and a casserole dish. The best part about this set is the CoolTouch® handles that protect your hands from burning while you cook.
Calphalon Hard-Anodized Nonstick Pots and Pans 10-Piece Set
This Calphalon 10 piece set boasts outstanding heat distribution, a quick searing, and boiling. Reviewers even share that the nonstick technology is so effective that you can scramble eggs in the pans without oil.
Scanpan Classic 14 Piece Set
This classic set from Scanpan is lightweight yet durable and is perfect for high heat searing and oven cooking. You will get a variety of saucepan sizes with this set making them great for cooking for one or many.
Hexclad Hybrid Nonstick 7-Piece Cookware Set
Spruce up your skillet collection with this seven-piece cookware set which only includes skillets and a wok. This set is made to withstand high heat, making it suitable for oven use up to 500 degrees Fahrenheit.