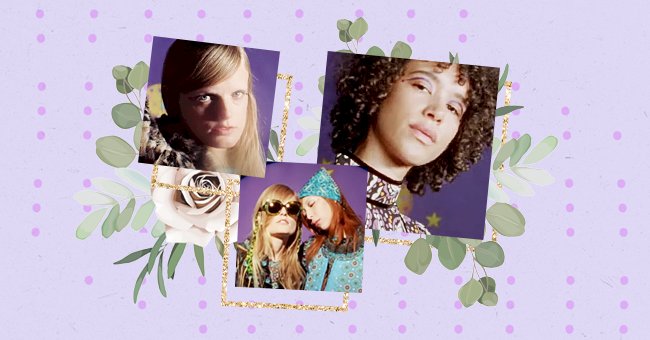 Our Picks: 10 Makeup Trends Worth Remembering From Fall 2021 Fashion Month
Fashion week, like all other events held during the ongoing pandemic, has had to adapt. Instead of being treated to front-row views, audiences had to marvel at designer offerings through virtual streaming.
However, this did not stop designers, hairstylists, makeup artists, and more from owing every look on the runway. Fashion week colored fall 2021 with smudged eyeliner, soap brows, press-on nails and so much more.
As the runways look to set the year's trends, stay ahead of the curve and consider trying out some of these looks as soon as today. Sifting through the noise, here is our pick of ten makeup trends worth remembering from fall 2021 fashion month.
Cat Eye Flicks
Cat eyes are back with a vengeance, as witnessed on the runways of Thebe Magugu. However, the iconic makeup look has been given an upgrade. How much of an upgrade? Think styled with a mullet haircut upgrade.
That's right. There is nothing demure about fall 2021's cat-eye. It's all rock and roll. Makeup artist Annice Roux Gerber drew super thin lines with sharply defined inner corners, paired with taupe eyeshadow and satin lips.
Grunge Eyes
Perhaps the dystopic feel of the ongoing pandemic has inspired the rise of shadowy eye looks because black eyeliner was back with a major bang. We love the lived-in looks on the runway of Marine Serre.
Get the look by pairing a mauvy lipstick that is not too out there to allow your eyes to smize down your enemies, or maybe Carol from accounts. Finish your eye look with a pewter eyeshadow for that grunge-like effect.
Abstract Eyes
We love us some Anna Sui, and her fall 2021 appearance had us in our "Euphoria" feels. The runways featured abstract eyes crafted by the legend herself; Pat MacGrath went full mod for this trend.
The sixties came out to play in full force as she created negative space on the eyes by drawing half-moons, thick lines, and abstract details. You, too, can achieve this look by using McGrath's technique of a wet brush and a highly pigmented shadow.
Soap Brows
The soap brows are not going anywhere, anytime soon. The look does give off a youthful vibe, so we give it points for its de-aging abilities. However, by the looks of fashion week for fall 2021, it does not look to be packing its bags soon.
As seen on the runways of Thebe Magugu, Jason Wu, Rebecca Minkoff, and more, the soap brow is all about that intense look. Emphasize its beauty with a glass skin-like appearance topped off with glossy eyes and lips.
Smokey Eyes
We did say that black eyeliner is back. Smokey eyes made it to fall 2021 runways featuring predominantly on Max Mara and more. The key behind this trend is the intensity, so you want to ensure that the finish is dramatic.
Achieve this look by taking swipes of black eyeshadow across your eye with your fingertips for a deconstructed look. Alternatively, if you want to look more precise, use a gel liner pot and an angled brush.
Burberry: Accent Stickers
While "Euphoria" is presently responsible for the accent sticker trend taking over makeup enthusiasts, you don't want to go crazy with this bold trend. Picked as one of our favorite looks, we love the festive aesthetic brought on by sparkly stickers.
Burberry's runways made a statement with gems and stickers on glowy skin for an out-of-the-box makeup look. Step out of your comfort zone by using minimal gems on your cheekbones or along your eyes to get this magical fall look.
Glossed up
On the topic of glossy looks, you want to keep an eye out for glassy skin and keep your lips shiny as well. Think clear gloss or colored gloss. However, the overall look should result in a jelly-like appearance.
Dries Van Noten rose above the fashion week chaos for us. Makeup artist Inge Grognard created a not quite red look with a peachy orange and red, pinky lip with clear skin and bold brows. Thus it's time to add a gloss to cart.
Barely There Makeup
As hinted, runways for fall 2021 were all about fresh skin. So you may want to start cracking on your skincare routine. Fresh, flawless skin with a natural glow makes a perfect base for the barely-there makeup trend.
The fall 2021 series of fashion week saw designers like Prabal Gurung, Jason Wu, Gabriella Hearst, and more utilize this minimal makeup trend. The looks gave less emphasis on heavy contouring and highlighting through creating a your-skin-but better look.
Statement Eyes
Statement eyes were all the rage for fall 2021, from the mesmerizing looks at Mame Kurogochi that featured tangerine lashes to the subtle and feminine looks on Preen by Thorton Begrazzi.
Begrazzi's presentation showed of a lilac look with barely-there makeup. The overall result sent our heads nodding. Why? The look can be easily replicated. More so, it may add a fun pop of color to your everyday makeup routine.
Vampy Lips
Fall boasts such rich colors it's impossible not to match it. In anticipation for the season, we saw some vampy lips make a play for dominance. As witnessed on Sandy Liang for fall 2021, vampy was turned up for extra drama.
This makeup look was achieved with bare eyes and skin for a richer result. A deep plum lip brought the look together. If you wish to have this intense look last all day, you can opt to go full matte.