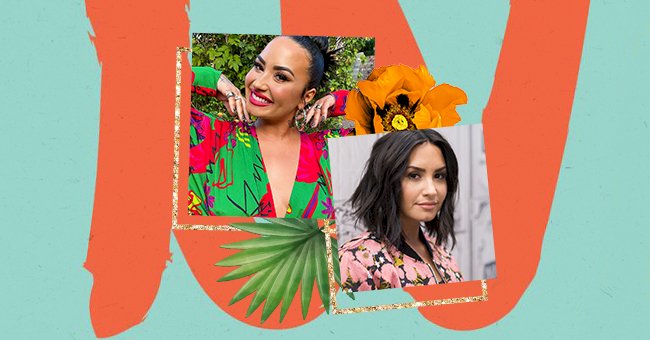 Our Picks: Demi Lovato's Top 10 Beauty Moments In Her Career
Demetria Devonne Lovato is an American singer and actress. After appearing on the children's television series Barney & Friends, she rose to prominence for her role as Mitchie Torres in the Disney Channel musical television film Camp Rock and its sequel Camp Rock 2: The Final Jam.
She's also a style icon with an ever-evolving and always inspiring look, and her hair is consistently her most excellent accessory. It seems like every time we see our cover star, she's sporting a brand new haircut or color, and she's been known to go from stick-straight strands to messy, rocker-chic waves in a matter of days.
Blunt bangs, pompadours, neon-colored dye jobs—this star has tried it all, and it doesn't look like she plans on stopping any time soon. She's totally outdone herself with her most recent switch-up, which involves a pink pixie cut that she says makes her feel free.
1. Pink Pixie
The singer-songwriter revealed her new pastel hair in bubblegum pink. The cut has her bangs falling about an inch above her eyebrows rather than falling towards her lids. Whether this is a new trim or the result of some expert root-volumizing styling, we're not sure; it looks absolutely fire.
You can thank stylist Amber Maynard Bolt for this pastel-pink hue. The pink shade was a popular go-to color for many who dyed their hair last year, so it's not shocking to still see it going strong among celebrities in 2021.
2. Side Swept Straight Hair
This time, Demi wears her hair in a side-swept shoulder-length hairstyle. She looks radiant with this hairstyle. If you want to find a simple yet stylish hairstyle that can upgrade your look instantly, you should not miss this one!
Side-swept hairstyles have been around for a while and only seem to be getting hotter! From day to night, this chic trend will keep you looking fresh.
3. Short Blondie
At the end of November 2020, Demi Lovato surprised fans with a drastic haircut. A chic, blonde bowl cut replaced her lengthy, black hair.
While she's no stranger to short hair, this was a great way to close out the year, but that was only the first step of her hair transformation journey, it seems.
4. Sleek Top Knot
The top knot is one of the most effortless updos to achieve. Throw your mane up into one when you're running late and don't have time to straighten or curl your strands. And second of all, there's just something about a top knot hairstyle that is oh-so-chic, isn't there?
If this look inspires you, be careful not to pull your hair backward too much to avoid breakages. To achieve the super sleek effect, use a gel to hold flyaways in place. You can wrap it up with a silk or satin scarf for a smoother finish.
5. Messy Half Up Half Down Ponytail
The half ponytail is one hairstyle that never goes out of style. You can achieve this look whether you have short hair, medium, longer locks, or even natural hair that you usually wear in an afro or cornrows. You can rock this versatile and stylish hairstyle for formal and fancy events or make it more casual too.
A half-pony is a way to draw attention to your face and, at the same time, to show off some beautiful flowing locks. Simply style some loose curls with a flat iron and gather your hair's front section into a pony. It's that simple!
6. Mermaid Waves
Here, Demi Lovato channeled her inner sea goddess with these long, flowing mermaid waves. You can use this hairstyle on any hair length. However, this hairstyle will work best for medium to long hair lengths and is appropriate for straight and wavy hair textures.
Mermaid waves shape faces so well. They bring the right amount of volume to a look, and they bounce so nicely when you walk down the street and strut your stuff. Mermaid waves can suit most face shapes. You just need to make sure that you place the waves in the right spot to complement your face shape and not hide it.
7. Demi With The Loose Curls
So whether you're headed to a fancy evening event or are just looking to try out a new curling technique for every day, this look is perfect. The hairstyle is quite simple to re-create with hot rollers or large curling iron.
To achieve this look, choose a medium radial brush to help make the wavy or curly hair textures neat. Use a diffuser on damp hair to activate any natural wave. Set hair in a large hot roller to achieve large soft curls and get volume and bounce, and then tousle curls and finger comb tresses into place.
8. Side Blunt Bob
Blunt bob hairstyles are as low maintenance as they come. They also the ultimate face-framing hairstyle that draws eyes to your attractive features. If you are used to having long hair, the bob can feel like a very drastic risk.
But the secret to the bob is that with the right cut, it can look good on anyone. Whether it's worn with a deep middle part and textured waves or sleek and classically straight, the blunt cut bob is a surprisingly versatile hairstyle.
9. Pink Highlights
If you are looking to add color to your hair, but you're not sure you want a full head of color, then just coloring the tips of your hair is the best way to go about it. This is one of the easiest ways to introduce color to your looks.
When opting to color your hair, be sure that you speak with a recommended stylist who will advise you on the best products and techniques to use to prevent hair damage. If you are bold and daring, you can play with a mix of colors.
10. The Wet Tousled Look
If you often leave home with wet hair fresh out of the shower, why not adopt the hottest hairstyle of all time and look stylish while allowing your tresses to air-dry? Wet look hairstyles have become quite commonplace these days, and more and more women are trying them out to skip minutes of arduous blow-drying every time they shampoo their hair.
In fact, wet-look hairstyles also come handy when you haven't washed your hair! You can rock the wet-look hairstyles on a regular day or create them for a special event. No matter what the length or texture of your hair, the wet-look will suit you.