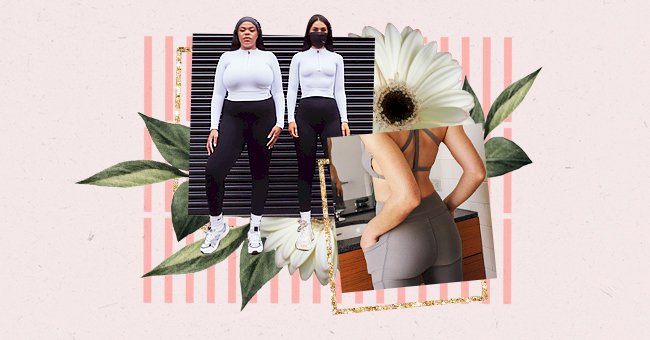 Our Picks: The Best Workout Leggings For Every Price Point
As you embark on your fitness journey, keep in mind that a simple pair of cotton leggings won't do the trick. No matter how tempting the price tag maybe, not all leggings are made the same. This is especially true as workout leggings are designed for that purpose.
Besides, proper activewear has to fit three criteria. This includes having breathable and non-sweat wicking material, being supportive enough to fit you like a second skin, and non-see-through to not expose your entire booty.
We have saved you the trial and error of having to experiment with a ton of leggings in the market. No matter your budget, gather your coin and purchase these ten best workout leggings that all fit all three criteria.
Tala Zinnia Leggings In Black
These leggings will flatter your figure while giving you excellent support, no wonder Tala has existed for years. They have a supportive waistband and perfect stretch, ensuring your pants stay in place. They are suited for yoga, gyming, or running.
Lululemon Fast and Free High-Rise Tight 28"
The tights are super functional as they come with a drawstring for extra support. Also, they have soft material and are designed for a four-way stretch. Why not get one of each in different colors of these stylish and functional leggings.
Outdoor Voices Springs 7/8 Legging
These leggings are great for hiking. They are thick enough to keep you warm during cold hikes but lightweight to give you more stretch in your steps. Also, they have a gorgeous panel design to keep you looking stylish, becoming the envy of your friends.
GymShark Adapt Animal Seamless Leggings
We love these leggings for their quirky design. They are easy to wear as they have a great seamless and supportive design. However, if you are prone to sweat a ton, you might want to pass on these as it has the potential to show sweat patches.
Gymshark Women Training Leggings
If you enjoy variety, you need to consider these leggings. They are available in various colors and have a super high waist giving you a ton of support. Besides, not only are these leggings functional, but they will also not break the bank.
Good American Icon Legging
Boxing class will never be the same again with these leggings. They have a great waistband with fantastic stretch that can handle all the intense movements. Also, the material is breathable and quick-drying, which is best for sweaty sessions.
Women's HeatGear® Armour No-Slip Waistband Tonal Print Ankle Leggings
These tights are designed with a new and improved fabric they've had since the company started. Therefore, these leggings won't slip or fall during your workouts. However, if you're planning to run with these, note that they don't have any pockets for storage.
Nimble High Rise Long Legging II
These leggings are so light; you might feel like you're wearing nothing at all. They provide excellent support and won't run when doing all your exercising movements. We also have this brand as it's a great supporter of sustainability.
Wolven Wolf Grey Pocket Legging
You might not want to take these leggings off. They are super soft, and they have deep pockets that are great for storing any essential items. We love these leggings for their odor-resistant fabric but don't be tempted not to wash them.
Modibodi 7/8 Recycled Active Legging
If you would like to give period leggings a try, this is your best bet. The leggings can hold up to three tampons of menstrual blood while giving you fantastic support to power through your workout sessions. Therefore, make your period more sustainable with these leggings.