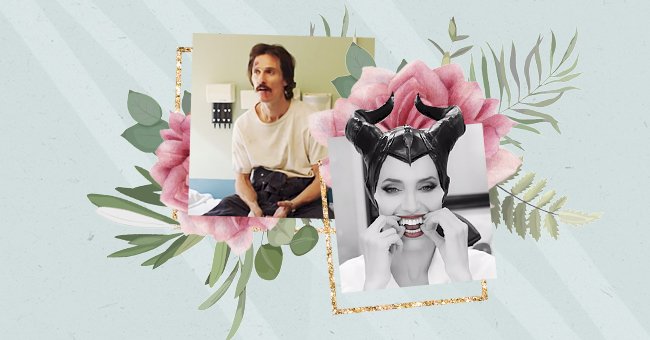 Our Picks: Top 10 Most Extreme Movie Transformations
From hours or sometimes months, some on-screen characters take time for actors to create and subsequently embody. At times actors have to make drastic changes to give the performances that they do. But is it always worth it?
To bring an on-screen character from script to life, an actor will often do as much research to understand the character. To delve deep into their role, they may have to make the mental change and some physical changes too.
These are some drastic transformations that Hollywood's beloveds undergo to become their on-screen characters. Here are some of the most extreme off and on-screen:
Matthew McConaughey For 'Dallas Buyer's Club'
In the film, McConaughey plays the role of a man diagnosed with AIDS. To portray the role, the actor lost forty-seven pounds of body weight. McConaughey's vision was consequently affected as he had reportedly started to lose his eyesight by the point he hit one-hundred and forty-three pounds.
Julia Roberts In 'Pretty Woman'
In "Pretty Woman," Julia Roberts' character, Vivian, undergoes one of the most iconic makeover scenes in the history of romantic comedies. Who could forget the moment she stepped out in that neck-breaking red gown paired with the long white gloves?
Rooney Mara For 'The Girl With The Dragon Tattoo'
To bring the Lisbeth Salander character to life, Rooney Mara got several piercings, on her ears, nose, lip, eyebrow, and nipple. She also bleached her brows for the role.
Sandra Bullock In 'Miss Congeniality'
Sandra Bullock's no-nonsense FBI agent character, Gracie, underwent a significant on-screen change when she has to go undercover at a beauty pageant.
Cinderella In 'Cinderella'
Cinderella's fairy godmother was in her bag when she gave the Disney princess her show-stopping rags to riches transformation. Take that, evil stepsisters!
Angelina Jolie For 'Maleficent'
On the topic of princesses, Angeline Jolie underwent a makeover including facial prosthetics to achieve the fierce look of the vengeful fairy, Maleficent.
Chris Hemsworth In 'Endgame'
The god of thunder and Kind of Asgard, Thor, played by Chris Hemsworth, lets himself go in Marvel's "Endgame." Hemsworth revealed that he wore a fat suit weighing 60 to 70 pounds to play fat, Thor.
Chis Evans In 'Captain America: The First Avenger'
On his journey to becoming Captain America, Chris Evans superhero character Steve Rogers gets injected with the super serum. It's wild what some digital modifications can do.
Chris Pratt For 'Guardians of the Galaxy'
To prepare for his possibly his most career-defining role as Peter Quill (or Star-Lord), unlike the other two Chris', Pratt reportedly shed sixty-five pounds. He says he achieved the transformation by eating well and working out daily.
Anne Hathaway In 'The Princess Diaries'
In one of the most memorable before and after scenes, Anne Hathaway's character Mia gets a makeover befitting a princess.