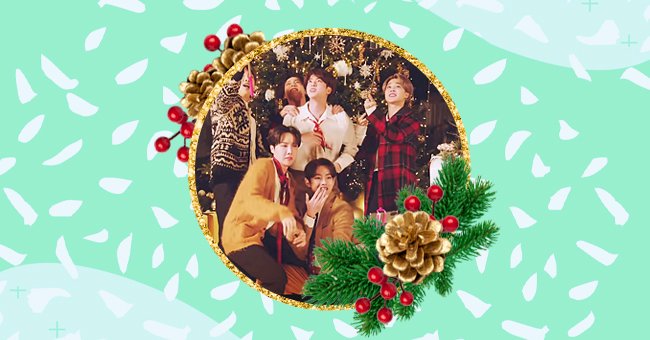 Our Top 10 Picks From The BTS Holiday Playlist
It seems as though no one is letting this pandemic break their Christmas spirit this year, which is excellent! Even the K Pop Kings themselves have offered early Christmas gifts to their BTS ARMY.
BTS is well into the festive season, and they are spreading their jolly mood with all their fans. The show-stopping septet recently released a holiday version of their hit song Dynamite, but it doesn't end there.
BTS spread their joy by offering a selection of Christmas classics for fans to enjoy this holiday. We picked out our favorite songs from their fantastic and diverse holiday season playlist.
Dynamite Holiday Remix By BTS
Of course, BTS had to include some of their greatest hits in this list, and we are glad they did. We love this little present that they gave fans just in time for Christmas day, and how cute is the holiday-themed video?
Last Christmas By Wham!
Although this 1984 may get annoying during holiday season retail runs, we always hum along anyway. Last Christmas is not the most cheerful holiday song, but BTS recognizes a classic when they hear one.
Santa Tell Me By Ariana Grande
Pop princess Ariana Grande's fun-filled tune directed to Santa gets a mention on BTS' and our list. We hope the talented band will recreate the cute slumber party music video for the entertainment, of course!
Mistletoe By Justin Bieber
From seven heartthrobs to another, this BTS stamp of approval proves that Bieber fever is indeed forever. Now, please excuse us while we go sing along like we are preteen girls all over again!
All I Want For Christmas Is You By Mariah Carey
If there's one thing BTS is used to, it's making number one hits. They'll probably work on a Christmas album that will reach number one soon, but for now, they listen to the longest reigning holiday hit ever.
Santa Baby By Eartha Kitt
Ms. Kitt's cheeky lyrics resonate with all of our wildest Christmas wishes, and maybe BTS feels the same. Let's hope all of the boys have been very good this year so they can get at least one of the fancy gifts.
Merry Christmas, Happy Holiday By NSYNC
We've added this 90s super boy band song to the list in hopes that BTS will make a cover soon! There's nothing we'd want more than an ultra-famous boy band crossover. The 90s meet the 2020s sounds great!
Jingle Bell Rock By Bobby Helms
We just can't resist dancing to this rocking tune, courtesy of the famous Mean Girls talent show scene. Helms was skeptical about this Christmas rock tune, but the biggest band in the world loves it, so it's okay.
Telepathy By BTS
This BTS tune may not be a holiday song per se, but it is a lovely addition to a holiday-themed playlist. The melody and lyrical content are just what we need to hear on a jolly winter day.
Feliz Navidad By Jose Feliciano
This half Spanish 1970s track is known for bringing people together with its bilingual approach. BTS must've related to the chart-topping bop's universal charm since they merge cultures with their duality.