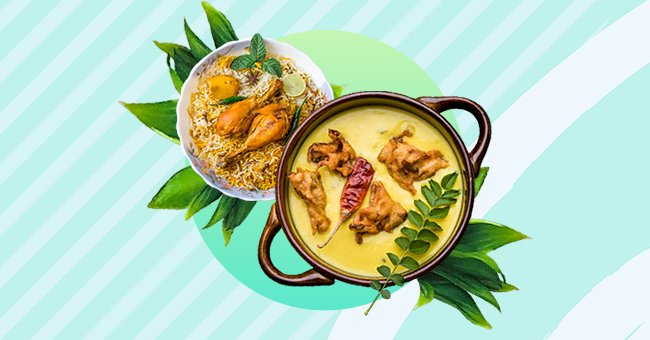 Pakistani Dishes Everyone Should Try At Least Once
If you've tried every cuisine this quarantine season and your taste buds are still craving something spicy, traditional, and finger-licking delicious, maybe it's time for you to try some Pakistani food.
Pakistani cuisine is known for its rich flavors, exquisite taste, and a wide variety of traditional and fusion recipes. You'd be surprised to know how strictly Pakistanis follow their daily food menu - with so many options for breakfast, lunch, dinner, and even snacks.
Pakistanis are fond of cooking and eating delicious food. Be it the spicy chicken karahi or some yummy barfi and gulab jamun to tantalize your taste buds, here are our top 5 must-try Pakistani dishes to satisfy your hunger and cravings.
Halwa Poori
Halwa Puri is a top favorite traditional breakfast pick. The puri is made by kneading a soft dough and then flattening it out with a roller in a circular manner. It is then deep-fried in oil until it turns light golden brown.
The halwa is prepared using semolina and sugar syrup. The sugar syrup is prepared by adding sugar to hot water and cooking until the sugar dissolves completely. Halwa is garnished with dry fruits like almonds, pistachios, and raisins.
Biryani
Biryani is a traditional rice dish prepared with chicken, mutton, beef, lamb, and fish. However, chicken biryani takes preference over all other variants. The rice and gravy are prepared separately.
The saucy gravy is made by adding onions, tomatoes, and rich spices, followed by chicken pieces. The chicken is cooked until it is tender, and then the sauce is layered with rice. You can serve mint yogurt alongside.
Chicken Karahi
Karahi is considered one of the signature recipes of Pakistan, alongside biryani. It can also be made with other meat options. Chicken Karahi is a tasty fusion of different spices mixed with tomato puree and yogurt to create a thick gravy.
The chicken pieces are cooked in the sauce until they are succulent. The garnishing included sliced ginger, round-shaped green chilies, lemon slices, and coriander leaves. Yogurt with mint and cumin is served on the side.
Pakora Curry
Pakora Curry is another hot favorite amongst Pakistanis and an excellent pick for vegans. Pakoras are potato fritters prepared by adding onions, green chilies, and other spices dipped in gram flour and deep-fried until golden brown.
The curry is prepared by blending gram flour with yogurt and spices and then cooked until the mixture is thick and well blended. A 'tarrka' is made at the end by frying onion rings, button chilies, and cumin and adding the fusion atop your Pakora curry.
Barfi
Barfi is a perfect pick for your dessert cravings and comes in many options. It is prepared by taking fresh milk in a pan and bringing it to boiling. The milk is continually cooked until it reduces to half, after which sugar and cardamom powder is added and stirred well.
The all-purpose flour is mixed separately in some milk and added to the pan of the milk mixture. A little oil is added to the thick milk concoction, and the stirring continues. The mixture is then taken out in a setting mold and left to cool, after which it is cut in square shapes and garnished with dry fruits.