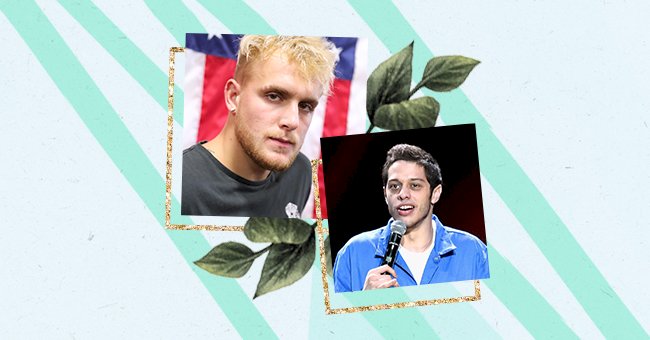 Pete Davidson Publicly Calls Out Jake Paul About Sexual Assault Allegations
Jake Paul took a hit in more than one way at his latest boxing match on Saturday. Comedian and actor Pete Davidson called the Youtube star out during an interview, and Jake is not happy about it.
Many people know Jake Paul as the Youtuber who filmed a corpse, but lately, he has been going as a boxer. Paul has participated in many boxing matches with various celebrities and professional fighters.
Pete Davidson was an interviewer and commentator at Jake's latest match over the past weekend. Davidson made a few remarks that upset Paul, who called to ban the comedian from boxing commentary.
Jake Paul's Reputation
Youtuber Jake Paul rose to fame in 2013 from making videos on the now-discontinued app Vine. By the time Vine announced its discontinuation, Jake Paul had 5.3 million followers and 2 billion views on the app.
Like most Vine stars, Paul moved his content to a Youtube channel that featured pranks, music, and controversies. Jake's growing career even afforded him a role on a Disney Channel show called Bizaardvark.
Soon, Jake's reputation as a hilarious Disney teen got tainted by his constant parties and pranks in his home. His reckless behavior, which he often shared on Youtube, caused fire hazards and property damage.
Jake got fired from his Disney show, and more controversies followed. Since then, he's had multiple videos removed by Youtube come under fire for saying racial slurs, rioting, scamming, covid-19 parties, and sexual assault.
The Fight Interview
Jake Paul recently took up boxing as a sport and has been in three fights that he has won. On Saturday, the Youtuber had a match with Ben Askren, and Pete Davidson was invited as a commentator for the event.
Despite being a comedian, Pete made it clear that he wasn't there for laughs once he interviewed Paul. Aware of his sexual assault allegations and lousy reputation, Pete didn't waste time and got straight to the point with Jake.
"You remind me of Charlie Sheen when he went on his winning tirade,"

Says Pete Davidson
Davidson mocked Jake Paul to his face and even called him out on his sexual assault allegations. He also made his distaste for Jake known throughout the show and called out his other past offenses.
Jake's Reaction
After Pete blatantly called out Jake to his face, the Youtuber wasn't too impressed with the comedian. Consequently, Pete's fighting words seemed to hit too close to home for Jake, who addressed the commentary on his podcast.
"He won't ever be a part of those ever again. He f***ed this s*** up, bro."

Says Jake Paul
Paul clearly took offense to Pete's words and even addressed the censored sexual assault question. As a result, Jake hit back at that particular point by expressing that some of Pete's words could never be taken back.
Paul also addressed some of the remarks on this post-match interview and called himself a 'real fighter.' This comment referred back to Pete's thoughts on the sport of boxing declining since Paul's involvement.