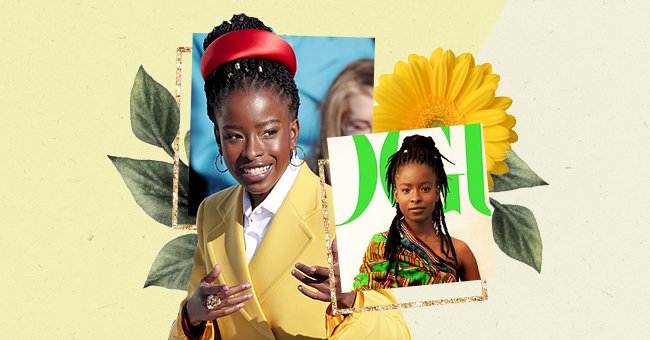 Poet Amanda Gorman Graces The Cover of Vogue
For the first time in Vogue's history, there is a poet on the cover. Not a model or a movie star, but a 23-year-old graduate: Amanda Gorman. The poet experienced sudden fame after reading some of her lines at Joe Biden's inauguration ceremony at the White House.
Young, committed, cultured, and with a refined style, it didn't take long before fashion noticed her. For the May issue cover, the poet was dressed by Virgil Abloh, a designer of Ghanaian origins and the first black artistic director of Louis Vuitton.
The dress contains a series of symbolic messages on black culture and its African origins. Amanda says she is eternally grateful to be the first because what is poetry, if not beauty?
Who Is Amanda Gorman
Class of 1998, born in Los Angeles and a Harvard graduate, the world met her when she read the poem "The Hill We Climb" at the inauguration of US President Joe Biden last January. Her words moved the world, but her look did not go unnoticed: red headband and yellow coat (all signed Prada) immediately sold out.
Activist for the rights of African Americans, writer, and style icon: Amanda Gorman has been able to combine the ethics of the word with fashion aesthetics. A regular guest at Prada fashion shows, and today she is under contract with IMG Models, the same agency as Kate Moss.
In February, Amanda appeared on the cover of Time, interviewed by former first lady Michelle Obama. Since then, her career has steadily increased, and she has become a symbol of the emancipation of black women.
In an interview with Vogue, Amanda said that she is not comfortable being seen as a model and that she has turned down contracts worth about 17 million dollars if the campaigns do not convince her or do not represent her.
The Meaning Of Virgil Abloh's Outfits
There are actually two covers: in one, the poet wears a draped green African print kente outfit, fastened at the waist with a belt. The shots are by a camera legend, Annie Leibovitz.
The designer, Virgil Abloh, on Instagram, explained that he was inspired by a childhood memory of the years spent in Ghana. The look was from the last men's Louis Vuitton show.
His inspiration stemmed from his grandmother's photo, which his mother gave him as a souvenir of his land. In the black and white photo, Virgil Abloh's grandmother is wearing a dress with the same geometric pattern.
Amanda believes that the innovative designer honors both their heritage, underlining the value of black culture. Fashion is also political.