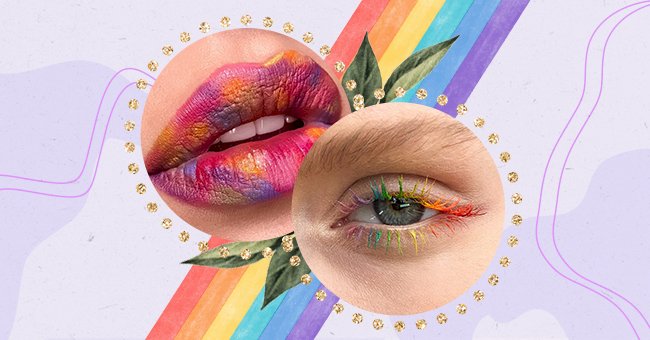 Pride Month Inspired Makeup Looks
Celebrating Pride provides and or spotlights much-needed conversations about sexuality, rights and gives visibility to those who fall in the LGBTQ+ spectrum. However, one thing we can agree we all enjoy is the aesthetics of Pride.
Using makeup to express yourself is such a fun way to wear who you are—moreover, it's a great way to show support for the community. If you are new to makeup, that's okay, as there are a few hacks you can arm yourself with when you're a beginner.
We know that you may already have scrolled Pinterest or TikTok for some incredible looks, but we've scrolled Instagram for some of the most striking looks that you can try. Okay, enough chit-chat; scroll below for some of our favorite Pride month-inspired looks.
Undereye Crystals
Some crystals or gems under your eyes are bound to show your Pride. When they catch the light, they will glow, adding a unique finish to your look.
Love Is Love
Love is indeed love. This is what Pride is about, Pride in yourself and being proud of you who you love and the right to do so. So why not draw some hearts? If your drawing skills suck, love heart stickers are the way to go.
Rainbow Eyeshadow
Draw your flag or rainbow flag all over your eye for a classic pride makeup look. Bonus points if you can draw clouds or an actual rainbow.
Pop of Red
If you are out of ideas, a pop of red is the way to go. It's classic and so hard to mess up. Go matte, gloss them up or wear a bitten look. The styles are endless.
Added Details
We've talked about gems before, but how about you combine gems with some illustration? Reach into your inner artist and express your fave shapes on cheeks, under your eye, even on your forehead. Make them pop with a heavy addition of blush, and your makeup look will be the belle of the ball.
Rainbow Lashes
Talks about easy peasy, lemon squeezy. Pass on the shadows and black mascara to coat your lashes with your flag of choice. If you want to look extra chic, gloss up those lids.
Rainbow Tears
No art class required, just a steady hand and loads of focus—trail down rainbow tears on your face like above. You can use a wet brush and some eyeshadow to do this.
Pronoun Makeup
Show of your pronouns in this super adorable makeup look. Print your pronouns on either side of your cheeks and top it off with a gorgeous eye look.
Graphic Eyes
Graphic eyes come in many styles. Cheat graphic eyes with stickers or if your feeling advanced or have enough time on your hands, dig into your eyeshadows and liquid liners.
Bleached Brows
Soap brow those babies first and then bleach them with concealer or some color. So hip.