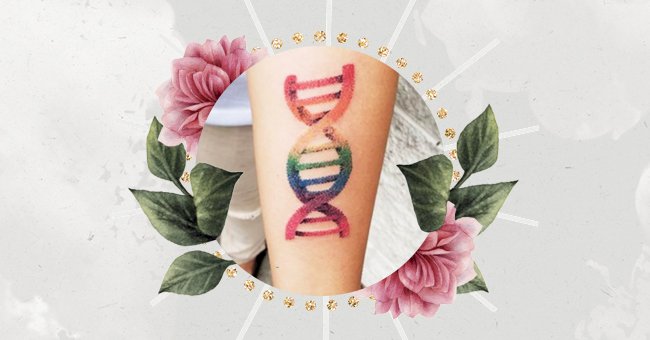 Pride Tattoos To Get This Pride Month
There are several ways to celebrate pride this month, but we prefer to make a statement. Pride is all about being loud about your acceptance, support, and defense of multiple non-hetero sexualities.
Pride Month is the perfect time to stand up against discrimination against queer communities. Additionally, it is the perfect month to scream and shout our positive affirmations of this community how we see fit.
Pride is all about making a positive statement that encourages the full inclusion of LGBTQ+ people. As a result, we've collated a list of pride-themed tattoos that you can get to celebrate pride month forever.
Rainbow Swatch
Get the LGBTQ+ flag rainbow colors tattooed on your skin in simple lines to make a pride statement. This forearm tattoo is minimalistic, meaningful, and looks better than our regular makeup swatches.
Rainbow Semi-Colon
The semi-colon tattoo has become a representation of strength and getting through mental health issues. Adding this rainbow effect to the semi-colon tattoo makes it even more meaningful to the community.
Tiny Heart
"Love wins" is a common phrase among the LGBTQ+ community, and nothing represents love better than a heart. To elevate this 'love wins' message, make the heart in the LGBTQ+ flag colors to show your pride.
Rainbow Cuff
If you are a fan of earring cuffs and not so much of large tattoos, this design is perfect for you! Get the pride flag colors inked on your ear as tiny tattoos for a perfect pride accessory and tattoo all in one special.
Pride Puzzle Piece
Many queer men and women may have felt that a part of themselves was missing before accepting their sexualities. This puzzle piece tattoo is a reminder that they should always accept every piece of themselves.
Love Wins
If you are done with being abstract about your support, then make your statement quite literal. Get the love wins hashtag tattooed on your skin this pride, so you are wearing your beliefs like a champ every day.
DNA
Lady Gaga's 'Born This Way' is an LGBTQ+ anthem with an important message. Further, enhance the 'born this way' message by getting a pride flag colored DNA illustration tattooed on yourself this month.