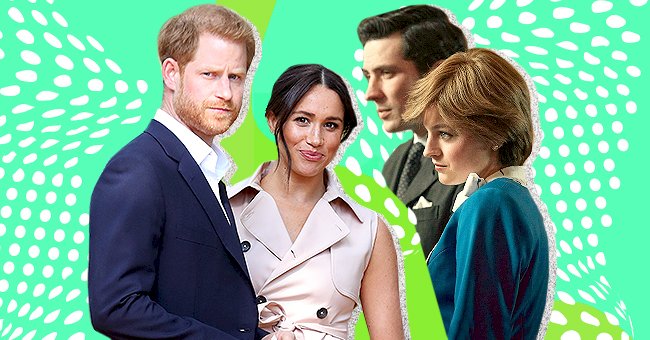 Prince Harry & Meghan Markle Reportedly Insist That Netflix End 'The Crown' Before It Starts Their Drama
The Duke and Duchess of Sussex want the Netflix hit series, "The Crown," to be stopped before it reaches their drama.
Earlier this year, the BBC reported that seventy-three million households worldwide had watched the royal drama since 2016, according to figures released by Netflix.
The critically acclaimed historical drama depicts a portrayal of the British royal family over the years. The show doesn't hold back and sometimes shows the members of the family in a not-so-flattering light. Now it appears that Prince Harry and Meghan want to stop the series.
They Signed A Massive Deal With Netflix
Royal biographer Angela Levin warned the Duke and Duchess of Sussex that signing a big deal with Netflix was a "terrible error." Along with Levin, people have wondered what the implications of this big deal would be on the already strained relationship that the Sussexes have with the royal family.
The Sussexes Are Determined To Stop The Show Before It Gets To His Adult Life
A report from The Mirror suggests that Harry and Meghan leveraged their deal to try and stop The Crown—specifically, that it ends before their royal drama.
Levin thinks that the duke and duchess won't stop this snowball. She says that their strategy was a mistake that could backfire on the couple.
Possible Backfire
Levin warned how the couple "are being naive," and Netflix may use them to get gossip and private info, which could "absolutely decry the Royal Family."
According to The Mirror, Levin described the Sussexes' decision to sign their deal with Netflix as a "terrible error" because of the family's demeaning depictions.
According to Levin, Harry told her two years ago that the royal family was "all absolutely watching everything" on The Crown. Still, the duke of Sussex was already adamant that he was "going to insist it stops before it reaches me."
The Drama of Season 4
The most recent season involves scenes of Charles's marriage break-up with Diana. It also portrays her struggles with bulimia.
Prince William has reportedly expressed his displeasure with the depiction of his family. He believes that "his parents are being exploited and presented in a false, simplistic way to make money."
Season Five
Our breaths are bated. Though there has been no official word from Netflix, talks of the fifth season are already surfacing. This may be a freight train the royals can't stop.