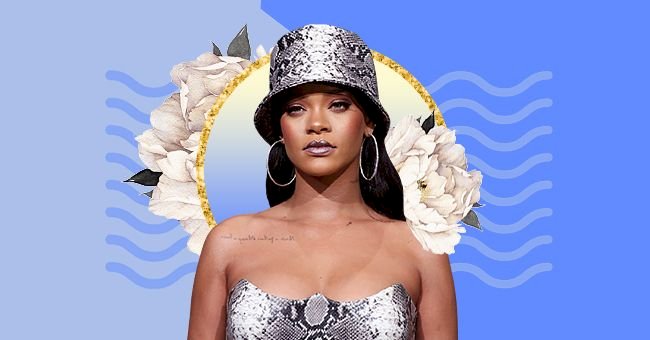 Recreate Rihanna's Glow With These 10 Tips
Rihanna is The Glow Icon. Since before the stars Fenty Beauty line dropped, shaking the beauty industry to its core, the multi-hyphenate queen has been turning heads with her natural glow.
We all remember that video. You know the one where Rihanna uses her entire Fenty makeup line and teases us by applying her glossy body shimmer. If it did not inspire glow envy in you and inspired you to reach for your wallet we don't know what will.
Aside from her record-breaking musical career, Rihanna has been known for her skin. Luckily Rihanna's fav makeup artists have shared how you, too, can achieve her enviable glow. Get that glow by following these ten easy tips to recreate Rihanna's signature look.
Skin
According to Rihanna's longtime friend and Global Makeup Artist Hector Espinal, great skin will set you off in the right direction. Start by curating a skin routine that includes a good cleanser, moisturizer, toner, and eye cream to beat texture, dry patches, and minimize pores.
Espinal told Refinery 29 the Fenty Skin Hydra Vizor Invisible Moisturizer SPF 30 packs a hydrating punch and adds some much-needed UV protection. No wonder it's his fave. Espinal maintains that great skin is the secret behind all celebrity looks and great makeup
Gloss Up
Add gloss to your look for that goddess glow according to Rihanna's personal go-to Fenty Beauty Global Makeup Artist Priscilla Ono. Ono, who has acquired a sizeable Instagram following recommends Fenty's Gloss Bomb Universal Lip Luminizer for plump, kissable lips.
In an interview with Elle, Ono advised rubbing the gloss off the wand of your Gloss bomb and using the wand as a lip scrub over your lips to slough off dry skin. With Shea Butter included as one of the ingredients, sit back as the gloss seeps into your skin for a soft result.
Highlighter
Espinal loves a multi-purpose product thus he is also a fan of Fenty's Gloss Bomb. The artist recommends it as a highlighter. Dab the gloss on the back of your hand and warm it up in your fingers before dabbing it on the top of your cheekbones for a perfect, dewy look.
Ono opts for a finely milled highlighter for that glow-from-within look. Using a trick she learned from Rihanna use Fenty Beauty's Fairy Bomb powder with a shark brush to sweep the product from cheekbone to temples and brow bone for a super seamless Rihanna glow.
Blot
Glowy skin is not oily skin reminds Espinal. The artist recommends blotting down your T-zone area that is, forehead, nose, and chin to eliminate the grease. For this, Espinal favors using Fenty's Invisimatte Blotting paper for a nice soft and matte finish in the T-Zone area.
Ono raves, that the product has a one-color fits all color. The beauty of the blotting paper lies in its paper-thin oil absorbent formulation that is bound to give you that excellent finish. Swap your powder and reach for the blotting paper and get that natural, not cakey, look.
Brighten Eyes
Look awake and rested with a concealer using Espinal's awesome hack. According to the artist, YouTube had us believe that slabbing on large swaths of concealer or using the triangular-shaped concealer technique under the eye to brighten it was efficient. Stop. It isn't.
Instead, brighten up your eyes by taking a small amount of concealer in the corners of your eyes with a fluffy brush and carefully bring the product up to cover any darkness in the eye socket and down to mask those dark circles. The technique will give an airbrushed effect.
Layer Foundation
Spilling the method behind Rihanna's natural glowy look is Espinal. Who doesn't want to achieve Riri's flawless no-makeup look? Espinal recommends layering your foundation in thin layers like to achieve more of a natural finish and even-toned skin in just minutes.
How do you achieve those thin layers? Mix a bit of your favorite foundation with a primer or moisturizer to get the look. Espinal says Rihanna's trick is to use the Fenty Pro Filt'r Hydrating Foundation applied with a damp sponge, which gives skin that dewy effect.
Don't Bake
While not everyone can put away the powders, Ono advises against the practice of baking if you wish to achieve glowy skin. The celebrity artist dished that adding baking will not only leave you with that cakey finish but will show up in pictures destroying the photo finish look.
Go easy on the powders. The less, the better. Opt for Fenty Beauty Pro Filt'r Soft Matte Powder Foundation to blur blemishes and even out your skin tone. Battle a flat finish and add some glow back into the face with lipgloss or highlighter at the top of the cheekbones.
Masks
Not only is this Ono's favorite step, but it's also a game-changer in helping you achieve that smooth skin finish with your makeup. After cleansing, consider choosing a mask that unclogs pores and makeup from the skin. Next time you wear your makeup, your skin will thank you.
Consider applying a brightening mask as well. Look out for brightening ingredients in your masks like Vitamin C. Also, if you haven't already, incorporate some sheet masks into your skincare routine like Ono's fave Tatcha's Luminous Dewy Skin Sheet Mask to get that glow.
Add Oil to Foundation
For the dry skin diva's this juicy tip is courtesy of Ono. Speaking from personal experience, the artist, who also suffers from dry skin, likes to couple oil with foundation. Opt for the Fenty Pro Filt'r foundation with three drops of Ono's fave, Caudalie Premier Cru Precious Oil.
The finish, the artist says, is like no other. Mixing the oil with the foundation makes a great base as the soft, matte dry down texture of the foundation leaves the skin not feeling too dry. The technique is a great tip for those with dry skin wishing to wear a long-wear foundation.
Use Concealer, not Foundation
No need to spend seventy hours doing your makeup as the last time saving comes from Espinal, who admits the natural look is complicated to undertake as it requires the use of about 20 products. It is, however, achievable if you use concealer instead of foundation.
Ditch the brush and get physical. Take Fenty's Match Stix Matte Skinstick to your face with your fingers and watch as the product melts into your skin, and you'll be done in no time. Like Espinal, top off the look with some cream blush and loads of mascara for a truly awake look.