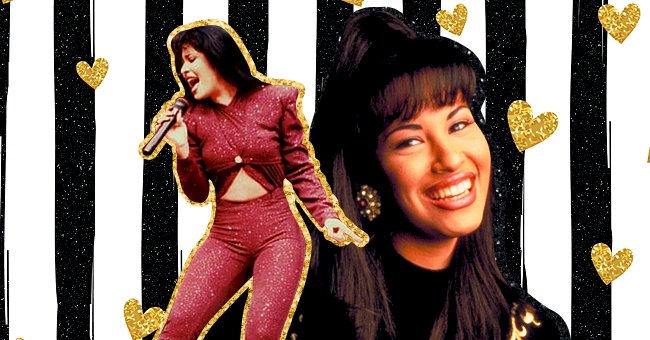 Remembering Selena Quintanilla's Top 10 Songs
Selena Quintellina released multiple hits before her untimely death. The legacy she has left behind through her music is remarkable and maintains its relevance today.
Selena Quintanilla made her music debut in 1980 at nine years old, as part of the band Selena y Los Dinos—a group with her siblings. By 1993, she was a full-fledged star, and her album Live! won Best Mexican/American Album at the 1994 Grammy Awards.
Selena's life came to an abrupt end after a friend murdered her. Since then, she has continued to receive love and recognition in various forms. MAC released a line of beauty products, and Netflix is working on a series about the star. Above all else, Selena's music continues to make a profound impact even today. Here is a list of Selena's top ten songs:
1. 'Bidi Bidi Bom Bom'
The second single from her fourth studio album Amor Prohibido from 1994, this will have you shaking those hips. Catchy and flirty, the song is about how fast your heart beats when you've got a crush.
2. 'Como La Flor'
Released on what critics deem is her breakthrough album Entre a Mi Mundo, the song "Como La Flor" is undoubtedly one of the greatest Selena hits of all time. The song makes a beautifully accurate comparison between losing love and a withering flower.
3. 'La Carcacha'
This song became highly popular and subsequently saw her rise to fame, particularly in Mexico and Latin America in the early '90s. "La Carcacha." Selena was singing about how she doesn't care if her man drives a jaloppy, just as long as he was good to her.
4. 'No Me Queda Más'
In 1995, this song became the most successful Latin single in the United States. "No Me Queda Más," in English translates to "I have nothing left." The song is emotionally written about the greatest love she has ever known.
5. 'El Chico Del Apartamento 512'
In this song, Selena sings about falling for the guy next door. Years after her murder, this song hit number one on the U.S. Billboard Regional Mexican Digital Songs chart. It appears there's just something about boys next door that makes this song ever relatable.
6. 'Donde Quiera Que Estes'
When boy bands ruled the world, Selena collaborated with the Barrio Boyzz, a New York Latin American pop quintet, to create this duet. "Donde Quiera Que Estes," or "Wherever You Are," secured Billboard's number one spot in the early '90s.
7. 'Dreaming of You'
"Dreaming of You" shared the same name as the crossover album that Selena was working on before being murdered. The song smashed records when it was released posthumously, including most copies sold by a female vocalist in a day.
8. 'Enamorada De Ti'
This song was included on a remix album in 2012 by a group of industry bigwigs who wanted Selena's music to reach a modern audience.
9. 'Buenos Amigos'
"Buenos Amigos" is the product of a collaborative effort between Selena and Álvaro Torres. The song is about a man who has unrequited feelings for his best friend, and she prefers to keep him as a buen amigo (good friend). The ballad spent seventeen weeks on the Hot Latin Songs chart and peaked at number one on June 6, 1992.
10. 'No Debes Jugar'
"No Debes Jugar" translates to "You Shouldn't Play." In this song, Selena confronts a man who doesn't want to settle and wants to keep playing games with her heart. The song spent 18 weeks on the chart, peaking at number three on August 14, 1993.