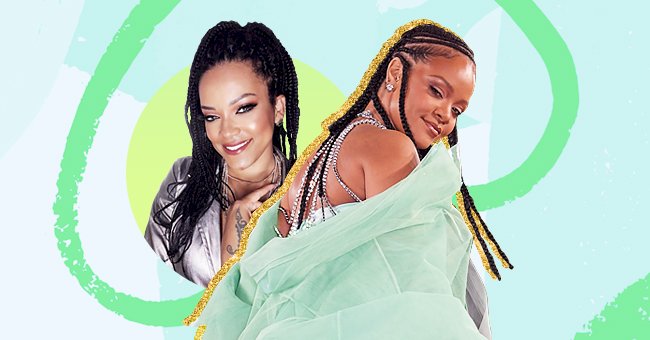 Rihanna Agrees With Fans That TikToker Priscila Beatrice Looks Exactly Like Her
Imagine finding out that you have a celebrity doppelganger. Or even better, your celebrity look-alike finding out about you.
Something similar happened to a 28-year-old Tik Toker Priscila Beatrice. She looks exactly like our Queen Rihanna, and the resemblance is uncanny. Stuff like this has finally restored our faith in the existence of clones.
Some folks are even calling Riri and Beatrice the 'long lost' twins. While it may sound like we are exaggerating things, we have all the proof to prove this theory. See for yourselves to believe it.
Beatrice Recreates Riri's Award Look
Do you want to know when the social media went all gaga over Rihanna's look-alike? It started when Beatrice posted a video of herself recreating Riri's British Fashion Awards look from last year.
It was so much to take in seeing the young Tik Toker stand right in front of Riri's picture from the awards and impersonate her. Or maybe she was just channeling her inner Queen? The sheer possibility of these two twins meeting like this is too much to handle.
The Shade Room Reposts Priscila's Video
Isn't this a simple WOW moment for the Tik Toker? The Shade Room saw Priscila's TikTok video on Riri and reposted it. The next thing we know, the Queen herself commented on the video.
"Where the album, sis? #R9."

commented Rihanna
Priscila's reaction to this was every bit that of a fan gone bananas over a celebrity's attention. She reposted The Shade Room's post:
"I still can't believe it !!! The page @TheShadeRoom shared my video on their profile, and THE OWN RIHANNA @BadGalRiRi saw my video and commented !!!! Do you know what I'm feeling right now ??? I can't stop crying with emotion !!!! Of happiness!!!!! It is a dream!!! God is so wonderful !!!!!"

wrote Priscila Beatrice
We don't blame Priscila for being on cloud nine. It was her fan-girl moment, and she handled it well.
Riri's Previous Interaction With A Look-Alike
Did you all know that this isn't the first time Rihanna has recognized her doppelganger? In July 2019 last year, she posted a photo of a young girl on Instagram who resembled her quite a lot.
Riri tagged the girl's mother on Instagram:
"Almost drop my phone. How?"

said Rihanna
The picture received more than 7.5 million likes and became popular with her fans. Everyone, including Rihanna, was shocked to see mini Riri in flesh and blood.