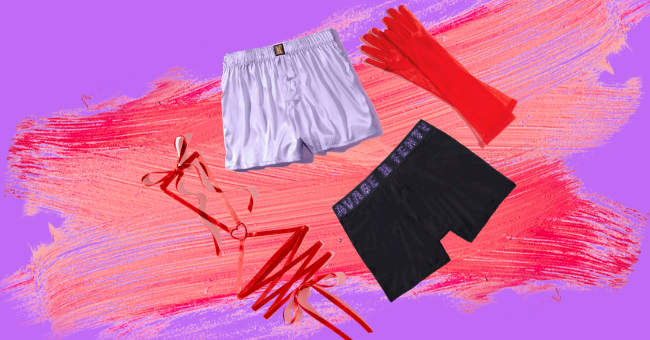 Rihanna's Savage X Fenty Heats Things Up With A 5 Video Valentine's Day Campaign
Rihanna has done it again with her latest Savage X Fenty Valentine's Day Collection. If the sexy lingerie items have you flustered, wait until you see the related campaign videos.
You can count on Rihanna to ooze sex appeal at the drop of a dime, even more so on Valentine's Day. The musician and mogul recently rolled out her latest collection to remind us of the year's sexiest day.
Anything related to Rihanna's Fenty brands always has impeccable creative direction. Fortunately, Rih's team outdid themselves this time around with not one but five campaign videos for the latest collection.
A Family Affair
Love is on the brain for Miguel and his wife Nazanin Mandi, who make one of the hottest couples ever. The pair feature in a cute and intimate questionnaire style campaign video shot by Dennis Leupold.
Nazanin wears lingerie from the collection, which features red and pink heart embroidery. Miguel wears silky lilac boxers and a robe from the line's men's collection, which recently launched last year.
Too Sweet To Handle
Model Chinqpink sports edgier pieces from the collection in her feature. Chinqpink's vinyl stockings, lacy black bra and thong, mesh dress, and nipple covers all look as sweet as licorice in the sexy campaign visuals.
Not Her Only Valentine
It wouldn't be a Savage X Fenty campaign without Rihanna herself. The sultry superstar shows off what she's got in a red mesh lingerie set paired with red fishnet stockings and...you guessed it, red vinyl gloves.
The allure does not end with the lingerie alone. Rih reportedly wears over $2 million worth of rubies in the video, which is more than enough to give us heart palpitations this Valentine's Day.
Take My Breath Away
Plus-sized model Lulu Bonfils wears a red set in her video and answers questions about love and beauty. We love her equally sexy Valentine's Day card with her in a black and red corset that has us out of breath.
A Little Bit Of Alek Is All We Need
Alek Wek also makes an iconic appearance in one of the Valentine's Day campaign videos. She has the most outfit changes in her video, wearing a little bit of everything from a red corset to a full mesh black bralette.