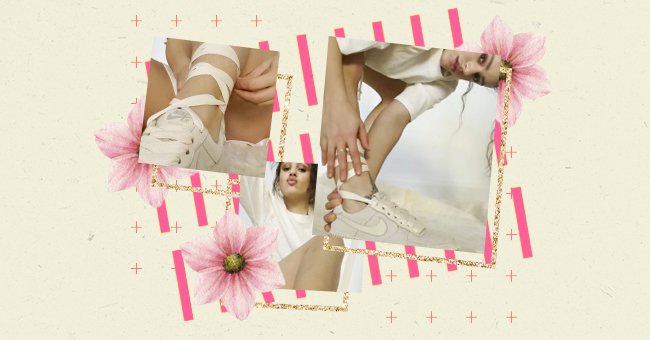 Rosalía Shows Fans How To Turn Nike Air Force 1s Into Espadrilles
Rosalia took to her Instagram page this past Sunday to tease fans with what seems to be a collaboration with Nike. The Spanish musician posted a video of her with a version of Nike Air Force 1 designed as Espadrilles.
Rosalia wore an all-white outfit as she adjusted the shoes on her feet. The iteration of the AF1s had a canvas upper body and exposed stitching to the shoe's sole. Furthermore, the shoes came with ribbon laces that are tied to the lower ankle and calves.
The megastar also revealed the new shoe's insole inscribed with a play of Nike's tag line before treating fans to a brief modeling session. Thus, it appears that Rosalia and Nike have something in the works.
The Origin of Espadrilles
The Insta post continued as a carousel in which the star posted a series of Espadrilles, even worn on Salvador Dali. The carousel was a nod to the star's Spanish heritage rooted in Catalonia, from which Espadrilles originated.
"We just did it, Rosalia."
Fans of the "Con Altura" musician flocked to the post to support this unique take on the classic shoes. The post even earned a comment from Mike "Upscale Vandal" Camargo, a top streetwear icon known for his sneaker expertise.
Rosalia The Sneakerhead
Aside from her daring, statement style, Rosalia appears to be quite the avid sneakerhead. She has been spotted often in Nike, and Air Jordan kicks. Moreover, she has also collaborated with Nike previously.
Nike featured the musician in their July 2020 campaigns. In the feature, Rosalia modeled Nike's Air Max 2090 as she wore leather leggings, a bold top, and a tiered skirt. If the collaboration comes to pass, then these swanky kicks are a very celebration of Spanish culture.
Where To Shop The Shoes
Classic AF1's retail for $90, and while this new iteration of the shoes got us excited for summer, there is no word yet on the release date. Moreover, Nike has not divulged any details on the price or even where to get them.
Furthermore, Footwear News reached out to Nike for the AF1 Espadrille and reported that the athleticwear powerhouse has currently neither confirmed nor denied the shoe's release. However, we are all keeping our eyes peeled on Nike's website for any more info.