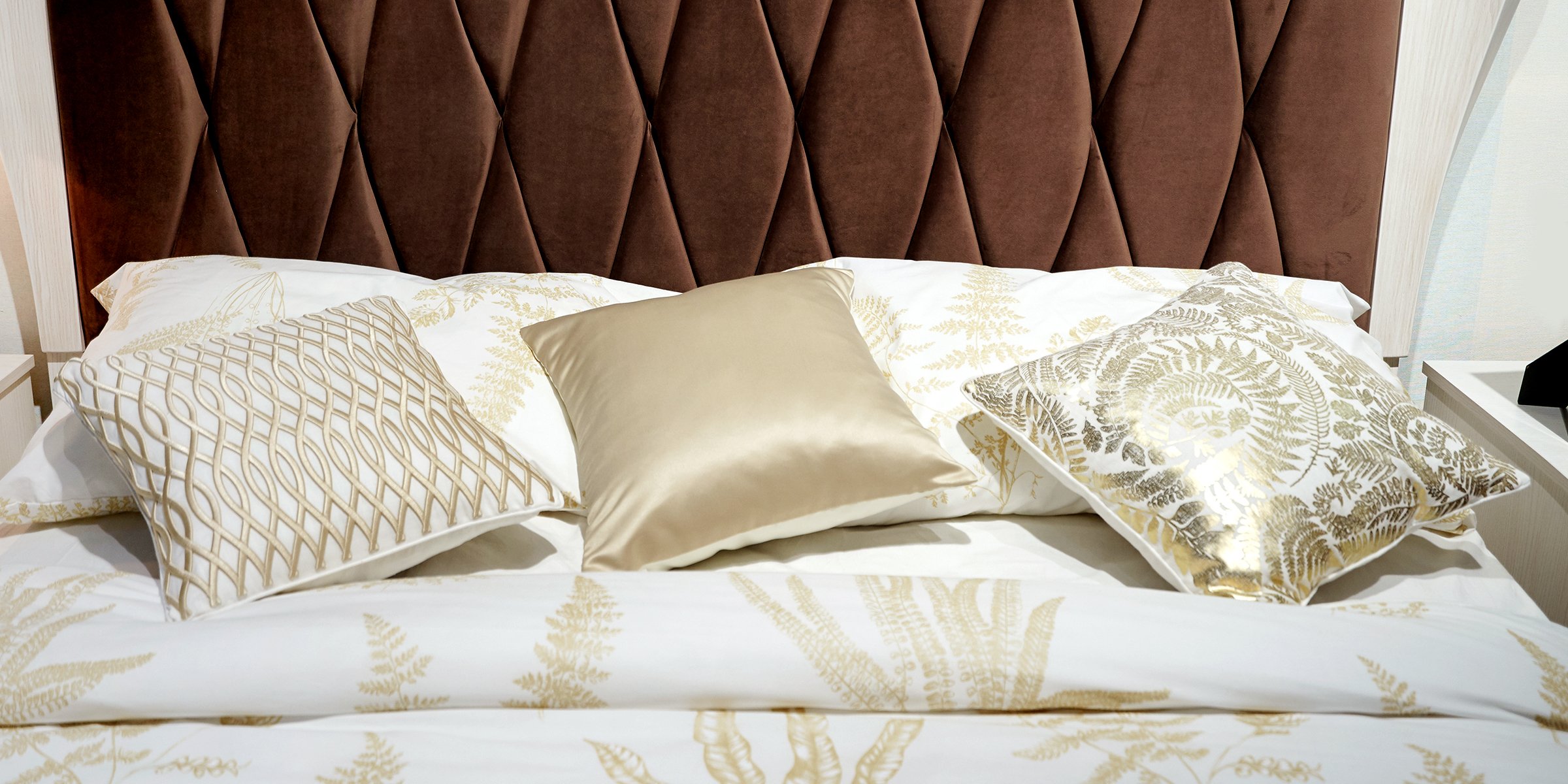 Throw pilllows. | Source: Shutterstock
Satin vs Silk Pillowcases: Advantages of Each and Rules of Care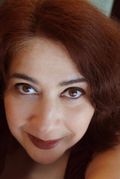 The search for the end of bad hair days and smoother skin has led to the use of luxurious silk and satin in pillowcases, but some question if they really work and which of the two is the best solution.
Those glamorous old movies that showed the Silver Screen divas sleeping on silk or satin sheets and pillowcases hinted at a Hollywood beauty secret: sleeping on silk and satin can make a massive difference to your skin and hair.
Nowadays, you can buy high-quality satin or silk pillowcases to make every nap a beauty sleep, but the question is which of the two fabrics is the best for your particular needs. The debate about silk vs. satin is endless, and both have advantages.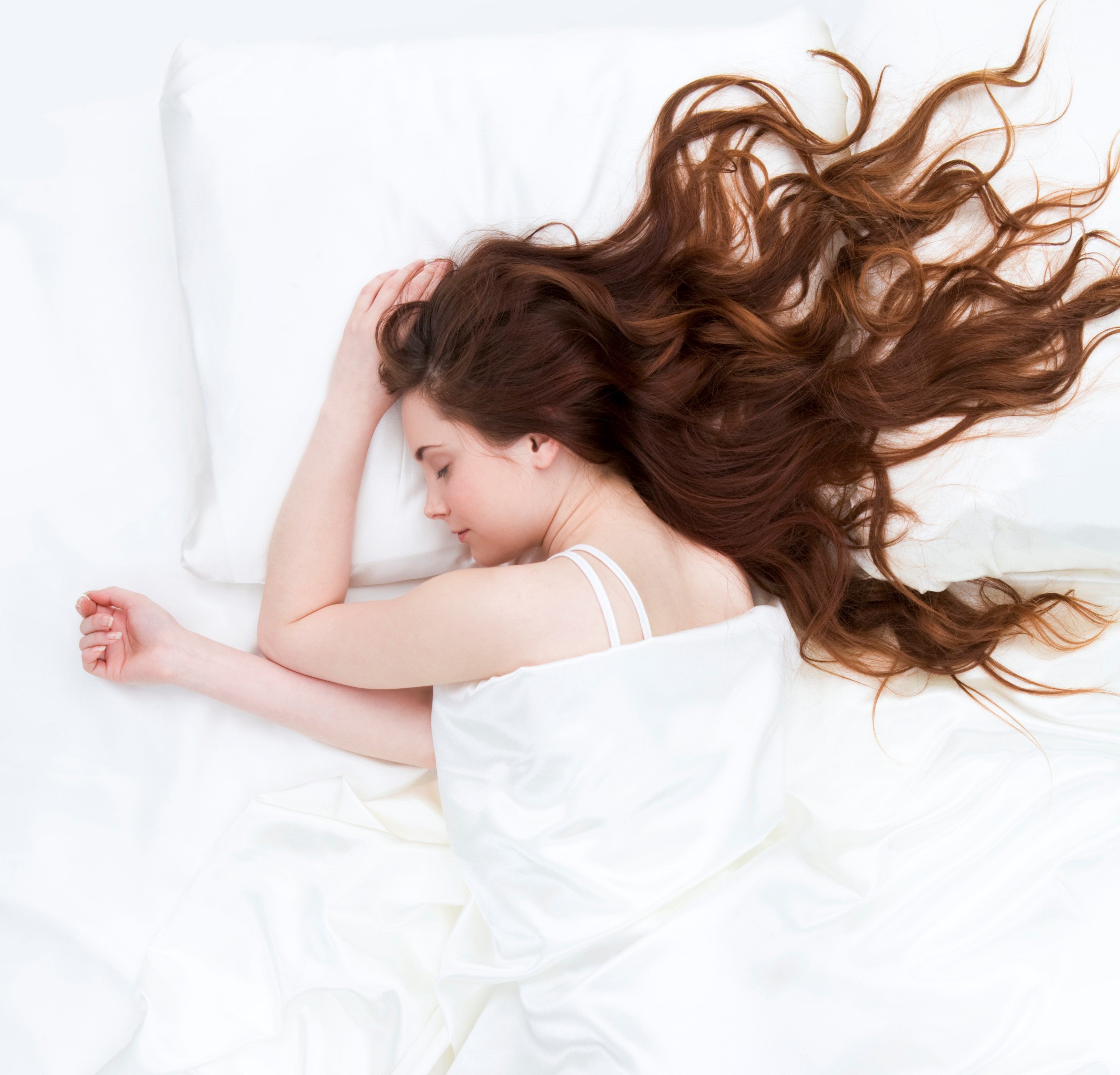 Woman sleeping on a satin sheets. | Source: Getty Images
Waking up with matted, frazzled hair and sleep wrinkles carved into your face are a thing of the past since women have opted for sleeping on silk or satin pillowcases. Both silk and satin offer advantages and disadvantages.
The offer is vast and bewildering and making a choice is increasingly difficult. Evaluating benefits, cost, and long-term ease of maintenance can bring you closer to a decision that will make your 8-hour sleep an integral part of your beauty and health care routine, just like taking off your makeup before bed.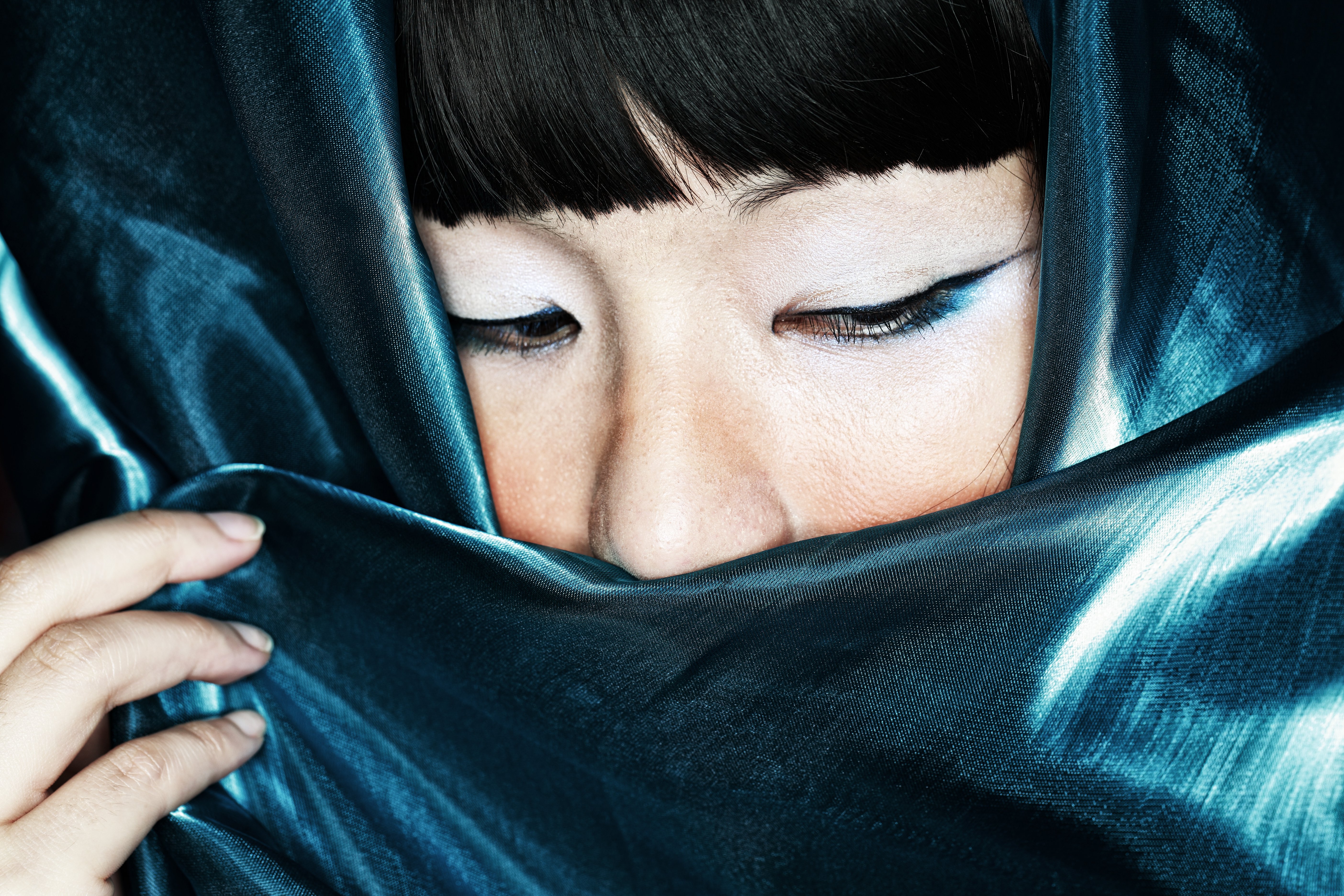 Woman with a silk scarf. | Source: Getty Images
Differences Between Satin and Silk
Since Ancient Rome, silk has been the ultimate luxury fabric, commanding exorbitant prices. Until 552 C.E., China held an absolute monopoly on silk production until monks smuggled silkworm eggs into Constantinople.
The secret of silk was out. It is a fiber extruded by a caterpillar to weave its cocoon. The fine, lustrous thread is woven into a shimmering fabric with a smooth, almost waxy touch that is unmistakable. And as it turns out, silk has extensive uses in the beauty and medical industries.
Take care not to wear earrings to bed that might snag on the surface of your pillowcase and pull threads.
While silk is a smooth and lustrous due to the properties of a naturally extruded fiber, satin mimics some of its properties through a weaving technique. Satin was originally made in China, where it was made exclusively with silk.
Satin has a fluid fall and an incomparable surface luster, making it a favorite in all uses, including bed linen. Nowadays, satin is often made from synthetic fibers, like rayon or polyester.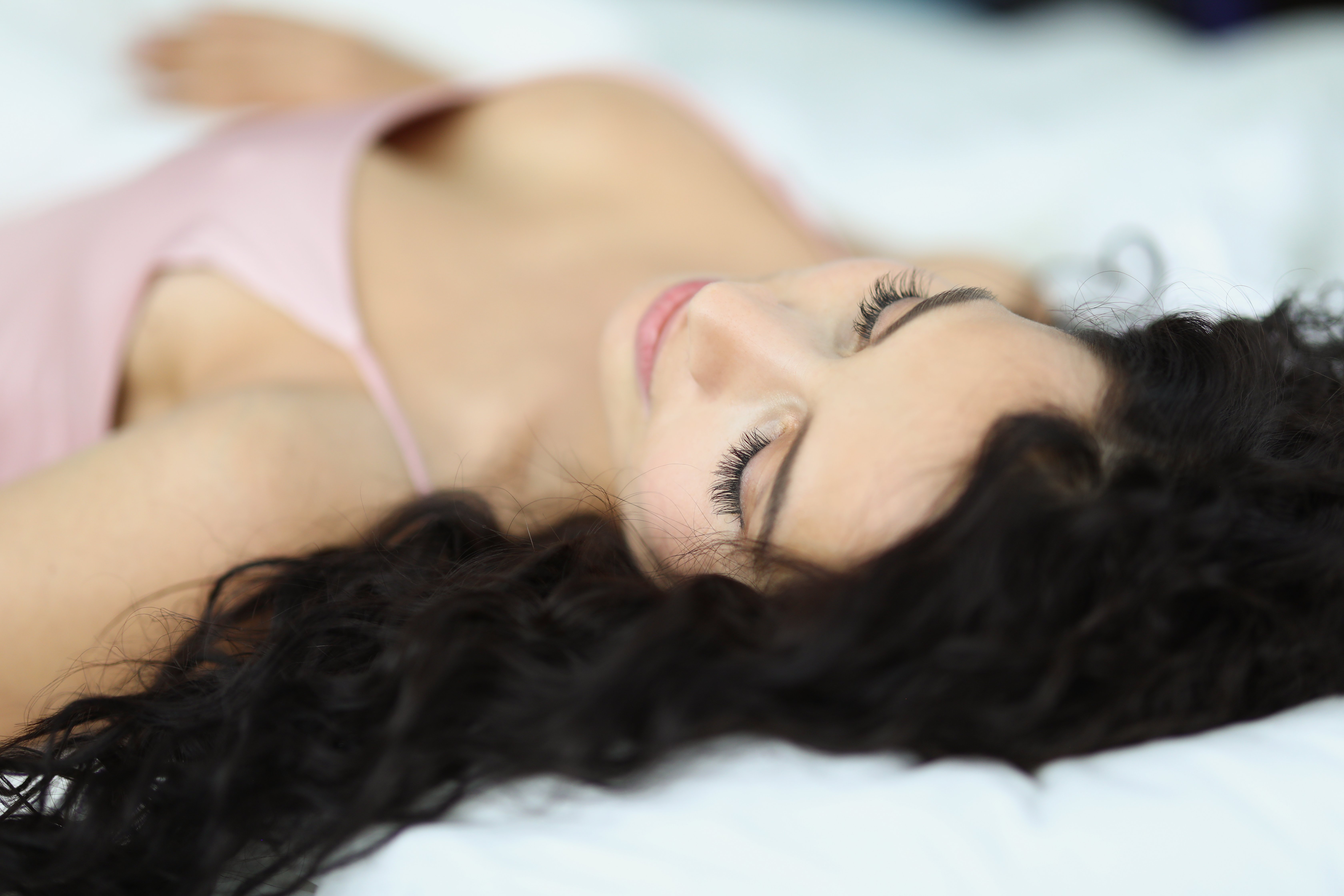 Woman sleeping on a silk pillow. | Source: Getty Images
Advantages of Silk Pillowcases
A silk pillowcase can make a noticeable difference to your hair and skin. The smooth surface of the silk means there is no friction and no tugging and pulling on your face's fragile, delicate skin, which reduces damage from tossing and turning in your sleep.
Silk's slick surface also means that it doesn't leach the moisture from your skin and helps keep it hydrated. This makes it equally great for those who suffer from dry hair and scalp.
A silk pillowcase will also prevent frizzy hair, which can result from snagging on the rougher fibers of cotton or linen. Women with curly hair will find it especially beneficial. No more matted hair or damaged ends from comparatively harsh fabric surfaces.
However, some of the claims about silk being hypoallergenic are not entirely true, and the amino acids contained in the silk are not transferrable to the skin. Still, silk's temperature-regulating properties are a definite advantage.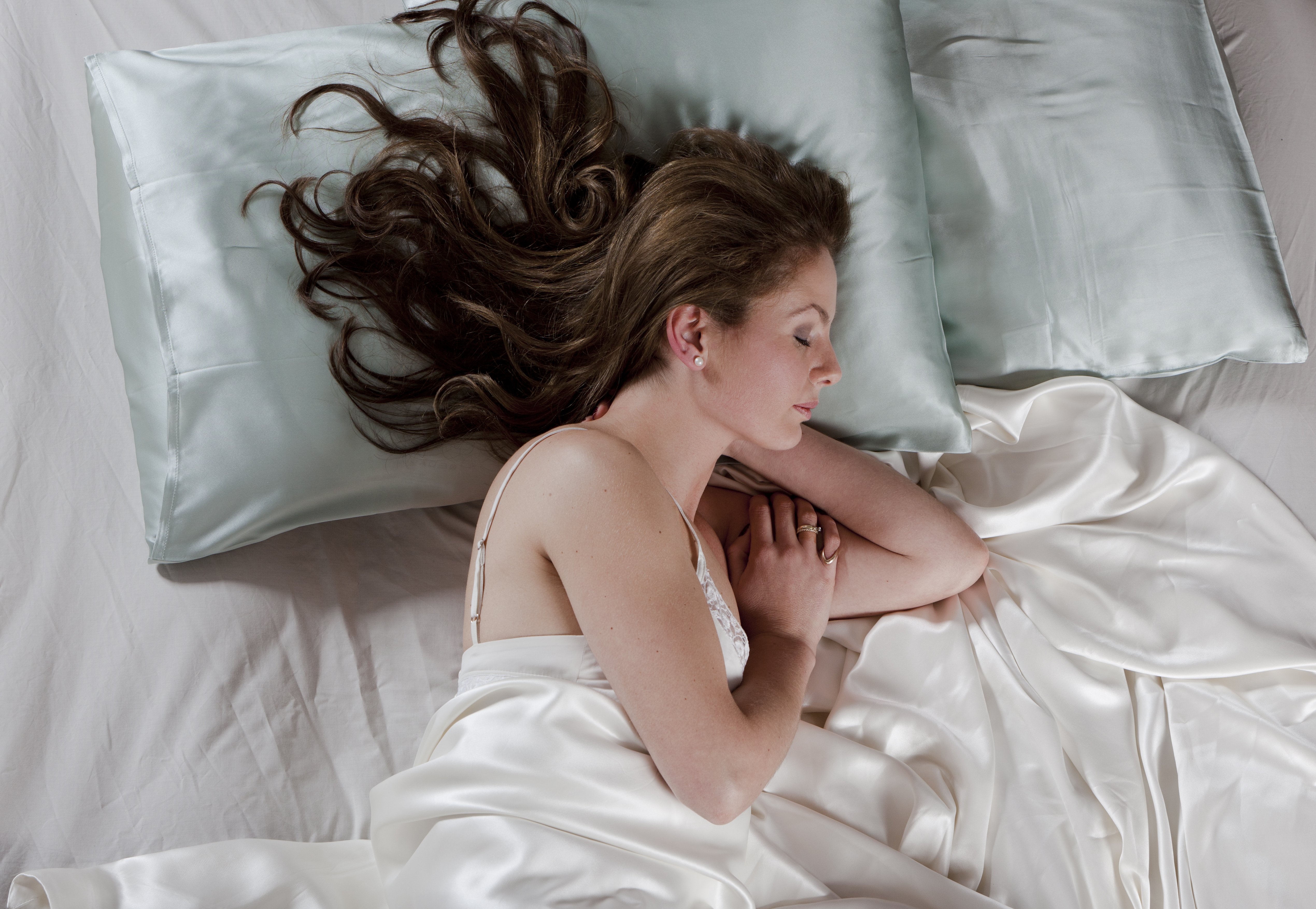 Woman sleeping on a satin pillow. | Source: Getty Images
Advantages of Satin Pillowcases
Since the satin weave duplicates many of silk's properties, the satin pillowcase's slippery texture will also keep hair tangle and frazzled-free, prevent split ends and maintain hairstyles longer, with particular benefits for curly hair.
Like a silk pillow, the surface of satin will be gentle on the skin, help prevent those awful pillow marks, and reduce sleep wrinkles. Since satin is less absorbent than cotton or linen, it will prevent hair and skin from drying as much during the night.
If the satin is primarily made from synthetic fibers, it may be cool initially, but it will retain body heat. It may be uncomfortable for some people during the warm season.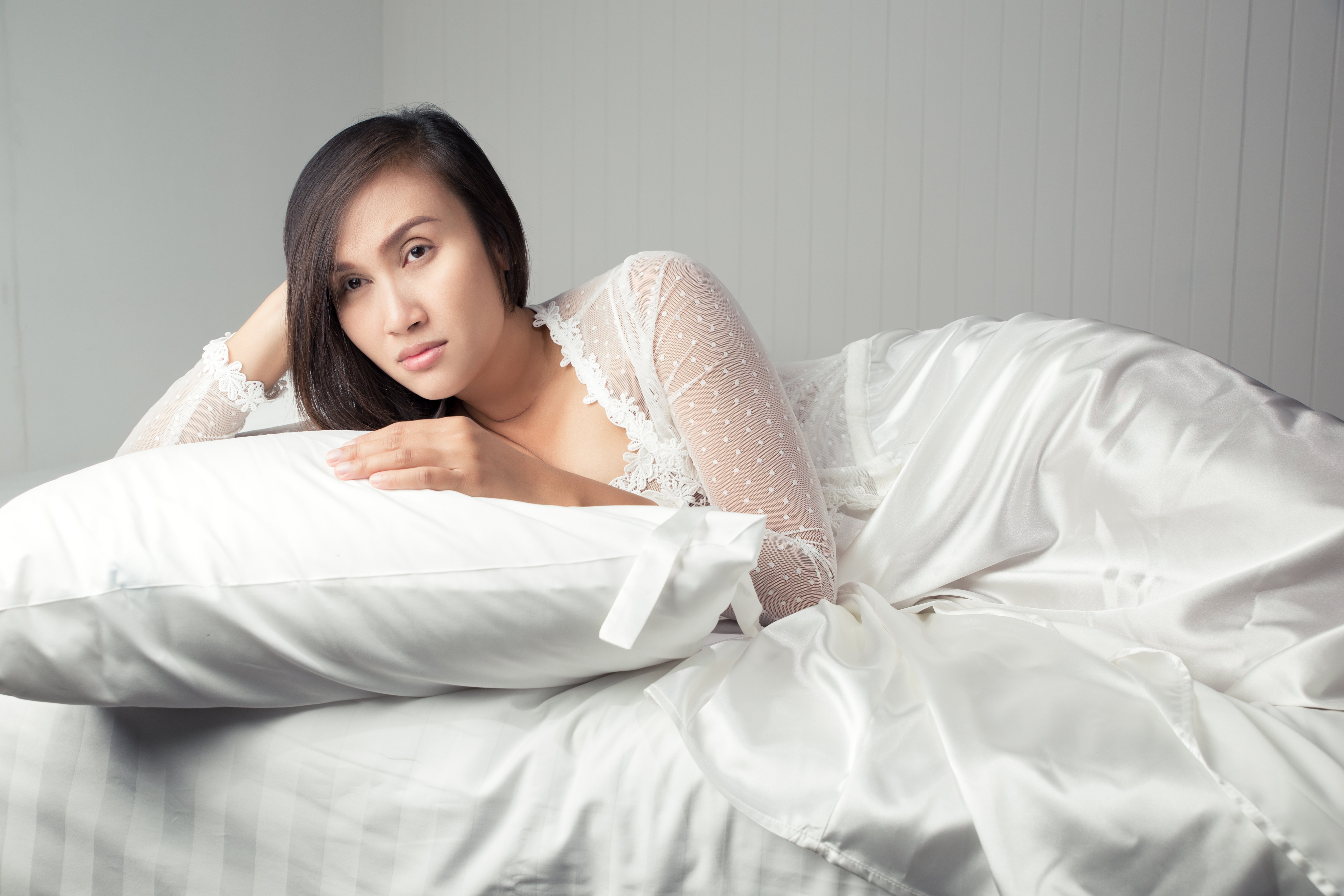 Woman showcasing luxurious bedding. | Source: Getty Images
Satin vs. Silk Pillowcase - Which to Choose?
Since silk and satin pillowcases have similar properties, the decision may come down to cost. The silk pillowcases experts recommend are of the best quality, 100% Mulberry silk, and they can carry a hefty price tag, anything from $70 to well over $100.
A satin pillowcase may not have the same temperature-regulating properties as silk or its cachet, but the price is much more accessible, between $8 and $30. The silk pillowcases are also more durable but much more challenging to maintain.
Ultimately, the decision may hinge on how much you are prepared to invest in a couple of pillowcases and how much time you want to spend on their care and maintenance.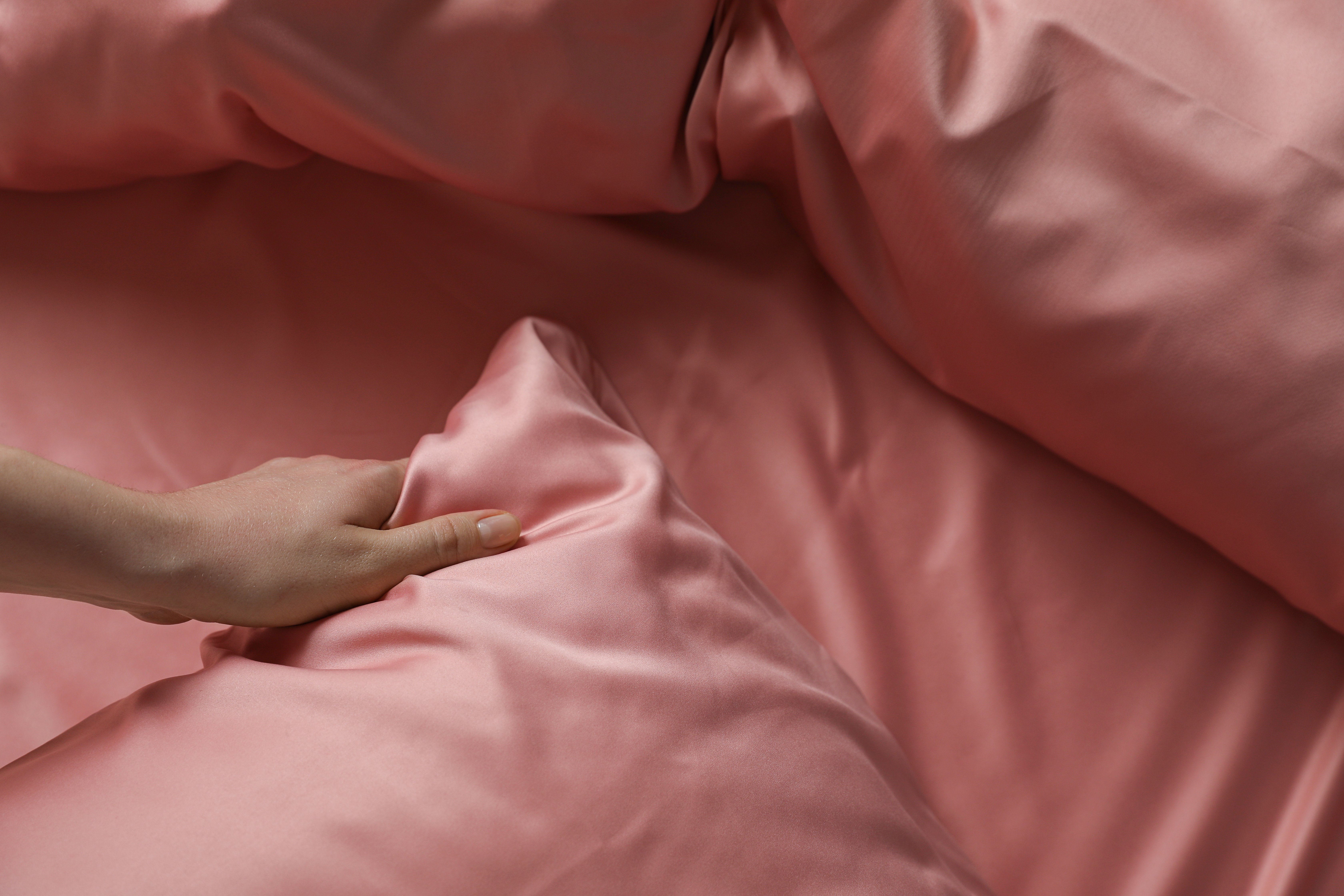 Woman with satin pillowcases and bed sheets. | Source: Getty Images
Care For Satin and Silk Pillowcases
Satin's weave gives it its fluid quality and smoothness but also makes it fragile. Take care not to wear earrings to bed that might snag on the surface of your pillowcase and pull threads. If your satin is silk or acetate, the manufacturer may recommend dry cleaning, but it can be washed in your washing machine if it is a synthetic fiber.
Before putting it in the wash, turn it inside out, or better yet, in a laundry bag, and wash it with other delicate fabrics, not heavy twills or denim. Don't put your satin pillowcase through a spin-cycle into a dryer or wring it dry. Lay it out to dry on top of a towel.
Silk is notoriously more problematic to care for and maintain, but it is well worth the effort, as your pillowcase will last for years. Silk should be hand washed in cold water with a gentle detergent, or if you're rushed for time, in the delicate fabric cycle of your washer in a laundry bag.
Always remember that heat damages silk, and the fibers, which are so strong when dry, are fragile when wet -- so no wringing or pulling on the silk pillowcase. After washing, you may want to add a little vinegar to the rinse water to remove any traces of the soap which may cause allergies.
Woman sleeping on cotton sheets. | Source: Getty Images
You Can Choose a Pillowcase with a Different Fabric
Silk is considered the best choice for pillowcases, followed closely by satin, but if neither of these options applies to you, you might consider a 100% Egyptian cotton pillowcase with a high-thread count.
Cool, and soft, cotton's natural fibers are excellent for regulating body temperature, are easy to care for, are reasonably priced, and for some, are the most comfortable for a good night's sleep.