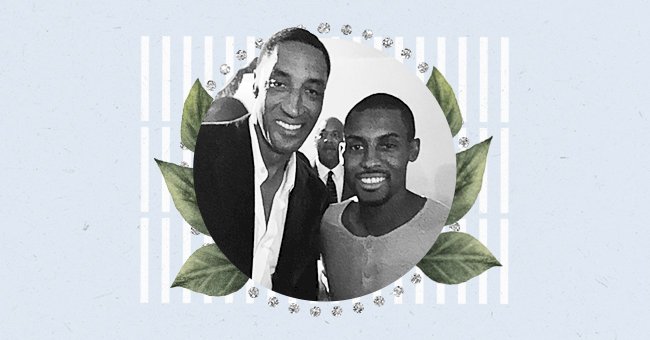 Scottie Pippen's Eldest Son Passes Away At 33
Retired basketball player Scottie Pippen is bereaved. The iconic basketball athlete broke the news of the death of his eldest son Antron Pippen in a heartbreaking tribute posted on his Twitter page on Sunday.
Scotti Pippen penned the emotional tribute to his son, whose cause of death was not revealed. The athlete also posted a series of pictures of himself and his son on happier occasions.
At the time of his death, Antron was 33 years old and lived and worked in Atlanta. He was also Pippen's only son with ex-wife Karen McCollum. Unfortunately, this is not the first time Pippen has lost a child.
Antron Pippen's Life
In his statement, the NBA Champion laid out his grief, cluing in fans on the close father-son relationship he shared with his late son. However, the news revealed that Antron suffered from asthma. Pippen said,
"Antron suffered from chronic asthma, and if he hadn't had it, I truly believe he would've made it to the NBA. He never let that get him down."

Scottie Pippen
Besides both men sharing a love for basketball, Pippen called his late son kind and described him as a beautiful soul. Moreover, he requested prayers for Antron's mother, family, and friends.
Who Was Antron Pippen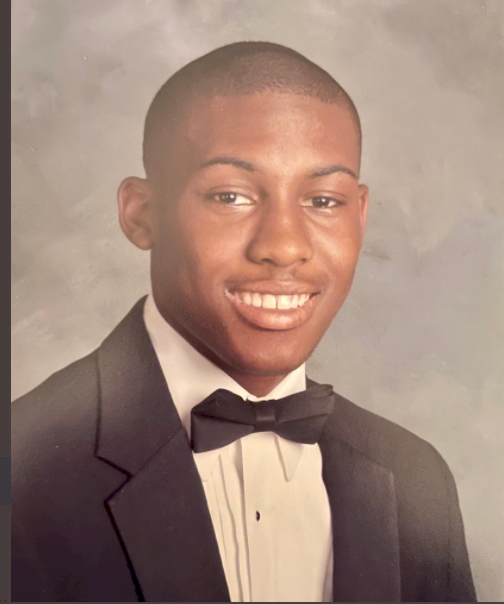 Photo: twitter.com/ScottiePippen/
Pippen and McCollum split after a brief marriage from 1988 to 1990. Antron, influence by his father, later grew up and became quite active in basketball despite his asthma. He even managed to join the NBA's Top 100 High School Camp,
Greats like Steph Curry also attended the camp. Antron later played college basketball at South Georgia Technical College for one season from 2006 to 2007 and Texas A&M International University. from 2008 to 2009.
A Second Personal Tragedy For Scottie Pippen
Pippen also bared his heart to fans through his heartfelt statement. He admitted that he was proud of his son and that he loved him. Moreover, the star wished his son rest until they finally reunite one day, saying,
"I love you, son, rest easy until we meet again."

Scottie Pippen
In 1994 Pippen was also bereaved of his baby girl Tyler, who died nine days after her birth. Tyler was his daughter from ex-girlfriend Sonya Roby. Tyler was survived by her mother Roby and sister.
Scottie Pippen Family
As previously mentioned, Pippen was married to McCollum from 1988 to 1990. After their divorce, Pippen and Roby became an item but never married. They had two children together before they later split.
After, Pippen met Yvette Deleone, to whom he later was engaged. The pair had one child between them. They later parted ways. In 1997 the former Chicago Bulls player married Larsa Pippen and had four children together before their split after 21 years of marriage in November 2018.
Condolences To Scottie Pippen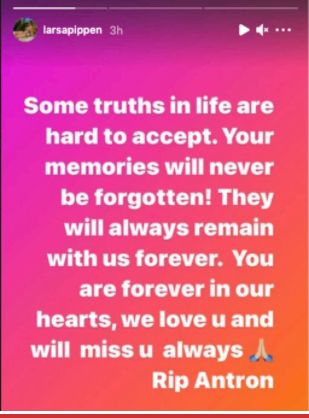 Photo: instagram.com/larsapippen/
Larsa and Pippen remained as successful co-parents despite their divorce. On Monday, Larsa shared her grief over the loss of Antron, posting a tribute on her Instagram stories the Monday following Antron's passing.
Larsa expressed her loss, revealing that she loves and misses Antron. She also added that his memories would stay with her, living forever in her heart. The death of Anton joins a growing list of high-profile deaths this year.