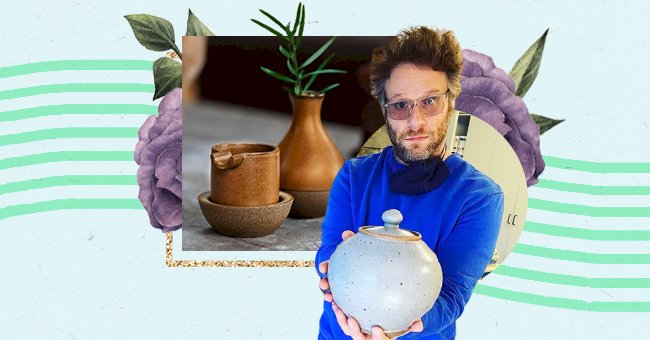 Seth Rogen's Pottery Skills Shine In His New Cannabis Venture Called 'Houseplant'
Seth Rogen has been associated with hilarious films, weed, and, most recently, pottery. The actor partnered with screenwriting colleague and friend Evan Goldberg on a venture that merges all his passions.
If you've watched Pineapple Express, Seth Rogen's newest cannabis venture shouldn't a surprise. The loveable Canadian filmmaker is well known for his love for weed, and he has finally turned it into a business.
Rogen and his filmmaking colleague and friend Evan Goldberg partnered together to form 'Houseplant.' Read more to see what their weed company has to offer and see the real star of their brand, Seth's pottery.
A Lifelong Dream
Seth Rogen has never been shy about his affinity for cannabis and has even made it the star of a movie. The actor has smoked weed with some of the most notorious stoners in Hollywood who'd say he's a pro.
After years of professing his love for marijuana, Rogen finally started his weed company, 'Houseplant.' Houseplant first launched in Canada in 2019 and will soon be available in America as a weed lifestyle brand.
"Evan and I also recognize that our lifelong dream of starting a cannabis lifestyle brand like Houseplant comes with a commitment to changing the unjust and racist cannabis laws that still exist in today's society."

Says Seth Rogen
Seth also shares that he and Goldberg will address concerns regarding race and cannabis laws. Houseplant launches on 11 March in California, and there have already been enough pre-orders to crash the site.
Houseplant Homeware
Houseplant is more than just a weed company because its offering has a selection of lifestyle items included. In addition to selling three hand-picked and packaged weed strains, the company also sells homeware.
Seth Rogen fans and followers know that the actor has taken up pottery making as a hobby lately. The actor has shared his creations on Instagram and Twitter, and he has some excellent ceramics skills.
"Houseplant was born out of our love and passion for cannabis, design, and art,"

Says Seth Rogen
Seth's ceramics have been getting a lot of love on social media, and Houseplant gives them space to shine. Fans can finally get their hands on Seth Rogen-designed ceramics like ashtrays and matching vases.
Houseplant Lifestyle Range
Houseplant would have been a fantastic brand if it was only beautifully packaged weed, but now it's extraordinary. The fun doesn't just stop at weed and ceramics but carries on to a curated lifestyle range.
Evan and Seth combine art, design, and cannabis perfectly with a selection of lighters and vinyl mixtapes. Seth debut the block table lighter he designed to match the company's mid-century modern vibe on Twitter.
The collection also includes a matchbox that looks like a VHS tape and three vinyl playlists to pair with each strain. Each product is branded stunningly with a clear design aesthetic that fits Houseplant perfectly.
Seth's announcement of the American launch of Houseplant went viral enough to crash the site. It's evident that Houseplant will be a hit, so look out for the launch to get your fix before everything sells out.