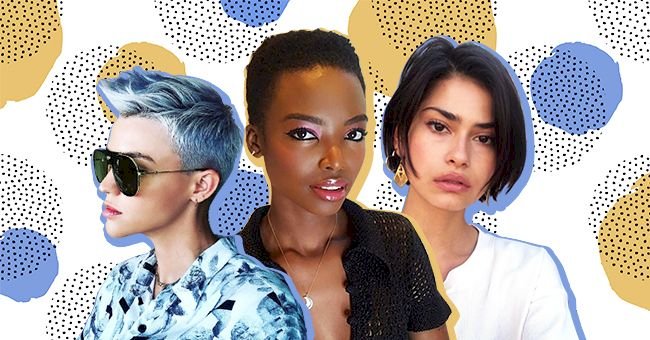 Short Hairstyles That Will Refresh Your Look This Year
The outside is starting to open up, and the many quarantine months are coming to an end. It all feels new, like a fresh start. And you want your hair to go with it.
Taking the plunge and going for a short hairstyle when used to your long hair can feel like diving in the ocean, to swim with the sharks. Some of us love our long locks. But a time comes when you're aching for that chop.
It may be a big chop or a brush of scissors, but the idea is a little nerve-wracking. If you're there with me, don't fret; let others inspire you as we look at some short hairstyles that will refresh your look.
The Bob
The bob is the most stylish and trendiest haircut of 2020. I think it never goes out of style. It was there in the '90s, and it's still standing the test of time. It is easy to maintain and looks great on everybody.
A few contemporary examples are a french bob, a blunt mid-length bob, a box-braid bob. There's no limit. And my curly-haired sisters can get a Viola Davis inspired bob.
The Pixie Cut
You may lose most of your locks with a pixie cut but what you gain is a simple wash-and-go style. Pixie haircuts became popular in the '50s. Today pixies are often paired with long side bangs or a shorter angled side fringe.An excellent idea for a pixie is to try a new trendy hair color you've never tried. This is the year!
"When you have a gorgeous chiseled bone structure, the best way to accent it is with a short cut."

hairstylist Matt Fugate.
The Lob
You probably do not want to cut all your locks but are still thinking of doing a chop. The Lob is a slightly longer version of a bob. The length sits just above your shoulders.
It allows plenty of room for different looks and styles. And you still have enough hair for a ponytail. A short hairstyle that allows change without going too far from your comfort zone.
The Buzz Cut
Similar to a pixie cut, only that you can go all the way. The pixie cut leaves a bit of hair at the front. A buzz cut goes all out!. Though some have taken it further and made tapered cuts. And I'm here for it.
It is a low maintenance style and can wash whenever, wherever. Always take care to check for any build-up that may come from any product you use for the curls or sleek look.
The Haircut With Bangs
Bangs are strands of hair that fall over the scalp's front hairline to cover the forehead, usually just above the eyebrows. Most people cut their bangs straight, but they can also shape them in an arc or leave them ragged or ruffled.
From the blunt bangs that look ultra-modern and cool to the side-swept bangs that feel beachy and add incredible volume, this is a haircut change, without too much commitment. Go on, get it.