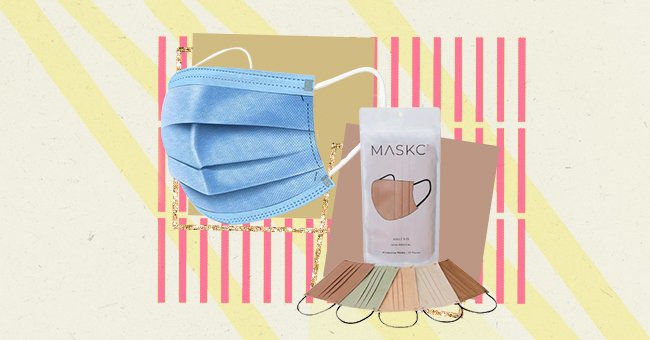 Skin-Friendly Celeb Fave Throw Away Masks Worth A Try
Stepping into the new normal hasn't been easy, but by now, we have all mastered the art of wearing a mask. If you've tried everything from cloth face coverings to silk variants and even the much-famous double layering, it's time to take a look at celeb-favorite options.
Herald the mask regime that has become an integral part of our lives thanks to the coronavirus pandemic. Many health experts suggest using disposable and cloth masks together for double masking to prevent the spread of airborne diseases.
Disposable face masks provide an effective barrier layer and often come in affordable packs, so there's no need to fret if you lose one. Wave goodbye to maskne with our pick of the best celebrity-favorite face masks that are worth investing in this year.
Disposable Three-Layer Face Masks With Elastic Ear Loop
This Disposable Three-Layer Face Mask is made from skin-friendly, non-woven fabric that feels soft and comfortable and causes no irritation. The ultra-soft, flexible ear-loop design reduces pressure on the ears and provides a perfect fit.
Disposable Face Masks With Three-Layer Protection
These breathable, three-ply face masks are made from soft, non-woven fabric, making them super comfortable to wear. They come with an adjustable nose clip bridge and soft and elastic ear-loops that are super light on the ears.
CandyCare Disposable Face Mask With Ear Loops
CandyCare Disposable Face Mask consists of a supportive and robust three-layered fabric and a central filtration non-woven fabric layer. The innovative three-layered design filters out dust and debris and makes them a highly breathable face covering.
Disposable Children Mask for School and Daily Use, Three-Layer, Comfortable Wide Straps
These kid-friendly, three-ply face masks feature a wide elastic ear-loop to ease pressure on the ears. They are made from ultra-soft material and are lightweight, breathable, and adjustable, so your children are not annoyed by wearing them all day.
EasyEast Face Mask Three-Layer Design
EasyEast Face Mask has a unique three-layered, breathable design for maximum protection. Its three-ply construction features multiple folds and adjustable nose clips and ear-loops for a comfortable experience.
Cure Right Disposable 3-PLY Face Mask
If you're tired of the ear-loop design and the pressure they exert on your ears, the Cure Right Face Mask comes with a head elastic strap. It is an excellent option for people who wear glasses and want their face covering to be comfortable, breathable, and effective.
WeCare Individually Wrapped Disposable Face Masks
WeCare Face Masks are individually sealed, so they can be carried along in your bag to keep you safe on the go. They are made from three protective layers that are light and breathable and feel ultra-soft and gentle on the skin.
Maskc Neutral Variety Masks
Price: $18 for a pack of 10
Celebrities love Maskc because it features exciting variants and provides unbeatable protection. The brand's most popular variety packs include Deep Hues and Neutral Masks that can be paired with nearly all of your outfits.