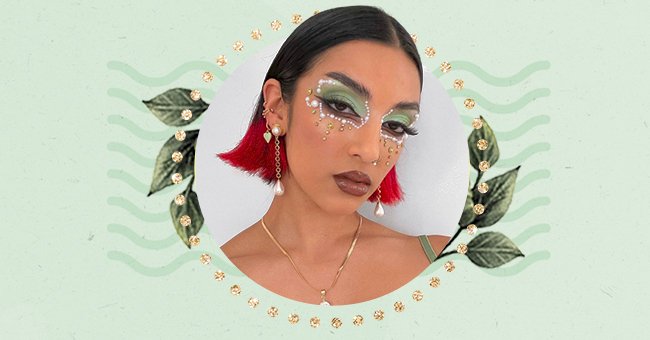 Stick-On Makeup Is The Latest Easy To Achieve Social Media Beauty Trend
It's time to bust out your middle school rhinestone stickers from the Hello Kitty pencil case they've been imprisoned in. Or maybe you need new ones. Either way, it's good news all around for sticker makeup is the latest social media beauty trend to hit our newsfeed.
We love it for various reasons but the main one being the ease of use. Quite frankly, the mode of preparation for a night out may involve some glittery looks you've painstakingly crafted. However, the process of removal is not so fun.
Stickers provide ease of application and can instantly upgrade any look without too much effort. Moreover, you can chuck them off at the end of the day. However, if you want to amp up the look with some more makeup, you'll look even more striking. So, let's explore the trend below.
Eye Stickers
In the 90s, it was all about the rhinestone teardrop. These days the look is more bold and varied. The stickers include liners in the shape of cat eyes that hug the eyes. Moreover, don't expect black liners to rule. The most striking liners are metallic, spiky, and bright.
You can also find them in eyeshadows if the whole blending of shadows together is too troublesome for you. Another super stylish way these eye stickers are showing up is in dreamy shapes like the one Hunter Schafer had in "Euphoria."
Nail Decals
Who said sticker could only go on your face? Nail decals are also sweeping the nail tech world. To repeat, they are so easy to use. All you need to do is place them as you see fit on an otherwise solid manicure, and you've got a whimsical look that's hard to beat.
Stick On Gems
Some nifty stick-ons come with acne-fighting skincare, which is a cute way to battle breakouts and look incredible at the same time. Aside from this, they come in adorable shapes that can spice up your overall look.
You can purchase flower-shaped gems and spread them across your face to please your inner 70s child. Decorate stick on pearls around your eyes, or stick with good old rhinestones instead of eyeshadow for a light-catching effect that is hard to beat.
Placements
There are no rules for the placement of stick-on makeup. You can be as bold as you want to be. Remember to have fun and express yourself. Besides, if you are looking for a low-effort way to change your look, stick-on makeup is a real winner.