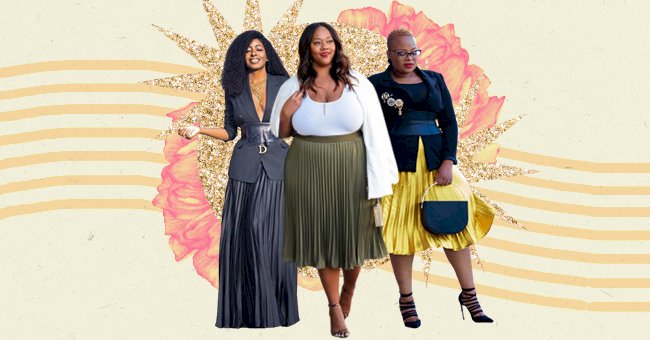 Style Guide: 10 Ways To Successfully Wear A Pleated Skirt
Feminine, elegant, and ultra airy - the pleated skirt establishes itself as the trend that never goes away. Whether monochrome, colorful or metallic effect, this chic garment offers many versatile combinations to suit all tastes and styles.
Though considered for a very long time to be an obsolete piece, the pleated skirt has the advantage of adapting to any look and is not confined to a single style. It goes just as well with sweaters as with basic t-shirts. It can be worn rock, bohemian and even sportswear styled!
Thanks to its fluidity, the pleated skirt will go very well for every body type. Style lovers know that they can wear pleated skirts at any length. From mini to maxi, fashion lovers know just how to transform their pleated skirts effortlessly.
1. Pair It With a Structured Blazer
A structured blazer cinched at the waist and paired with a maxi pleated skirt is an assurance of elegance in all circumstances. The black pleated skirt remains a safe and accessible bet when trying to venture into this intimidating piece of clothing.
Sticking to an all-black looks makes it a safer choice. At the office, wear it with a pair of raised ankle boots or pumps with square heels while pairing it with a simple top or a matching blouse.
2. Tiered Down In Colors
If you wear an ultra-colorful skirt, the best thing is to play down the rainbow colors when choosing a top. Pick a color from your skirt and complement it with a matching blouse.
For accessories, it is safer to opt for neutral choices to prevent yourself from ending up looking like a clown. Stick to blacks, browns, and grays, which are the neutral staple colors.
3. Perfectly Pink
If you're a girly girl, then going all out in pink is as chic as chic can be. Pink is universally flattering and is a shade that suits women with various skin tones when paired right.
When wearing pink, if you opt for bright pink, you can let one shade be bold and let this bold piece do the talking and keep the rest of your outfit low-key, or you can mix your pinks to make a more significant statement.
4. Style With White
Olive green is a beautiful shade to transition with since it has an earthy and refreshing vibe, synonymous with nature and the greenery we begin to see grow and blossom during the season.
Pair your olive green pleated skirt with a white top and add a nice fitted white blazer to finish off your look for the office. You can decide to add pops of color with your accessories or keep things muted.
5. Metallic Monochrome
If you're stuck for inspiration, just wear your metallic pleated skirt and pair it off with a matching lightweight sweater if you're staying at home.
Finish off with a pair of your favorite boots in any color, and add a trench coat if you are stepping out in the cold. Keep the color in the family for the perfect monochromatic layered look.
6. Layer It All Up
You may think that hot pink and brown don't go together, but this outfit is proof that it just works. This double-layered coat effect screams chic elegance.
The brown faux leather pleated skirt is the perfect way to start the fall. The hot pink brings the look to life to cut the monotonous nature of brown color in an outfit.
7. Pair With An Obi Belt
As a plus-sized fashionista, you ought to be careful when choosing to style a pleated skirt so that you don't end up with a look that makes you twice as big.
The key is to have your waist cinched while opting for a skirt that is never longer than the midi skirt. With your waist cinched, it enhances your curvy figure.
8. Play With Multiple Hues
Tonal dressing is incredibly cool and an easy way to introduce pleated skirts into your wardrobe. When done right, this can make an outfit look luxurious, elegant, and refined in an effortlessly chic way.
Be sure to play around with textures just as she added an animal print bag into the mix. To prevent your outfit from looking too one-dimensional, play with various tints, tones, and shades of the same color.
9. Pair With A Bralette
Depending on the time of the year, you can decide to show off some skin with a bralette. This also depends on how much skin you are comfortable with showing.
With a monochromatic look like this, be sure to pair with shoes with character to give you an overall playful vibe. After all, you don't want to end up looking too serious.
10. Have Fun With Prints
There are numerous reasons why you should wear animal prints, and pairing them with a black leather mini pleated skirt is just enough reason.
Add animal-printed boots to complete the look, and if you want to keep it edgy, throw in a leather k=jacket to give you a whole new relaxed vibe.