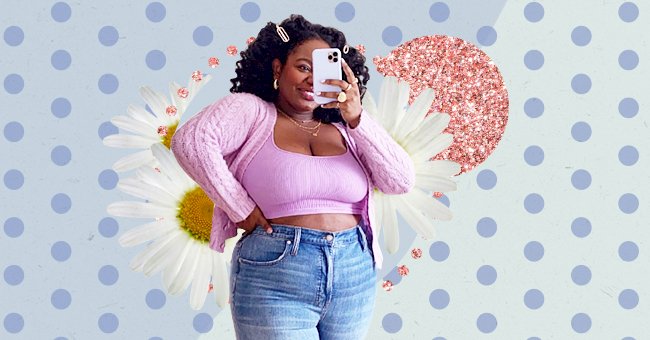 Style Guide: How To Style Mom Jeans To Flatter Any Figure
Many trends come and go, but none is better suited for all body types like the mom jean. Honestly, we've lived through low-waist jeans and skinnies so trust us when we say mom jeans are super forgiving.
The waistline is high enough to protect the crack when bending and cover our food baby sins, which means you should definitely own a pair. However, choosing the wrong mom jean can leave you looking frumpy.
You want a mom jean that isn't too large to make you look dowdy. Moreover, the jean should have a little stretch and a wedgie-like lift. The perfect mom jean should also taper at the ankle. Ready to style them? Here is a handy guide to style mom jeans to flatter any figure.
Statement Tops
What better way to complement mom jeans than with the right statement top? Go for tops that are loose or have exaggerated detailing like off-shoulder tops or a chiffon blouse to playoff mom jeans' structured-ness.
The contrast will add a playful enhancement to your body type. However, if you would like a more sober look, you can pair your jeans with a simple strappy vest. Think cropped or high-necked vests. The result will pay homage to the 90s.
Slip On A Cardi
Enduring fashionista Alexa Chung has given this combo a mark of approval. Slip on a cardi with your mom jeans for a chic winter look. Also, the looser the look, the better. Our best bet would be to go for rich colored cardis and boots.
Alternatively, you could go for a cardi that fits. The overall result will be a sweetheart aesthetic that fulfills all your cottagecore dreams. Pair with a strappy top and a small bag for another ode to the 2000s.
A Statement Belt
Mom jeans are excellent at cinching waists. Their high waistlines are perfect for any figure as they accentuate the waist, bringing balance to your figure unlike boyfriend jeans which tend to be a little dowdy.
Add a statement belt to mom jeans to highlight your waistline further. Choose a black belt with some silvery or gold hardware. Slip on a leather jacket to match your leather belt for a high fashion tough look.
Denim On Denim
Emphasize your figure in a denin on denim look. With this get-up do not be afraid to double or even triple up the denim. However, make sure you choose different shades of denim to tone down the monotony of the outfit.
Therefore, add a denim jacket or wear a denim shirt. On the other hand, you can opt for a simple t-shirt or a bustier under your denim jacket. The overall look will be super vintage leaving you looking like a model off duty.
Cuff Your Jeans
Roll up your sleeves, or in this case, roll up your denim cuffs. A cuffed jean is also a great way to elevate mom jeans. For this outfit choice, you want to lean into a wide-leg mom jean. Taper the jeans further by folding them out.
Depending on the outcome you wish to achieve, you can cuff your jeans with a wide cuff or a thinner one. Pair some sneakers with the look, and consider tying your hair back to add a youthful freshness to your outfit.
Wear A Blazer
A blazer goes with anything. Think about it. Depending on the tailoring, it can slim the shoulders, emphasize the waist and make you look one hundred times more expensive. What's not to love?
We love a mom jean with a blazer pairing. It brings the worlds of casual and formal attire together, which means that yes, you can wear your mom jeans to work. Wear a striped shirt underneath and some kitten heels to nail the office look.
Boot Up
Princess Diana iconized this look, and so should you. We like the unconventionality of pairing mom jeans tucked into boots. It's simply royal. Also, we feel that it makes a trendy winter look, so consider getting a comfortable pair of boots to copy this trend.
Boots and mom jeans are like salsa and spice. They go together. It instantly upgrades any outfit and flatters any body type. Therefore, you can choose an ankle-length boot under your mom jean. Remember to choose boots that are nice and pointy.