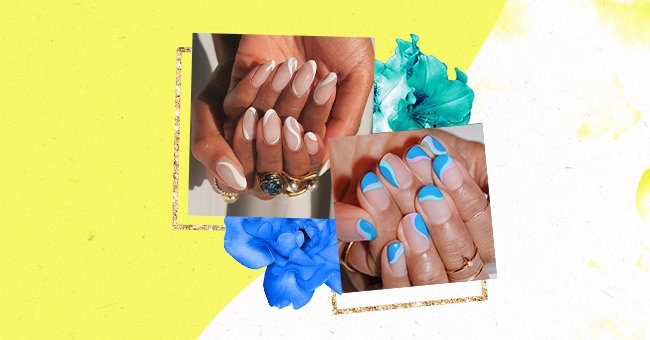 Swirl Nail Art Is Ready To Take Over Spring
Are you tired of mini French and complicated nail art? How about trying out swirl nails, this fun and colorful new nail polish trend that's seducing us as spring approaches?
In terms of manicures, the trend is more towards minimalism or, on the contrary, to the natural nails is something most women want to get back to. However, this spring, we are about to shake things up with new manicure codes to adorn our nails.
Shaking things up means opting for a pattern that reconciles simplicity and originality. This is where swirl nails come into play. Swirl nails are patterns that are a kind of abstract waves drawn on the nails.
Instructions For Swirl Nails
This manicure trend invites us to draw wavy lines on the nails. These abstract waves are often designed on nails that appear to have been left bare but previously varnished in reality using a nude color.
The nude base recreates a natural nail's illusion but with a perfect surface or a transparent base coat. This aids the addition of other colors onto the nails and helps with adhesion for a long-lasting manicure.
Shape Of Swirls
As for the shape of the famous swirls, these decorative abstract waves do not have a fixed pattern or shape and lends themselves to all interpretations. You can choose a very wavy or less wavy design or even a zigzag line.
You can also decide to make it a solitary wave or surging swirls. Thin or thick lines are also an option. The idea is to have fun and end up with something you will love and become the envy among your friends. There is also no need to be a master of the brush as this nail art is accessible to everyone.
Ideal Colors For Swirl Nails
When it comes to colors, it's up to you to choose between the simplicity of a single color or the originality of more shades. Why not neutral like black or white for the less daring or fans of ultra-chic manicures, a splash of colors.
You can also choose flashy colors that you can wear alone or combine according to your preferences. By mixing them all on the ten nails, wearing different ones from one nail to another, or even mixing the colors differently. Finally, whatever your manicure habits, these can be done on short nails and long nails.