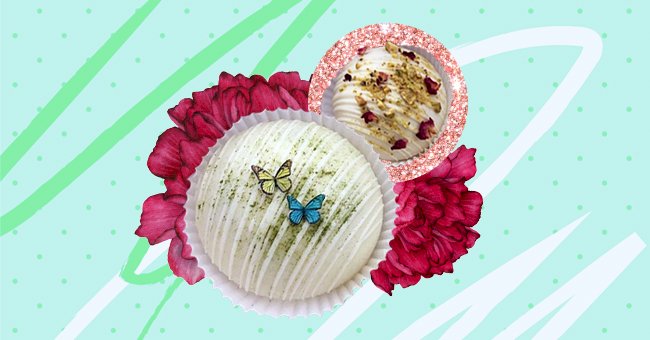 Tea Bombs Are The Latest TikTok Trend You Have To Try
Your preference for hot cocoa bombs is pretty old school because everyone is obsessing over the hottest new trend in town - tea bombs. If you're a tea lover to the core (like me), it's time to celebrate.
If you have been fond of dipping tea bags in water, you're in for a treat. The new TikTok-inspired trend has introduced us to balls of crystals that come infused with herbs and tea extracts, promising a heavenly taste. Just drop the bomb in hot water, wait till it slowly unfurls, stir and sip.
There are lots of exciting flavors to choose from; name it, and you can have it. Many people on Instagram and TikTok are putting their creativity to use and preparing fruity, flowery, and colorful tea bombs. It's time to take a closer look at some of the most exciting tea-filled delights we can try.
1.Pineapple Guava & Earl Grey
These golden balls of delight are quite the welcome sight for sore, tea-loving eyes, and they are courtesy of The Hive Bakeshop. The @hivebakeshop features various delicious confectionery items to satisfy our sweet tooth, with tea bombs being a hot new addition.
Two sisters, Rebekah and Sally Ontiveros, run The Hive Bakeshop. They are offering three exciting flavors of tea bombs, Pineapple Guava White Tea, Earl Grey and Cranberry Blood Orange. From the looks of it, we certainly can't resist such cute, exploding tea bombs.
2.Kashmiri & Masala Tea
Another flavor to try is the pretty pink Kashmiri tea bomb, prepared by the baking expert, Asfia Ajmeri @adatewithdesserts. She takes a pink ball topped with flower extracts, almonds, and pistachios, places it in a cup, and pours hot milk.
After a little stirring, the pink delight is ready to drink. There is also another recipe for Masala Chai, which can be prepared by putting the masala tea bomb in hot water and stirring until the ball fully dissolves to infuse its rich flavors.
3.Rose Chai & Matcha Green Tea Latte
Flavored tea bombs are all the rage, but imagine how good they will taste with rose extracts and green tea? The baking artist Sara at @saras_sweets prepares delicious tea bombs, which are an absolute treat for tea lovers and a rush of delicious flavors in the winter season.
You can choose any flavor you like from amongst the ten different options, but the hottest picks are the rose chai latte and matcha green tea latte. And with pistachios and rose petals garnished on top, you cannot resist these adorable white balls of delight.
4.Dream Tea
These dream tea bombs by @beautyanddasweetz look like small balls carrying cosmic energy because of the ethereal color combination and decoration. The Tazo dream tea, galaxy-centric balls come with a fusion of lavender and chamomile extracts, so you better get your hands on them.
5.Glittery Gold
If you're calorie-conscious and waiting to include a tea bomb on your cheat day, then prepare to be surprised with these edible glitter delight balls. A Toronto-based confectionary @maisondedessertto run by Selena Flores, makes magic tea bombs that are ideal for people monitoring their sugar intake.
The golden balls of glitter are made from beet sugar and do not affect your blood sugar. You can choose from an exciting range of fifteen different flavors (most of which are caffeine-free). So they're worth a shot, and from the looks of it, you will undoubtedly be left craving for more. Tea bombs for the win!