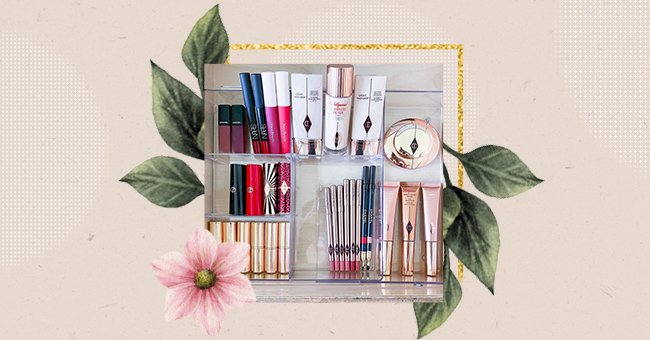 The 12 Best Makeup Organizers For Your Vanity
It's easy to collect tons of lipsticks, bronzers, foundations, and many more to achieve your bomb makeup looks. Therefore, buying is the easy part but storage? Not really. Maybe your vanity is looking more like an accident site.
Hands up if you don't remember the last time you saw the bottom of your vanity. Keep those hands up if locating makeup is tricky. We know those hands are shaking now but keep them straight if you've suspected your pet or significant other of losing your makeup.
We know it's hard to admit, but we are the ones to blame—however, it's time for a change. Take on a new project this weekend and store your precious makeup items safely and stylishly. Consider stocking up on these makeup organizers to get your vanity looking more Pinterest and less throw-up chic.
The Home Edit by iDesign Expandable Drawer Organizer
Price: $19.99
Your drawers will thank you for this. We can all relate to having items rolling around in the drawer, especially after neatly arranging them. Use this organizer to keep all your things in place, making them look neat and visible while expanding your storage space.
Sorbus Cosmetic Makeup and Jewelry Storage Case Display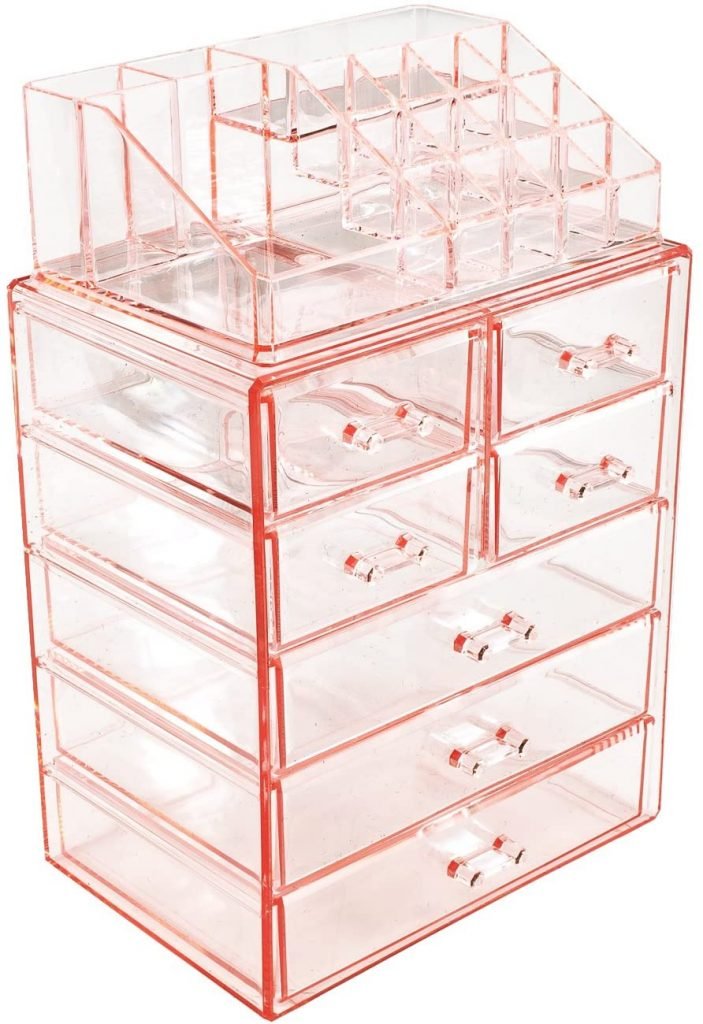 amazon.com
Price: $31.99
This is great if you're not working with a lot of space. The display has a sleek and stylish design with enough storage to house all your makeup neatly. It also has an additional lip compartment and brush holder at the top, leaving no items behind.
Caboodles On the Go Girl
Price: $19.99
This is perfect if you're not yet ready to say goodbye to the storage box you had growing up as a child. This box has an iconic design that will look adorable on your dresser and has tons of storage space, including a removable tray and flip mirror.
Leather Travel Case Set
Price: $120
If you're looking for a chic bag to store your products, this bag will do the trick. It comes as a set and is made of genuine leather lasting you a lifetime. This bag is perfect for placing on your vanity or carrying your makeup items with you on the go.
byAlegory Acrylic Makeup Brush Organizer & Drying Stand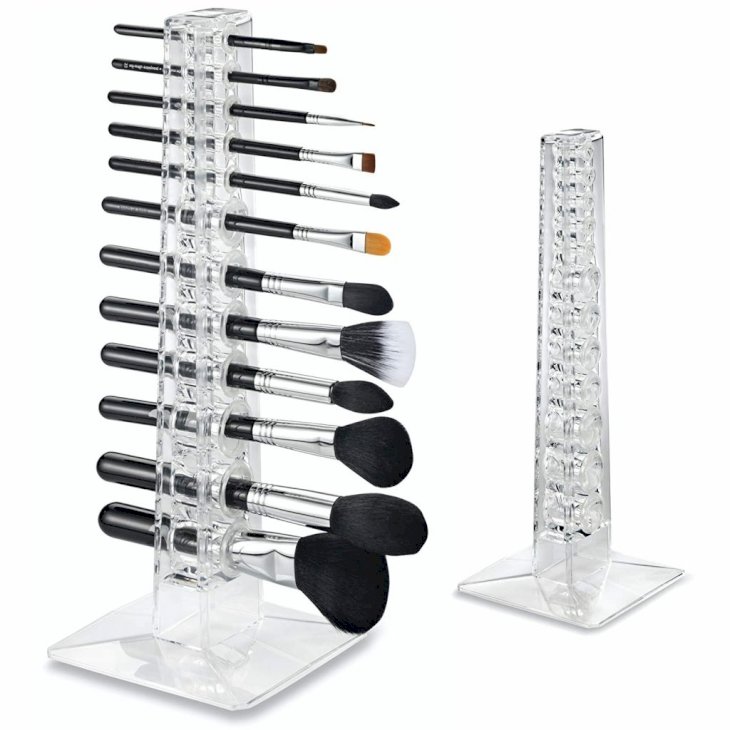 amazon.com
Price: $21.99
Be extra and get this display for your makeup brushes. Why? Because you can. The stand has a space for twelve brushes of different sizes, allowing them to remain sanitary since they will never touch. Makeup applications will never get easier than this.
Vanity Case
Price: $85
This is great if you have no space left on your vanity whatsoever. This case is super durable as it's designed with a hard exterior and tons of space inside. It's great for propping up on your suitcase during travel or having great additional storage in the house as well.
iDesign Clarity BPA-Free Plastic Divided Makeup Palette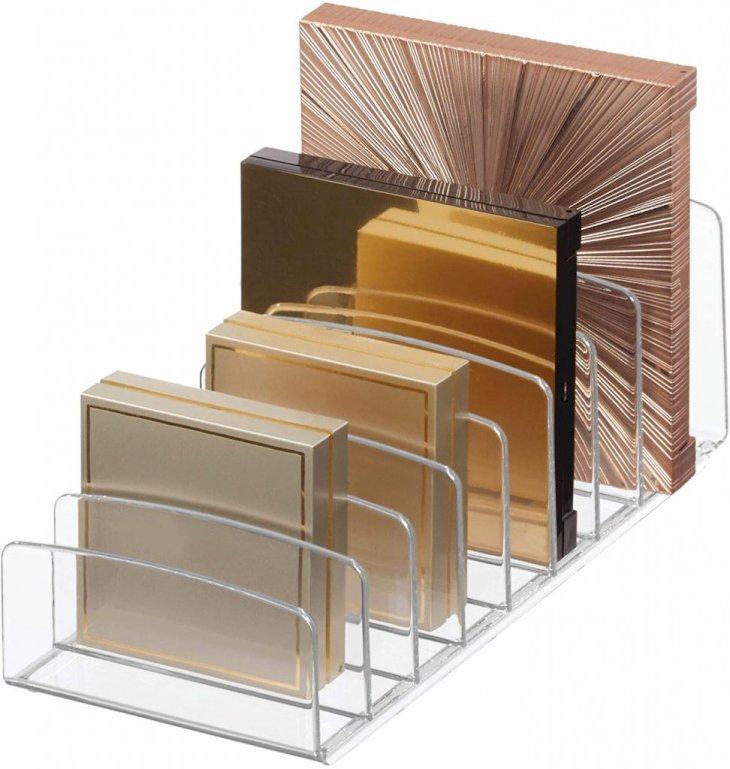 amazon.com
Price: $14.40
If you love collecting makeup palettes, this holder is a must-have. After all, it only takes one drop to break the precious eyeshadows in the case. Keep them safe using this divider that can accommodate up to nine palettes of three different sizes.
Jerrybox 360 Degree Rotation Makeup Organizer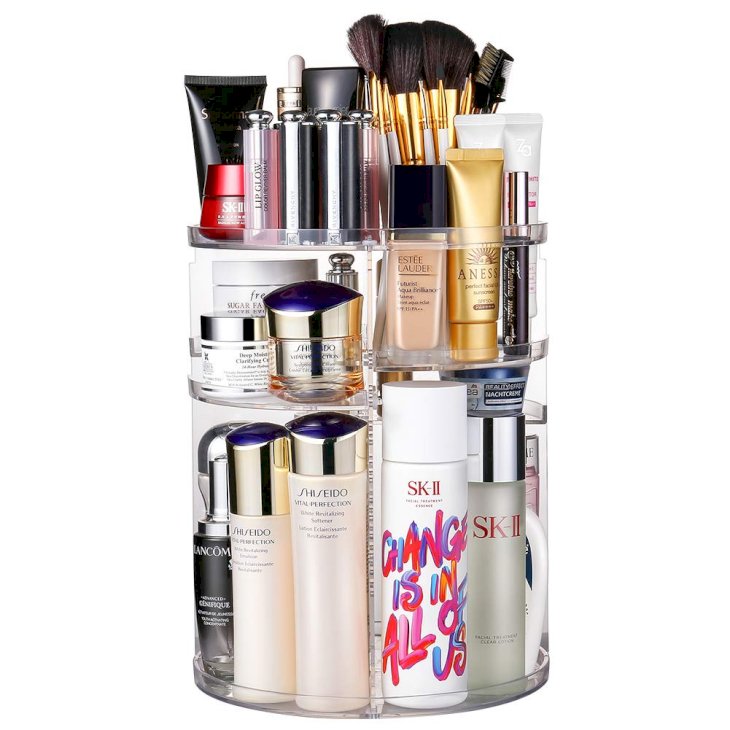 amazon.com
Price: $21.99
Stretching, bending, and straining to reach your makeup will be a thing of the past. Use this to conveniently locate all your makeup as it turns 360 degrees without making any sounds. Also, it will take up minimal space since it can house seven layers of trays.
Sooyee Multifunction Travel Cosmetic Bag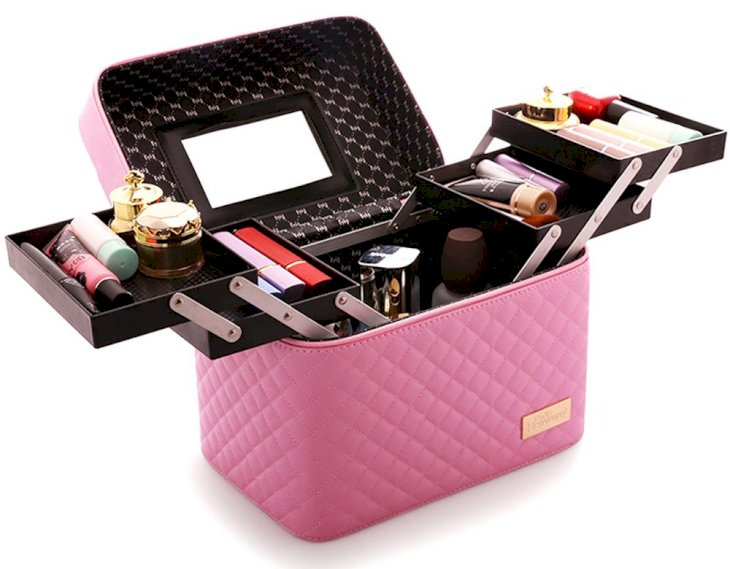 amazon.com
Price: $28.99
If a glamourous compartment speaks to you, you need this. This cosmetic bag comes in a beautiful pink color and quilted design that stands out. Furthermore, it is practical for shelves that fold out and great for storing smaller items like lipsticks and mascaras.
Bamboo Drawer Organizer Trays
Price: $6.99
If you're looking for an eco-friendlier option, this bamboo tray would just do the trick. The organizers come in two different sizes, making them easy to slip into the drawer to increase storage space. The natural brown color would also be a great addition to your space.
Gala Lighted Mirror
Price: $54
If you're looking to switch things up, why not include a fancy mirror while you're at it. The vanity comes with a small storage space that is sufficient for holding your products for your go-to makeup looks. Also, the mirror magnifies up to ten times, leaving you looking flawless.
Signature Makeup Bag
Price: $69
This makeup bag looks subtle with a fun surprise inside. The bag has fun contrasting different colors of fabric, making it look chicer. It also has compartment space on the side to conveniently store your makeup and is perfectly safe to throw into the machine.