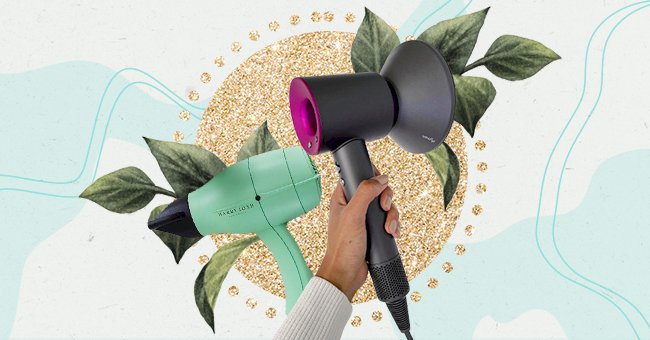 The 5 Best Blow Dryers For Curly Hair
Curly hair woes are real and scary, and sometimes they can take their toll on you. So if you've tried out all the styling tools and failed miserably, take a look at the best blow dryers out there to tame your curls for good.
Will we ever grow accustomed to our bad hair days? Sometimes, in the pursuit of the "I woke up like this" moments, we can end up ruining our natural hair. And believe it or not, over-styling and heat treatments can weigh down on our hair.
When looking at all the blow dryers in the market, many of us are caught in a frenzy, unable to decide which one is worth the bucks. But, you don't have to stress out anymore because we've researched the best of the best hair dryers for you so that you can finally rock those curls.
DevaCurl DevaDryer & DevaFuser
The DevaCurl DevaDryer stands out amongst the curl-defining tools because of its ionic technology and innovative design. This hair dryer saves drying time, boosts volume and bounce, and reduces frizz.
Furthermore, its hand-shaped DevaFuser offers a 360-degrees airflow concentrated on your curls, thus accounting for uniform heat distribution so that your curls can appear smooth and shiny.
Harry Josh Pro Tools Pro 2000 Dryer
Harry Josh Pro Tools Pro 2000 Dryer is a lightweight, professional styling tool that tackles frizz and excellently diffuses the curls. Its ergonomic design and ionic technology significantly reduce drying time and allow for even distribution of heat.
In addition, it also comes with eight heat, speed, and ion settings, so you can style your hair the way you like, making your curls appear bouncy, soft, and silky smooth.
Dyson Supersonic Hair Dryer
If you're looking for a hairdryer that defines and smooths out your curly locks, Dyson Supersonic Hair Dryer is worth trying. Its revolutionary design and precise airflow will allow for seamless hair drying and styling.
What's more is that this blow dryer will shield your hair from heat damage, adding shine, definition, and volume to your kinks so that you can rock them all day and all night long.
Revlon 1875W Infrared Heat Hair Dryer
This Revlon Hair Dryer is an excellent budget-friendly pick that will tame your curls without breaking the bank. It runs on infrared heat technology, making your hair soft, smooth, and manageable.
Moreover, the two heat and speed settings allow for seamless hair styling. And lastly, its Tourmaline ionic technology helps reduce frizz and adds shine to your coils.
Remington D3190 Damage Protection Hair Dryer
With over 30,000 raving reviews, the Remington Hair Dryer is designed to protect your curls from damage, thanks to its advanced coating technology. Furthermore, its micro conditioner technology ensures your curly locks are smooth, soft, and shiny.
In addition to the features mentioned above, its ceramic and ionic technologies reduce drying time and tackle frizz, thus preventing hair breakage.