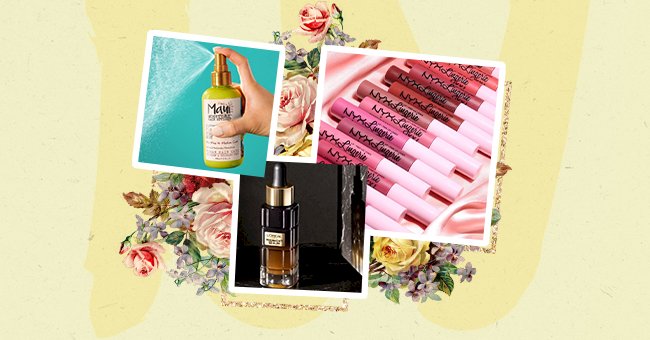 The Best Drugstore Beauty Products Of 2021
With the most effective formulas that provide the best value for money, drugstore beauty has become a favorite category in the beauty space. From skin serums and lip balms to lipsticks and hair treatments, here are the best options to add to your beauty counters.
The pandemic has turned our focus to self-care and skin-care rituals now more than ever. Drugstores have become home to some of the most popular and cult-fave brands over time, including Loreal Paris, NYX Cosmetics, Covergirl, and many more.
The drugstore beauty category keeps receiving new and exciting product launches all too often. To make things easier for you, here are some of the best drugstore beauty products to keep an eye out for this year.
L'Oréal Paris Age Perfect Cell Renewal Perfect Midnight Serum
L'oreal Paris Age Perfect Cell Renewal Midnight Serum comes in an enchanting, dreamy bottle, which looks similar to a youthful elixir. It is infused with powerful antioxidants like vitamin E, the ultimate hydrator hyaluronic acid, and salicylic acid to brighten and hydrate the skin and boost its regenerative process.
Maui Moisture Lightweight Curls + Flaxseed Curl Refresher Mist
Maui Moisture Lightweight Curls + Flaxseed Curl Refresher Mist is a clean, vegan formula that keeps your curls fresh and healthy. This lightweight spray also helps detangle the hair strands without stripping away the moisture or weighing them down.
EOS Flavorlab Scoop Shop Rainbow Sherbet Lip Balm & Sphere
EOS Flavorlab's theme for its hydrating lip balm collection for 2021 is Scoop Shop. The Rainbow Sherbet Lip Balm and Sphere are moisturizing and incredibly delicious formulas infused with shea butter, coconut, and jojoba oils to keep your lips nourished, soft, and smooth all day long.
E.L.F. X Jen Atkin Zero Effort Liner
If you're looking for a brilliant liner to glide smoothly across your eye area, this Zero Effort Liner might do the trick. Its highly buildable cream-to-powder formula will help you nail your smokey eye look effortlessly.
NYX Professional Makeup Lip Lingerie XXL Matte Liquid Lipstick
Matte lip formulas are very much in vogue, and NYX Professional Makeup Lip Lingerie XXL Matte Liquid Lipstick is here to prove it. It comes in 24 alluring shades, which are super smooth and will even stay intact behind your mask. How cool is that?
SpongeBob SquarePants X Wet N Wild F.U.N. Purifying Setting Mist
Lock your makeup look in place with this fun-filled SpongeBob SquarePants x Wet n Wild Purifying Setting Mist. It contains nourishing ingredients like cinnamon bark extract and niacinamide to unclog the pores, remove excess oil and brighten the skin.
CoverGirl Lash Blast Clean Volume Mascara
Long and thick lashes will always be goals, and you can get them for real with the CoverGirl Lash Blast Clean Volume Mascara. This clean, sulfate-free formula contains nourishing argan and marula oils and an applicator brush to define and prolong the eyelashes for a visibly fuller look.