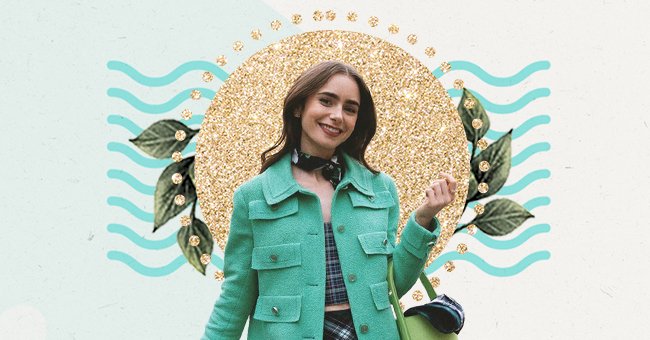 The Best 'Emily In Paris' Outfits
By now, you've heard of Netflix's "Emily In Paris" and the memes and cliches that come with it. There are many French stereotypes and cringeworthy moments in the show, but what's got the people talking are the divisive fashion choices.
The protagonist Emily Cooper is, of course, in Paris, working a fashion job, and it's not a surprise her outfits got some attention. Moreover, the styling was done by Patricia Field, who helmed "Sex and the City" and "The Devil Wears Prada," so we knew Emily's outfits were meant to stand out.
There were a lot of colors, patterns, bucket hats, berets, and designer pieces screaming to be recognized. While some combinations were at times questionable, there were some stunning looks. Interested? Let's get to the best "Emily In Paris" outfits.
The Green Look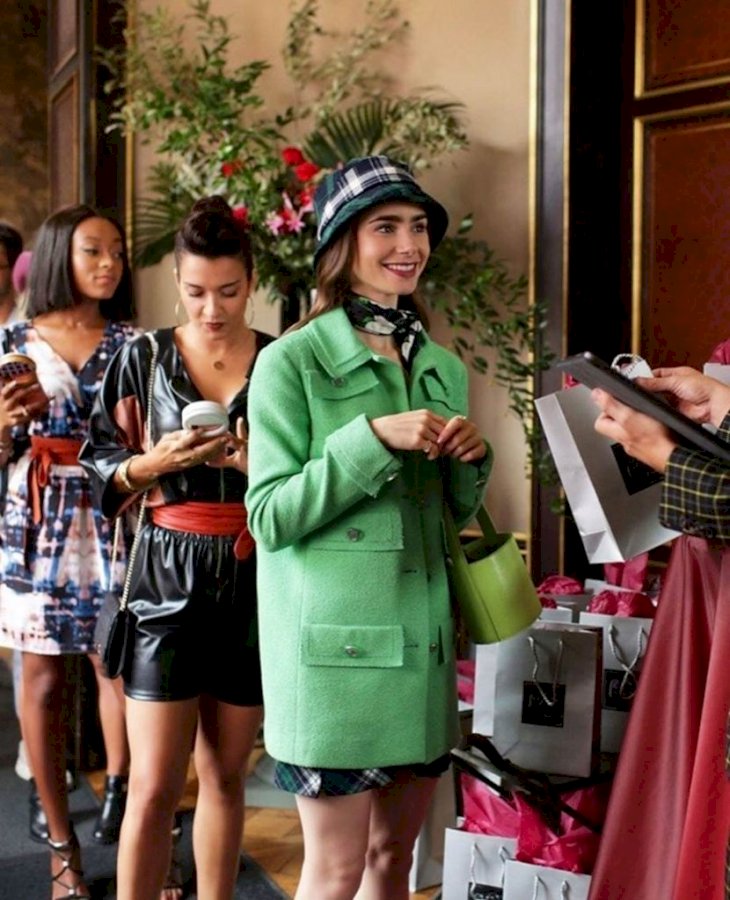 Netflix
First up is this look punctuated with Emily Cooper's signature bucket hat style. The outfit combines several varied prints (hello, plaid and floral?) and hues which, on someone else, might have been an absolute fail. However, the look is brought to a highly refined finish with this mint green overcoat and jade green bag.
The Black Dress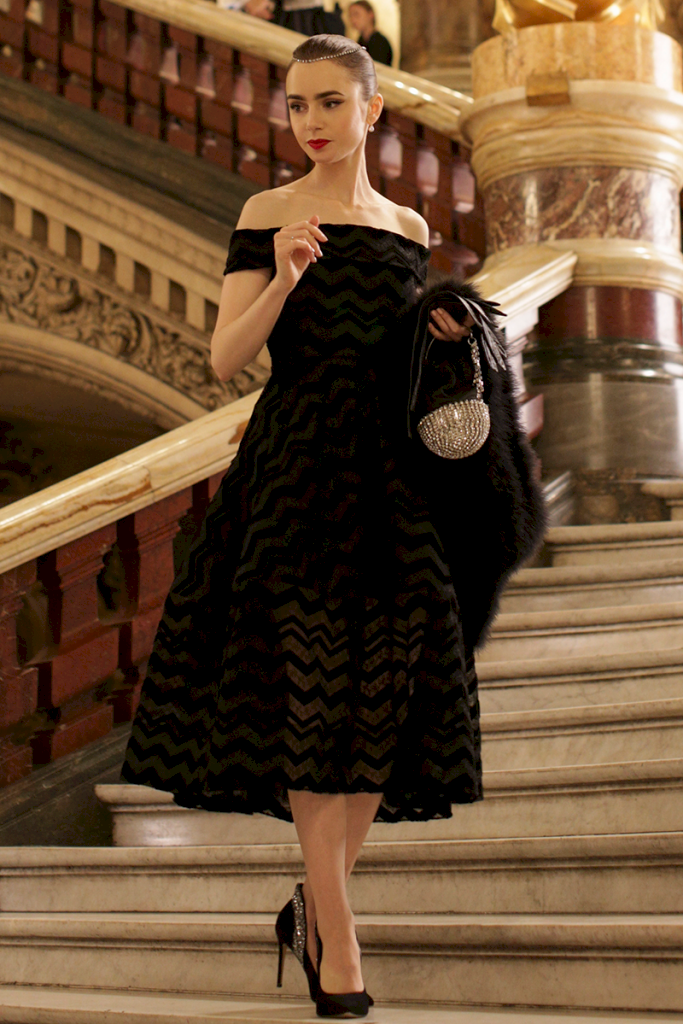 Netflix
Cooper's Christian Siriano all-black gown was a clear winner. For one, it's giving us heavy Audrey Hepburn vibes, and two, the off-shoulder design is super classy. Furthermore, the jeweled bag and shoes only add to the glamor of the overall look.
The Green Leather Jacket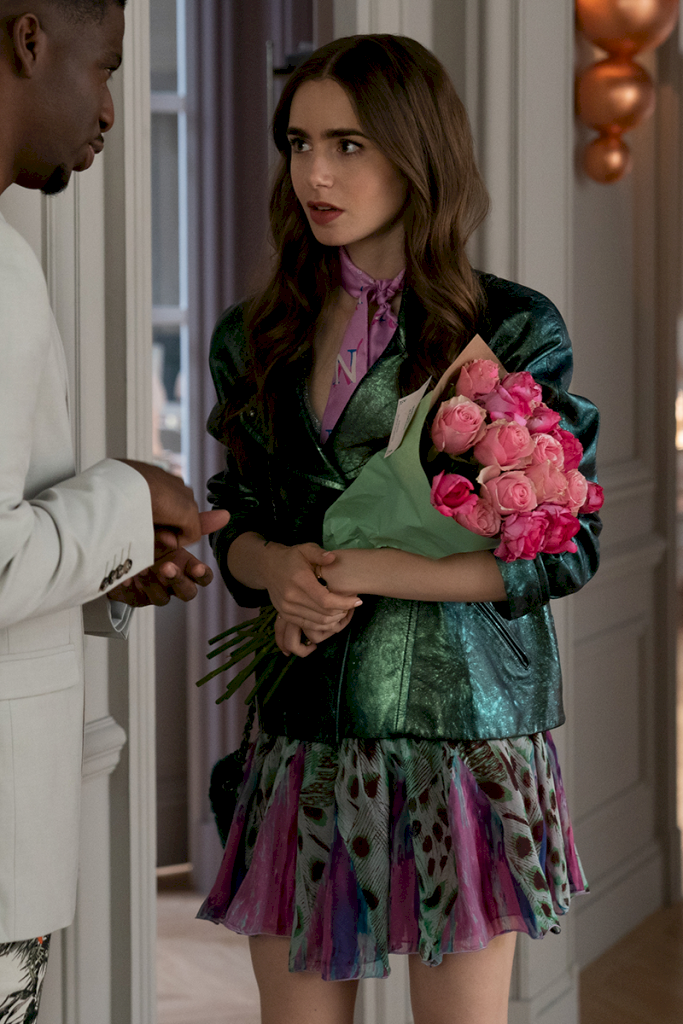 Netflix
This outfit is basically an ode to Chanel. The Jacket, scarf, and bag all come from the beloved luxe fashion house, and although they contrast, Cooper pulls this look off beautifully. The colorful animal print mini dress and shimmery leather jacket are brought together with a floral scarf that gives us a new way to work our prints.
The White Dress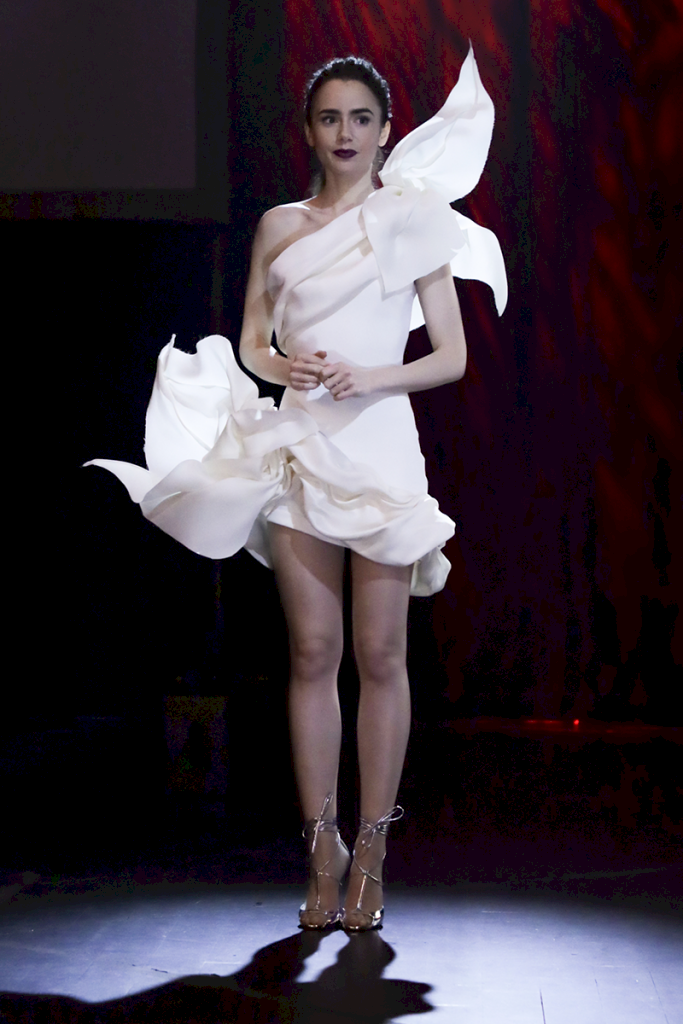 Netflix
This incredible white number from Stéphane Rolland is a structural masterpiece. The flyaway off-shoulder neckline and runaway skirt would look perfect against the red carpet of the Met Gala. Even if the style was a shift from the pattern and print mixing Cooper, she pulled off the look effortlessly.
The Lilac Combo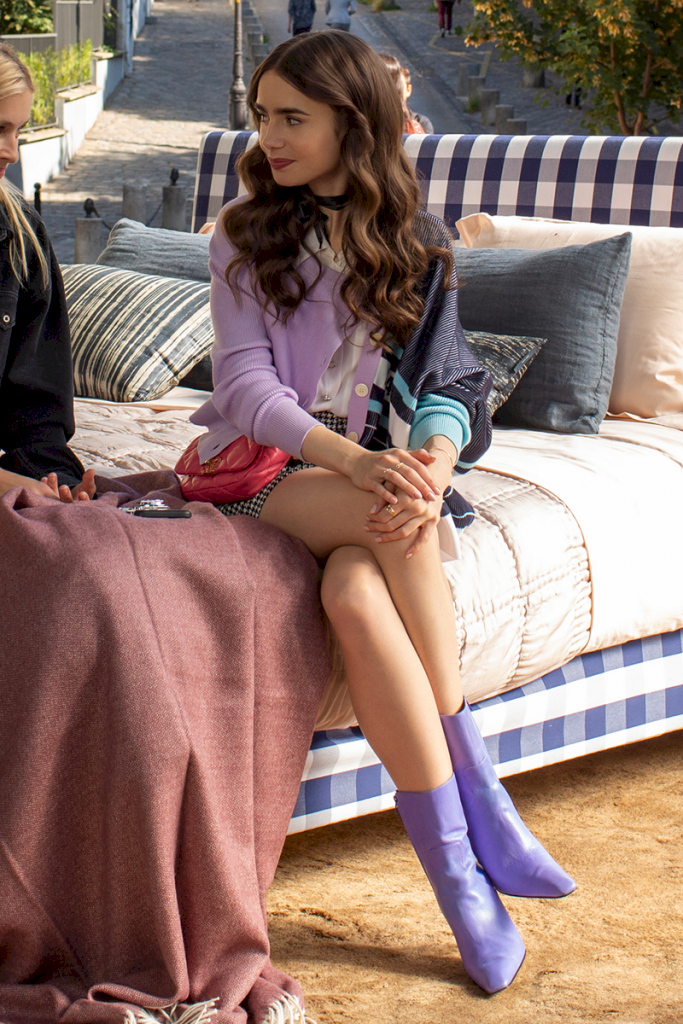 Netflix
If you considered wearing the monotone trend but had no idea where to start, look at Cooper's striking pastel combo for some inspiration. The lilac boots will set you back a pretty $800, but they are worth every penny, especially paired with Emily's lilac and print cardigan. To round up the looks was this gorgeous Chanel bag that added a pop of color to the entire look.
The Yellow Dress
Netflix
This outfit may feel more traditional than the other, but this is what makes it so unique. The yellow maxi from Ganni is paired with a contrasting belt to flatter Cooper's figure and accessorized with a pair of Elie Saab heels. It's timeless and reminds us that you can always rely on a flowy sundress.
The Fuschia Look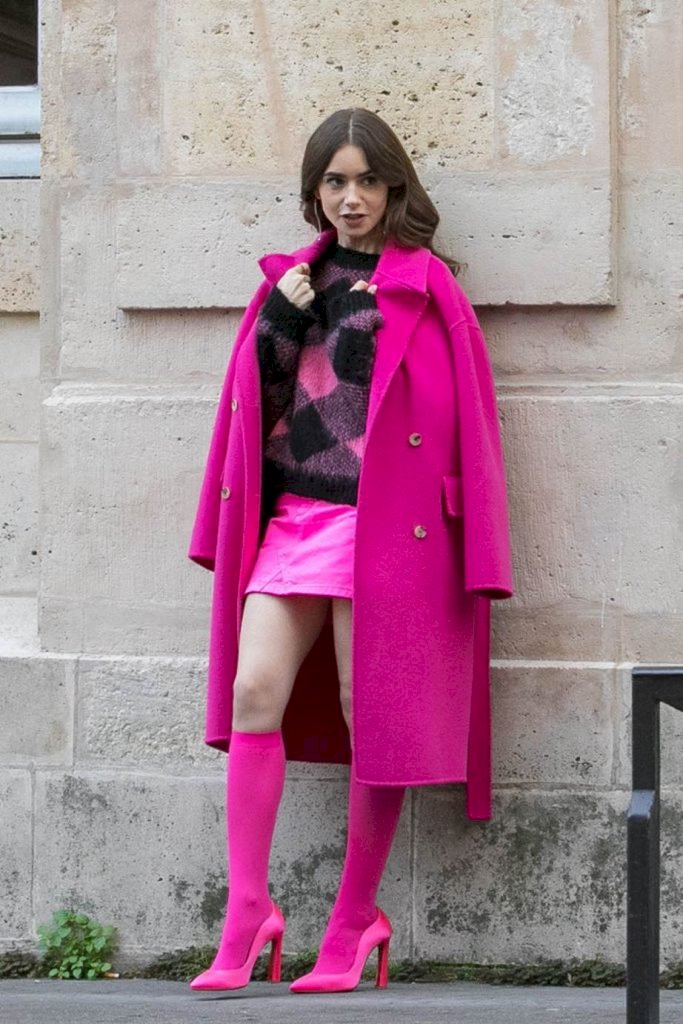 Netflix
Talk about color. This head-to-toe Fuschia-inspired look is not for the faint-hearted, but it's certainly worth a try. Who would have thought knee-high socks and satin heels would be a win? Once again, Cooper knocks it out of the park with this vibrant get-up.
The White Crop Top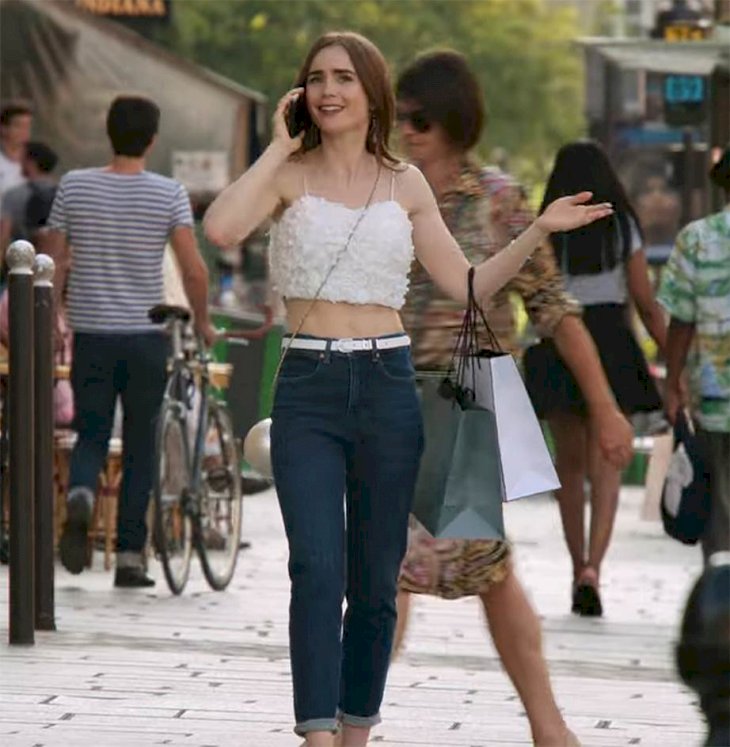 Netflix
American fashion sentiments meet European fashion sensibilities in this crop top and jeans outfit. The ruffled top shows off Lily Colin's abs in a way that makes us want to go to the gym, but that's beside the point. It matches well with her cropped jeans and slim belt for a winning casual day in Paris look.
The Floral Moment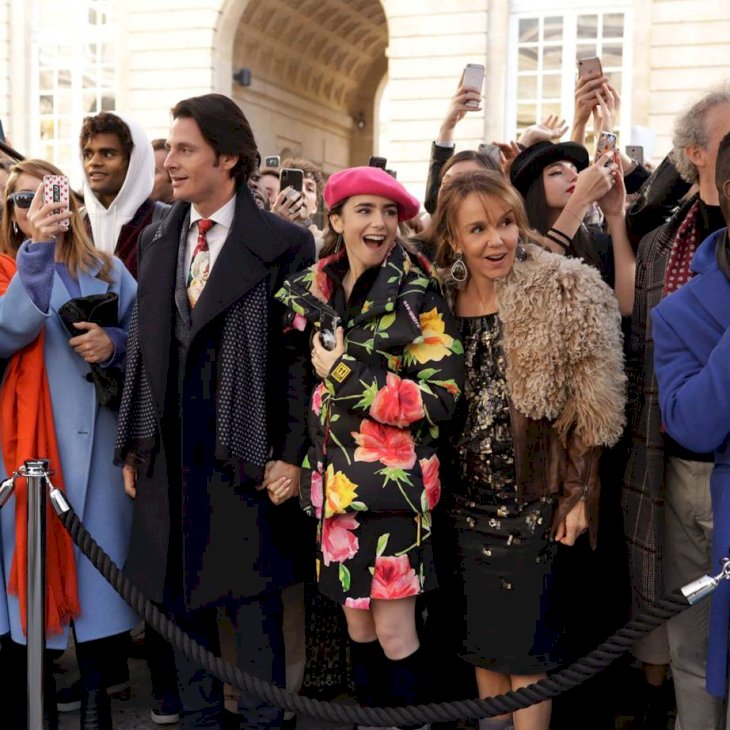 Netflix
Last but not least is this lively floral overcoat jacket from Off-White. It's very Carrie Bradshaw at fashion week, but it also enhances Cooper's playfulness and hopeful outlook on life. The fuchsia beret is also another of Cooper's signature style choices and gives us French fashion with a spring twist.