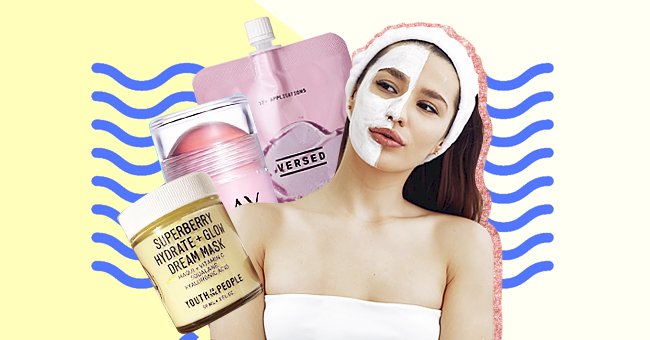 The Best Face Masks To Use Before The Holidays
Holiday parties are coming soon, which means it's time to pamper ourselves to look our best. Although a second lockdown threatens physical gatherings, zoom calls also deserve glowy skin.
The Holiday season's event roster is filled with exciting opportunities to dress up and look great. A full glam look is best achieved with naturally glowing skin that you can enhance with a face mask.
Face masks are a lovely and accessible way to pamper your skin once in a while and offer great results. Take a look at the five spectacular face masks that will provide you with a luminous glow this holiday season.
Youth To The People Superberry Hydrate + Glow Dream Mask
This Youth To The People mask is a fantastic option for intensely hydrated and rejuvenated skin. The face mask contains brightening and hydrating ingredients such as hyaluronic acid and vitamin c.
This facial treatment has anti-aging properties and is worn overnight for an extensive hydrating effect. The evening moisturizer also has a lasting dewy impact on skin, which is excellent considering the dry winter air.
Olehenriksen Cold Plunge Pore Mask
This Scandinavian skincare brand is famous for its wide selection of incredible and diverse products. The Cold Plunge mask is the perfect product for a great scrub after a big night out.
This clay mask formula deep cleanses pores with soothing and exfoliating ingredients. Other elements like snow lotus, eucalyptus, and willow herb release a cooling sensation that wakes skin up for the day.
Olay Stick Masks
This budget-friendly face mask option is great for the lazy girl who wants to target specific skin issues. Olay has a selection of clay stick masks that are great for applying to particular problem areas.
The three targeted mask sticks are the perfect shape for easy application and optimal use. You can purchase any one of the masks you need to retouch your skin just before a holiday party.
Versed Look Alive Hydrating Plumping Mask
Not only is this brand's packaging super cute and Instagram worthy, but the product is super useful as well. If you are looking for an instant boost in your skin's hydration, then this is the mask for you.
Cold winter air may have dried out your skin, or a night of drinking may have left you looking dehydrated. Either way, this refreshing aloe vera and rosehip oil formula offers 12 glorious pumps of an excellent product.
Peach & Lily Reboot Resurfacing Mask
This face mask works on three skin issues with one single formula to get you ready for festivities quicker. A full skincare routine can involve a collection of different products, which can be pretty time-consuming.
The Peach & lily mask cleanses, exfoliates, and softens the skin, revealing a bright glow in one step. This face mask is perfect for the holiday season queen who needs a quick solution for their long list of parties.