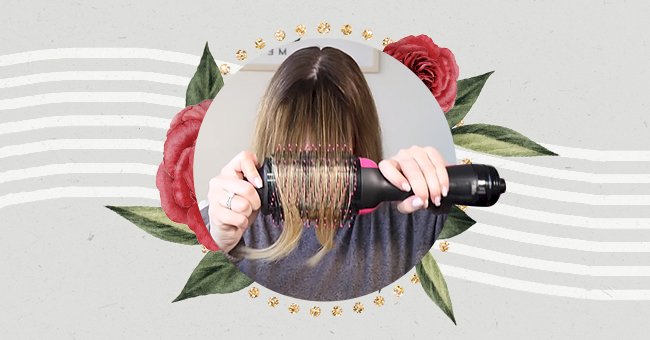 The Best Hair Dryers For Curly Hair
Drying curly hair can take some skill and finesse, but there's something out for every level and curl type with the choice so expansive nowadays.
The newer range of options when it comes to hairdryers can be dizzying. Do you want infrared or ion technology for maximum frizz control and minimal drying time? Or is a salon power for long-lasting results your priority?
While on some days, one may opt to air dry, other days, you want that little extra pop to your hair. These hair dryers are some of the most popular for different budgets and concerns.
Revlon 1875W Infrared Heat Hair Dryer
This hairdryer has received glowing praises from reviewers. Considering that it has two heat settings, a cold shot button, a diffuser attachment, and ceramic coating to prevent damage and frizz, at that price point, no less is simply *chef's kiss.*
Dyson Supersonic Hair Dryer
If you're looking for more of a splurge purchase, there's the supersonic hair dryer that promises a salon-level diffused look to your curls. It's convenient and a pleasure to use due to its quiet motor and lightweight feel.
GHD Helios Hair Dryer
This dryer does the trick for a traditional dryer that works on wavy to relatively thick and curly hair. It includes a nozzle to concentrate the air where you want.
Conair Infinitipro 1875 Watt Hair Dryer
The ionic technology essentially assists in sealing the hair's cuticles to create a naturally glossy finish to the hair. This dryer also promises to reduce the time it takes to dry your hair.
DevaCurl DevaDryer & Devafuser
This dryer and diffuser aims to minimize frizz and give the curls a voluminous, tousled look. Hence the peculiar five "finger" design disperses heat and directs it to the roots.
Revlon One-Step Hair Dryer and Volumizer
This viral sensation has been highly praised and is also a number one bestseller on Amazon. It has three heat/speed settings to deliver volume and shine.
Elchim Classic 2001 Blow Dryer
The dryer emits infrared heat to dry the hair quickly (which is a bonus for thick hair that takes forever to dry. It also looks to minimize long-term damage.
CHI Touch 2 Touch Screen Hair Dryer
If you aim to get the "perfect Instagram curls" and frizz is something of a concern for you, this may be your answer. The diffuser attachment has long prongs, and the ions work to dry your hair speedily to prevent frizz.