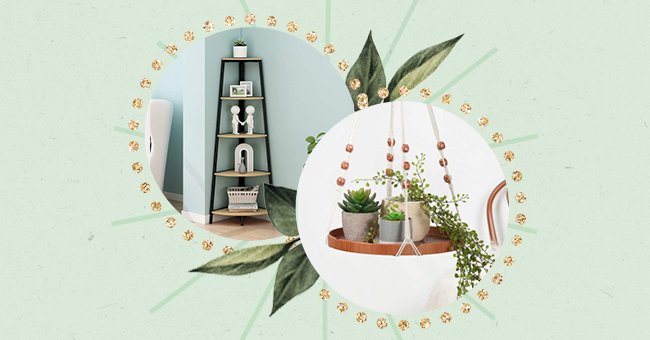 The Best Living Room Decor Pieces To Buy On Amazon
Living rooms are the most integral part of our homes. From hosting guests to serving as cozy spots for us to read, watch movies, nap, and eat - they're in constant need of a little sprucing up every now and then.
It's never too late to introduce a chic decor item in your space. While it's easy to identify that a change is long overdue, the problem arises when you can't decipher where and how to install a new decor item.
Amazon has a plethora of functional and artsy decor pieces to add more life and warmth to your living area. From hanging planters and throw pillows to velvet stools and corner shelves, here are the best decorative items to add to your living room.
MyGift Artificial Mini Succulent & Cactus Plants (Set of 4)
Give your living space a nature-inspired touch by bringing these Mini Succulent and Cactus Plants. They come in compact, white cube-shaped pots and can be placed alongside dining tables or anywhere else you deem appropriate.
Bonnyco Gold Mirrors (Pack of 3)
If you're looking for a functional and chic decor item, these Bonnyco Gold Mirrors will keep you covered. Mount all three of them on one wall, or place them separately to match your boho, minimalist, and modern decor styles.
TIMEYARD Macrame Wooden Planter Hanging Shelf
There are a myriad of exciting ways to bring greenery to your home. This Macrame Wooden Planter Hanging Shelf has a unique design comprising a wooden base decorated with flower cutouts to beautify your indoor space.
Kensington Hill Abstract Family High Bronze Sculpture
Express your personal style with the Kensington Hill Abstract Family High Bronze Sculpture. You can place this family-themed sculpture piece anywhere in your living room and add that much-needed artistic touch perfect for modern decor.
Volcanics Buffalo Check Plaid Throw Pillow Covers Set
For those shabby-looking, dull sofas and couches, changing your throw pillow covers might come as a welcome respite. These check plaid covers come in various colors and a close zipper system to easily fit your throw pillows.
Asense Round Ottoman
The Asense Round Ottoman takes up minimum space and can pair well with your interior decor and other furniture items. You can use this padded, non-skid seat as a footrest or seat more guests in your living room.
Homyshopy Industrial Corner Shelves
Declutter and organize your space with this corner shelf. It can fit in any nook and corner of your room, so you're able to make the most out of your area. Use its versatile storage racks to place books, frames, and even small planters.
GooBloo Woven Storage Baskets
These multipurpose storage baskets can store everything from laundry to stuff toys or any other household items lying around. Use their functional side to organize and reduce the clutter, and let their designer touch glam up your living space with a classy vintage vibe.