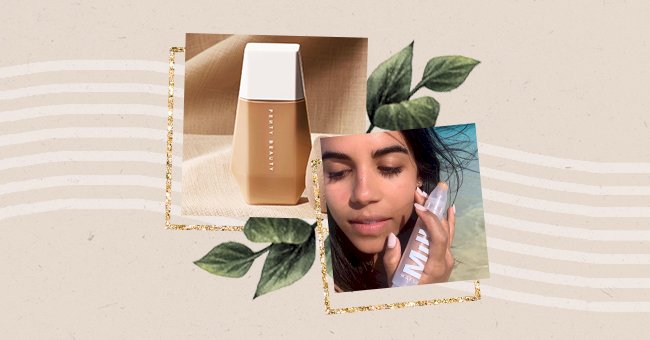 The Best Skin Tints To Try This Summer
Unlike the full coverage heavy foundations that are too much work and can clog your pores during the hot, humid weather, skin tints are lightweight formulas that help your skin breathe while also giving it a light, sheer coverage.
"All of these products offer some glow and buildable coverage unlike traditional foundation, which can be heavy and sink to fine lines due to the amount of powder in their formulas."

-shared Cosmetic Chemist Ginger King.
We're slowly nearing the end of spring and the start of summer, which calls for conscious alterations to our makeup routine. Here are the best skin tints you can stock this summer to rock the natural radiant look that is low-maintenance and just right for the hot season.
Milk Makeup Sunshine Skin Tint
What can be better than a light coverage skin tint that makes your skin glow while also shielding it from the harmful UV rays? It certainly doesn't get any better than this, with Milk Makeup's Sunshine Skin Tint, packed with grapeseed, avocado, jojoba, and olive oils.
This silicone-free, weightless formula is ultra-hydrating and acts as a broad-spectrum SPF 30 sunscreen. The glass rollerball design and larger pump make the application process smooth and easy, leaving your skin soft and glowy.
Kosas Tinted Face Oil Foundation
Kosas Tinted Face Oil Foundation is a lightweight formula that features 16 sheer-coverage shades to compliment all skin tones. It contains nourishing botanicals, avocado, jojoba, red raspberry, and rosehip oils which hydrate, calm, and brighten the skin.
Fenty Eaze Drop Blurring Skin Tint
Fenty Eaze Drop Blurring Skin Tint is a weightless, light coverage formula that comes in 25 different shades to flatter all skin tones. It is suitable for people with oily skin and gives a subtle matte finish while smoothing out the complexion.
The design of this skin tint makes it easy to apply. It is enriched with HydraBlend complex that moisturizes the skin, blurs spots and blemishes, and controls sweat and oil to give seamless coverage.
Glossier Perfecting Skin Tint
If you're a fan of the no-makeup makeup look, then the Glossier Perfecting Skin Tint might be worth trying. It is a lightweight, breathable formula that gives a subtle, dewy appearance, minimizing pores and deeply moisturizing the skin.
Hourglass Illusion Hyaluronic Skin Tint
Hyaluronic acid is the ultimate hydrator, found in a plethora of skincare products, from face washes and cleansers to moisturizers and serums. The star ingredient shines once again as the highlight of the Hourglass Illusion Hyaluronic Skin Tint.
This lightweight, hydrating and firming skin tint makes the skin plump while also reducing the appearance of fine lines and wrinkles. It also acts as a broad-spectrum sunscreen, shielding the skin from UV rays and boosting its natural radiance and shine.